CRM software is a tool that helps businesses manage customer relationships. It can be used to track customer interactions, sales, and marketing efforts. CRM software can also be used to segment customers, create customer profiles, and generate reports.
Why use CRM software?
There are many reasons why businesses use CRM software. CRM software can help businesses manage customer relationships more effectively.
It can also help businesses track customer interactions, sales, and marketing efforts. Additionally, CRM software can segment customers, create customer profiles, and generate reports.
How can CRM software help my business?
CRM software can help your business in a number of ways. It can help you manage customer relationships more effectively, track customer interactions, sales, and marketing efforts, segment customers, create customer profiles, and generate reports.
Additionally, CRM software may offer features such as lead management, task management, contact management, opportunity management, and reporting.
How do I choose a CRM software for my business?
When choosing a CRM software for your business, there are a few things to consider.
First, you will want to consider the needs of your business. What features does your business need? What can you live without?
Second, you will want to consider the price. There are many CRM software options on the market, so be sure to shop around and compare prices.
Finally, you will want to read reviews of CRM software options. This will help you get an idea of what others think about the software.
CRM software can be a valuable tool for businesses of all sizes.
It can help businesses manage customer relationships, track customer interactions, sales, and marketing efforts, segment customers, create customer profiles, and generate reports.
When choosing a CRM software for your business, be sure to consider the needs of your business and compare prices.
Best CRM Software Options
Zoho CRM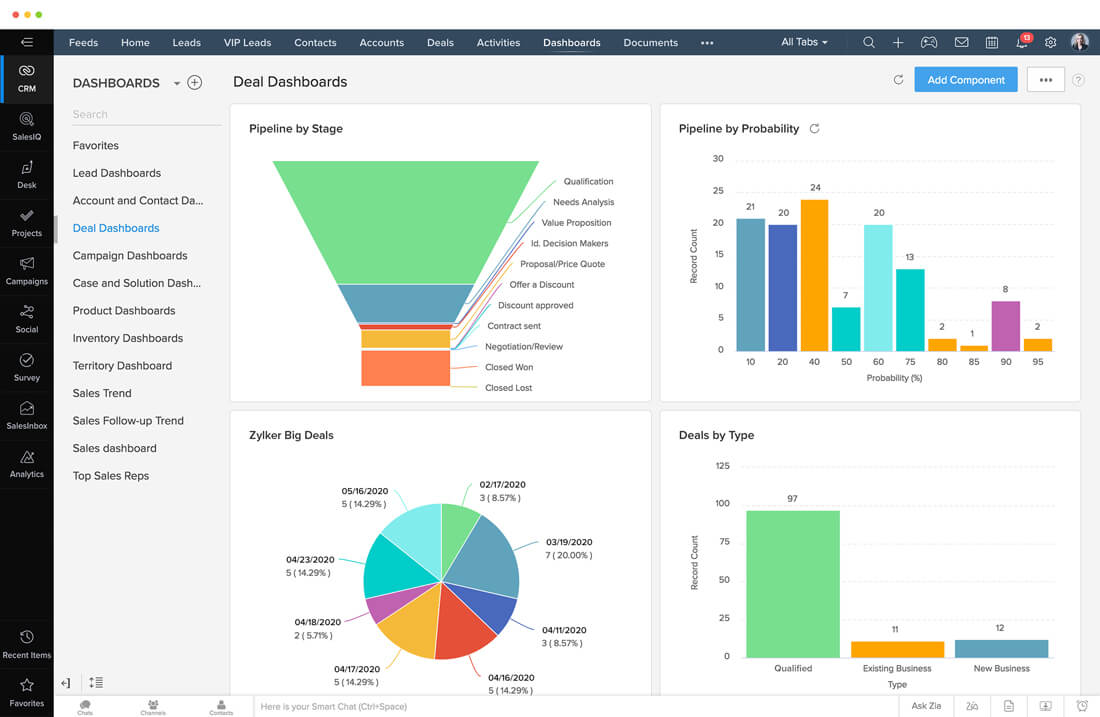 Zoho offers a fully-featured free edition of its flagship CRM software. That's right–robust features for sales and marketing, powerful integrations, and secure cloud storage, all for free.
Why? Because a CRM tool is an absolute necessity for businesses of all sizes–providing basic customer experience shouldn't be expensive.
Zoho is easy to use and has a wide range of features, making it a great choice for small businesses.
The Zoho CRM is built to be used less. Automate workflows, processes, campaigns, customer journeys, and more so that you can focus less on software and more on relationships.
Zoho CRM Features
Simple to use—a modern CRM for a modern business
Extensive developer platform for custom solutions and integrations
No hidden costs—we don't nickel and dime features
Dedicated programs for migration, deployment, and training
Lead & Contact Management
Account Management
Zoho CRM Pricing
Free Tier – Yes
Standard – $20/m
Professional – $35/m
Enterprise – $50/m
Ultimate – $65/m
Streak – CRM for Gmail
Elevate your email game with Streak, the powerful Customer Relationship Management (CRM) system seamlessly integrated into your Gmail inbox.
Streak transforms your inbox into a productivity powerhouse, allowing you to build and maintain valuable relationships with ease.
Whether you're a sales professional, marketer, or entrepreneur, Streak empowers you to streamline your workflow, boost collaboration, and supercharge your email communication.
Key Features:
Gmail Integration: Streak lives where you work—right in your Gmail inbox. Say goodbye to tab-switching and complicated software setups. Manage your relationships effortlessly without leaving your email.
Pipeline Management: Visualize your deals, leads, and projects in a customizable pipeline. Drag-and-drop functionality lets you easily move items through stages, ensuring nothing falls through the cracks.
Email Tracking: Know when your emails are opened and viewed in real-time. Get notified the moment your recipient engages with your message, allowing you to follow up at the perfect time.
Mail Merge: Personalize your outreach with mail merge. Send batch emails while maintaining a personal touch, making your communications more engaging and effective.
Email Templates: Save time with pre-made email templates. Craft professional, consistent messages for various situations, from introductions to follow-ups.
Contact Management: Keep all your important contacts organized in one place. Streak automatically captures and updates contact details, ensuring you always have the latest information at your fingertips.
Task Management: Stay organized and on top of your to-do list with task management. Assign tasks to team members, set due dates, and track progress directly within your CRM.
Collaboration: Collaborate seamlessly with your team. Share pipelines, contacts, and insights with colleagues to ensure everyone is on the same page.
Mobile Access: Access Streak on the go with mobile apps for iOS and Android. Stay connected with your contacts and deals from anywhere.
Data Security: Trust in Streak's robust security measures, including SSL encryption and Google OAuth, to keep your data safe and confidential.
Help Scout
Help Scout is a customer support platform built specifically for the needs of growing businesses. The platform is designed to be flexible, affordable, and easy-to-use.
It gives support teams the simplicity to start right away, the power to grow, and the human-centered approach to turn customers into advocates.
12,000 beloved brands across industries trust Help Scout as the backbone of their support team.
HelpScout Features
Customer Management
Live Chat
Knowledge Base
Messaging
Shared Inbox
HelpScout Pricing
Free Tier – No
Standard – $25/m
Plus – $50/m
HubSpot CRM
Free CRM Software With Something for Everyone by HubSpot. Think CRM software is just about contact management? Think again.
HubSpot CRM has free tools for everyone on your team, and it's 100% free. Here's how our free CRM solution makes your job easier.
With the easy-to-use HubSpot CRM, you'll never have to manually update reports or wonder how your team is tracking toward quota. Because you have more important things to do.
HubSpot CRM Features
Reporting dashboard
Pipeline management
Email tracking
Prospect tracking
Live Chat
Meeting scheduler
HubSpot CRM Pricing
Free Tier – Yes
Starter – $46/m
Outseta
Payments, authentication, CRM, email—it's all here. Outseta gives founders the tools to monetize their website, SaaS product, or online community in minutes.
When you launch your start-up with Outseta, you're able to get your product to market faster. You manage your entire business from behind the same login, your team is aligned, and you can easily see the big picture.
A sense of calm washes over you—that's what far less technical and financial overhead feels like.
Features:
CRM – Effortlessly manage all of your member data and customer communications in one place—from lead capture to lifetime value.
Billing – Connect to Stripe and you're up and running. Add heavily optimized sign up forms to your site in minutes. Iterate on pricing without bothering your developers.
Authentication – Sign 'em up, sign 'em in. Easily sign up and log in website visitors, then control access to your content, features, or community spaces based on their membership level.
Email – From transactional emails to newsletters and automations, our email marketing tools deliver your messages with surgical precision.
Help Desk – Happy members, successful bussiness—it's really that simple. Provide help however your members want it.
Keap CRM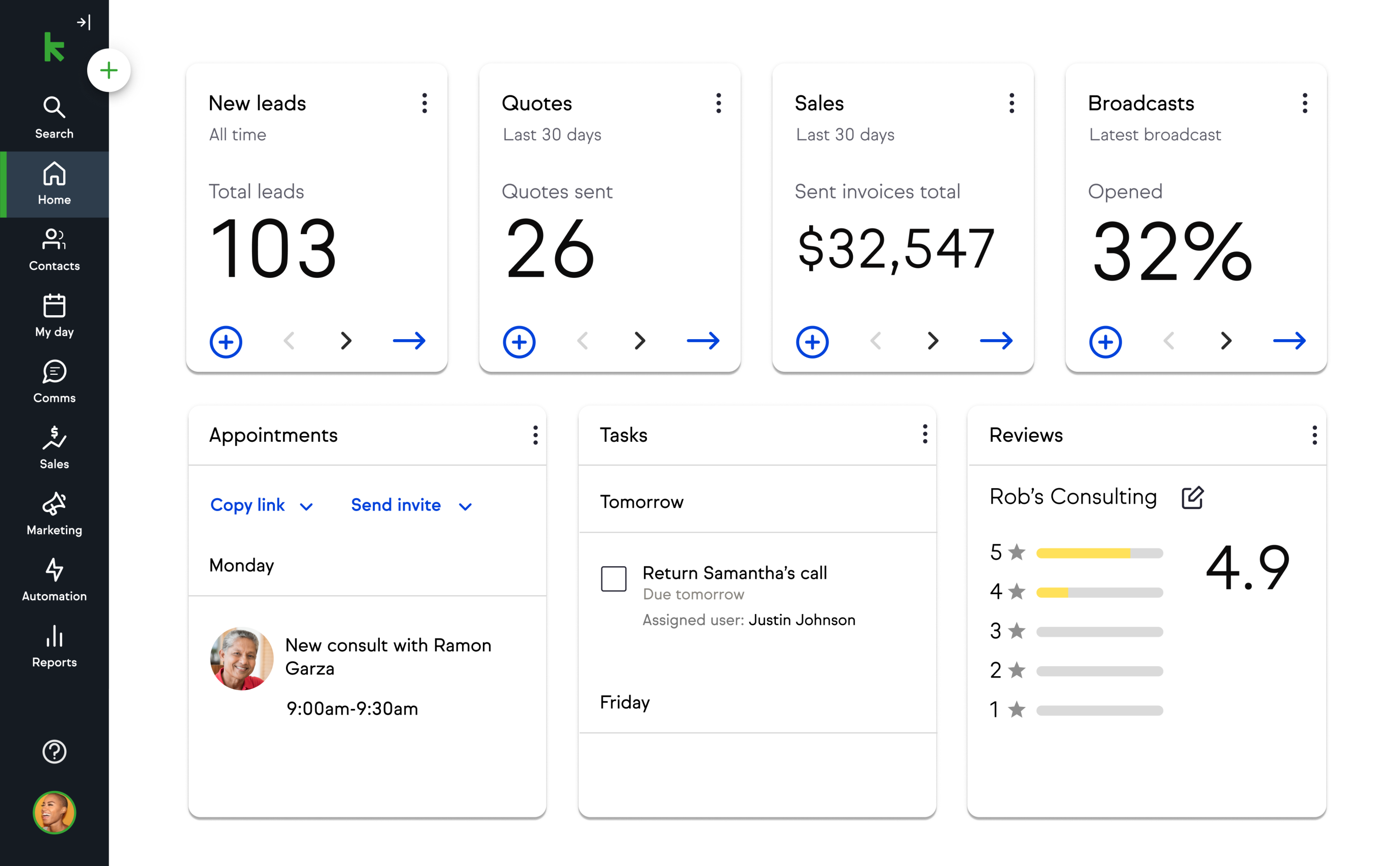 Collect more leads, convert them to clients, and turn those clients into fans with Keap's powerful CRM and sales and marketing automation.
There's no stopping entrepreneurs who are enabled by the right technology, tools, and people. That's why Keap is the pioneer of CRM and marketing automation for small businesses.
Keap's features combine CRM, marketing automation, sales automation, payments, and much more in a single, integrated platform, so you can consistently convert more clients and grow your business.
Features:
All your data in one place (accessible anywhere)
Collect new leads with minimal effort
Keap's personalized automations save you from distracting busy work
Write emails and texts using Keap's curated templates, send them to segmented lists in your CRM
Keap Business Line gives you access to work calls and texts on your smartphone
Trigger personalized follow-ups
Airtable CRM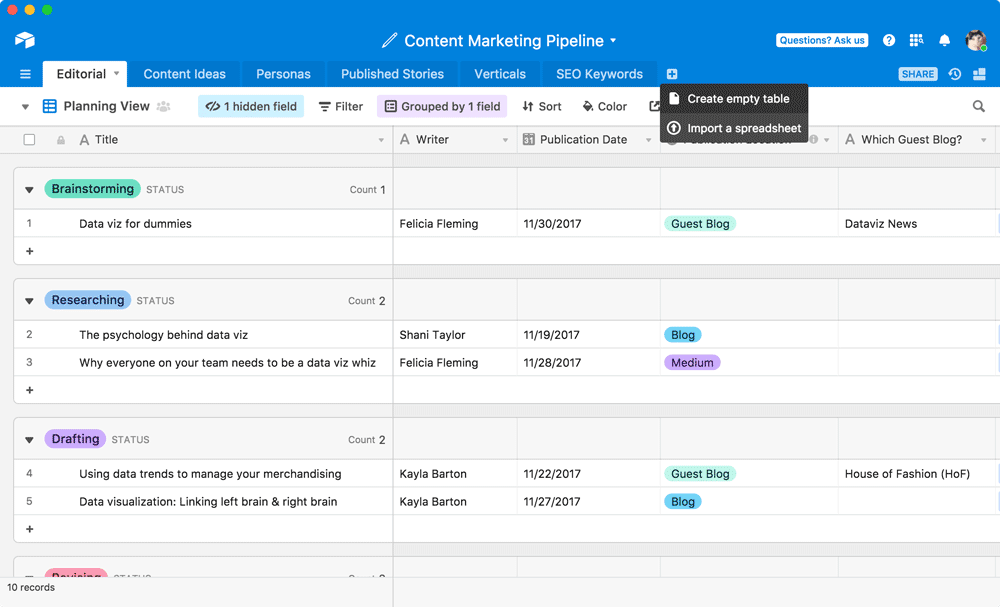 Customer relationship management is a prerequisite to the success of any sales organization. This Airtable sales CRM template provides real-time access to your accounts, and is ideal for teams of all sizes.
From an individual sales rep looking to quickly log interactions on-the-go with the mobile app, to a startup or a small business with a growing sales team interested in building out a sales pipeline, to an enterprise looking for a contact management solution for the entire sales organization.
Additionally, this sales CRM template is flexible enough to adapt to your sales process no matter the size of your book of business or sales team, whether you're managing just a few customer relationships or tracking customer interactions across hundreds of clients.
Feature:
Reporting – Visualize impact right in Airtable
Sync – Sync data across teams and tables
Automations – Simplify and streamline workflows
Views – Explore different ways to view data
Zendesk CRM
Zendesk helps companies deliver conversational customer relationships at any scale. Customers expect a complete relationship with you.
Keeping up with customers across channels requires patience, persistence, and a powerful CRM. Luckily, the Zendesk Suite is here to help you turn all those customer conversations into one meaningful relationship.
Features:
Stay connected across channels anywhere, anytime and get a unified view of every customer interaction—no matter where they are in their journey.
Every customer wants to feel cared for. Zendesk provides customer context and AI capabilities so you can offer a smarter, smoother experience at any scale.
Go beyond tickets and deals to focus on long-term relationships. Their flexible platform lets customers talk to you from any channel—while you respond from one inclusive interface.
Monday CRM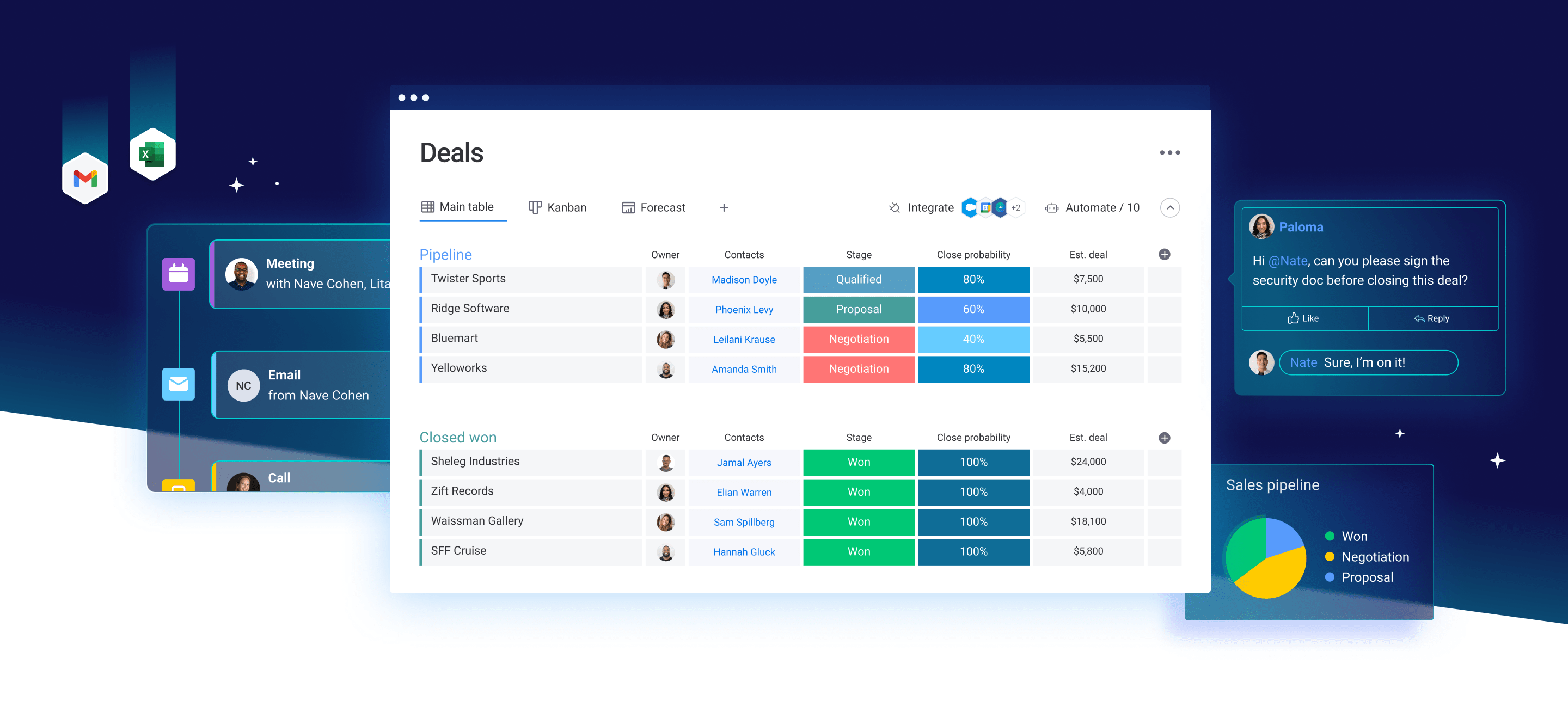 Easily tailor your CRM software to work for you, without any development help. Edit deal stages, add as many columns as you'd like, manage multiple pipelines at once, and more.
Communicate efficiently with your contacts by integrating your email. Automatically log sent emails, keep track of interactions, and use personalized email templates to save you time.
Features:
Collect leads from any source, centralize and qualify every lead in one place, and automatically score them based on custom criteria.
Customize your pipeline without the need for a developer, drag and drop deals between stages, automate manual work, and easily track all contact interactions.
Get a 360° view of your customers. Keep record of your contact and account information, log activities, and send emails—all from one place.
Manage your post-sale activities in one place, so you can stay on top of client projects, collection tracking, and more.
Plan and fast-track your sales hiring process, and equip your sales team with the tools and resources they need to close more deals.
ClickUp
Never lose client info again. Build the perfect CRM in ClickUp, for free. ClickUp makes it easy to organize and grow your customer relationships with tracking, data visualizations, email, and more — all in one place.
Organize your accounts in a list, Kanban board, or tables for quick data entry. ClickUp's 10+ flexible views make it easy to manage everything from sales pipelines to customer orders.
Features:
See clients and orders at a glance
Analyze data for customer insights
Centralize customer outreach
Build the perfect customer database
Pipedrive
The first CRM designed by salespeople, for salespeople. Do more to grow your business.
Move your deals forward in a drag 'n drop sales pipeline. Tools like calendar, email sync and contact management are intuitive and easy-to-use for everyone in your team.
Features:
Manage all sales-related tasks from a unified platform
Drive more sales
Nurture leads
Automate administrative sales tasks
Improve team collaboration
Obtain actionable insights
Related Post
7 Best HR and Payroll Software for Startups and Creators
Causeartist
Causeartist is a multi media company spotlighting impact entrepreneurs, impact startups, and corporate social responsibility.