Electric bikes are becoming more and more popular, as people look for ways to commute that are environmentally friendly and efficient.
One easy way we can all contribute to combating climate change and minimize overall carbon footprint is to stop using only cars in order to get around.
Electric bike transportation modes are bringing alternative ways to navigate short distances, and with 55% of all trips being under five miles in the U.S, the opportunity for disruption is huge.
If just Americans replaced 50% of their short-distance car trips with e-bikes, we would save 273K metric tons of CO2 every day, which is equivalent to the carbon sequestered by 4.5 million tree seedlings grown for 10 years.
If just Americans replaced 50% of their short-distance car trips with e-bikes, we would save 273K metric tons of CO2 every day, which is equivalent to the carbon sequestered by 4.5 million tree seedlings grown for 10 years.
Electric bikes (or e-bikes) are bicycles that are powered by batteries, and can reach speeds of up to 20 miles per hour.
E-bikes are a great option for those who want to ride a bike, but don't want to deal with the hassle of pedaling uphill.
In the recent years electric bike startups have raised billions in capital to make the e-bike revolution a reality.
There are a few things to consider before purchasing an electric bike. First, you'll need to decide what type of bike you want.
There are three main types of e-bikes: mountain bikes, road/commuter bikes, and folding bikes.
Mountain bikes are designed for off-road riding, and have features like fat tires and suspension systems that make them ideal for riding on rough terrain.
Commuter bikes are designed for city streets and pavement riding, and are usually lighter and faster than mountain bikes.
Folding bikes are a great option if you need to store your bike in a small space, like an apartment or office.
Once you've decided on the type of bike you want, you'll need to choose the right size. Electric bikes come in a range of sizes, from extra small to extra large.
It's important to choose a size that will be comfortable for you to ride. You can find sizing charts online that can help you select the right size bike.
Finally, you'll need to decide what features you want in an electric bike. Some features, like suspension and a motor that provides assisted pedaling, can add to the price of the bike.
But these features can also make your ride more comfortable and enjoyable.
Best Electric Bikes to look for in 2023
Wing Bikes Freedom Fatty 2
The Freedom Fatty 2 is the all terrain fat bike designed for the paths less pedaled.
The Fatty is equipped with the Wing unique alarm system and integrated lights that Wing is known for. Take control of your commute, and experience the Freedom of a Wing Bike.
Features:
Integrated lights – Built directly into our sleek frame for a seamless night riding experience.
Theft defense – Wing Bikes feature a unique lock and alarm system, so you can feel safe leaving your bike on the street.
Remote lock – Custom key fob linked to your bike. Lock and gain instant peace of mind.
Tamper detection – An ear bending alarm. First a warning, then it means business.
Powerful, removable battery – Speed, distance, battery level, light activation, loud horn. You control the ride!
Specs:
RANGE – Up to 35/50 miles per charge
ELECTRIC MOTOR – 36V/750W Bafang with 80Nm of torque
TOP SPEED – Up to 28MPH
WEIGHT – Approx. 39 pounds
VanMoof S3
Vanmoof makes beautiful city-proof electric bikes and is headquartered in Amsterdam, Netherlands. The company sells several models of electric bikes: the S3, X3, S5, and A5.
With an updated motor, automatic electronic gear shifting, and integrated anti-theft tech, the VanMoof S3 & X3 are custom-tuned for the ultimate riding experience.
Vanmoof features:
Their Theft and Maintenance coverage options protect your ride at all costs, wherever you are.
Industry-first automatic electronic gear shifting gives the smoothest ride ever. With four speeds to flatten every urban incline.
Fully integrated hydraulic brakes deliver precision stopping power in all weather conditions.
The removable PowerBank gives you up to 100 km extra range on your rides – and lets you charge your bike whenever, wherever.
Range
60 km – 150 km
Full power – Economy mode
Battery
504Wh capacity Integrated LG cell
Removable for servicing
Charger
36V 4A
50% charge in 80 minutes
Full charge in 4 hours
Price – $2,548
Vässla Bike
The E-bike without pedals! Designed and engineered in Sweden. Vässla is a bike company that makes unique, high-quality bicycles.
Vässla Bike closes the gap between the e-bike and the e-moped. The effortless and smooth riding experience is incomparable to anything on the market right now.
Their bikes are perfect for commuting or leisure riding. They have a wide range of models to choose from, so there's sure to be one that's perfect for you.
Vässla Bike Features:
The OLED display gives you all the information you need, such as battery, speed and battery capacity. Put a password on the display for extra security!
They've designed our motor from the ground up along with control electronics and battery to create an uncompromised combination of performance, range and simplicity.
The battery is created from the ground up with the best components the market has to offer.
German connectors, original cells from Samsung and a proprietary BMS that gives you a 40 km range from a 3.5 kg battery and a lifespan of up to 2,000 cycles.
Specs
Motor – Hub motor
Max speed – 25 km/h
Range per charge – Up to 40 km
Battery cell – 21700 cells from Samsung
Total weight – 21,5 kg excl. battery
Battery weight – 3,5 kg (portable)
Price – $1,753
Cowboy C4
Meet the Cowboy 4, the most agile ride you could ever imagine. Mount up on an electric bike that's built around you. With three iconic colors to suit your style, it deserves a closer look. It's your move.
Cowboy is designed with you in mind, crafted to the highest standard. Every custom detail is integrated seamlessly into the frame for a new form of performance.
Cowboy 4 Features:
Removable battery
Integrated cockpit
Automatic assistance
Up to 43.5 miles autonomy
3.5 hours charging time
2-year free warranty
The Cowboy app uses predictive technology to calculate your autonomy based on your riding behavior
Price – $2,990
doppio Classico Connected
Doppio is the two-seater e-bike, developed by Amsterdam mountain biker Peter Eiselin. It can be used as both pedal and motorized vehicle which makes it perfect for city dwellers who are looking to save time on their commute or enjoy some fresh air while exercising at the same time!
The latest doppio is the Classico Connected, with which you enjoy the latest software for optimal riding pleasure, a color display, slightly straight handlebars, hydraulic disc brakes, special Kenda tires, a display code lock and much more. you like it.
Features
Standard battery | Range up to 50 km
GPS-tracker
1 year doppio connect with Bike Hunters
Effortless gear shifting
Specs
Frame size – 47 cm
Maximum speed – 25 km/h
Frame material – Aluminium
Maximum carrying weight – 180 kg
Weight – 30 kg
Motor – Bafang
Power – 250W
Type of battery – Removable
Charger 3Ah, 48V – Charging time 4-6 hours
Price – $2,308
Juiced Scorpion X
The new Scorpion X electric moped-style bike delivers an upgraded riding experience with more power, speed, and range! Equipped with a new electronics system and custom RetroBlade motor, Scorpion X offers an epic e-bike value loaded with super premium features.
Features
Torque & Cadence Pedal Assist
Dual Suspension
Advanced Display & Riding Modes
Super Bright Headlamp
Rear Rack and Fenders
Specs
Bike Weight – 100lbs (90lbs w/o battery)
Motor 750W RetroBlade Geared Hub
Range 55+ Mile Range
Speed 28 MPH
Weight Capacity 275lbs
Transmission 8 Speed Freewheel
Price – $1,999
SUPER73-ZX RON BURGUNDY
The ZX is the larger version of our ZG and features a lighter aircraft-grade aluminum frame and a larger removable battery. With a brand new redesigned seat, improved ergonomics and a more upright riding position, the ZX stands as one of SUPER73's most comfortable bikes to date.
Declarations of Conformity (EPAC) available upon request.
Features
Removable Battery
4 Riding Modes
Over-the-Air Updates with the SUPER73 App
Compatible with the ORE kit
Smart Display
Turn-by-turn navigation
Specs
Motor – 48V EPAC 250W motor
Speed – Up to 25km/h
Battery – 615 watt-hours, 18650 cells
Weight – 30 kg
Charger – 2A (6-7 hour charge time) – 5A sold separately (2-3 hour charge time)
Price – $2,709
Rad Power RadExpand5
With over 450,000 riders across the globe, and more jumping in the saddle every day, Rad Power Bikes is committed to more than award-winning electric bikes.
They're laser-focused on redefining transportation at large.
The RadExpand5 is the latest folding ebike with fatter tires to tackle adventures of all sorts. Featuring a step-through frame, and allows you to customize your ride with adjustable handlebars, seven speeds, and four levels of pedal-assist.
Features
Up to 45+ miles per charge
Can carry up to 275 lb
Custom folding mechanism helps you fold your ebike
Geared hub motor
Specs
Battery – 672 Wh
Charger – 48V, 2 Amp Rad Power Bikes smart charger, operates on 100V-240V AC power outlets
Display – Rad Power Bikes custom LED display with Charge indicator, pedal assist level / error display, headlight/taillight indicator and more
Hub Motor – 750W brushless geared hub motor, 5:1 planetary gear reduction
Price – $1,599
Velowave PRADO S COMMUTER EBIKE
Velowave electric bikes are different from traditional bikes. They can take the place of cars and make riding easier. At the same time, you can also exercise, enjoy the beautiful views along the way, and relax physically and mentally.
Velowave also works with One Tree Planted to restore forests, create habitat for biodiversity, and make a positive social impact around the world.
Features
750W Geared Hub Motor
48V 15Ah LG Battery
Front Hydralic Suspension Fork
Innova 20″*4.0″ Fat Tires
Shimano 7-Speed Drivetrain
High-luminance Headlight
Specs
750W Powerful Motor Rated 750W, Peak 1275W, Max Torque 55NM
48V/15AH LG lithium battery
Multifunctional TFT color display
25-40+ miles per full charge
Max Speed: 28+MPH by pedal; 20 MPH by throttle
Hydraulic disc brake system
Price – $1,399
CERO One
CERO Bikes empowers everyday life with electric utility bicycles.
They envision a world where you don't have to sacrifice convenience, or the planet's health, to get where you're going and do what you need to do.
The CERO One is for anyone who wants a bike that can do a bit of everything: commuting, light errands, dropping kids off at school, and leisure riding.
It is the ultimate compact electric cargo bike, striking a perfect balance between nimble size and wide-ranging capabilities.
Features
Shimano E6100 Cycle Computer
Custom aluminum frame
Built to Carry Cargo
Unique design
Specs
BATTERY – Shimano E8010, 504 Wh, removable
SPEED – Up to 20 mph with pedal-assist
MOTOR – Shimano STEPS E6100, 60 Nm torque
TIRES – Schwalbe Big Ben Plus 20″ and 26″
TOTAL CAPACITY – 300 lbs including rider, accessories, and cargo
CARGO CAPACITY – 77 lbs with no more than 55 lbs on any one rack
Price – $3,799
Cake Makka Flex – Motorbike
The CAKE Makka Flex is a lightweight yet robust electric moped, designed for both city streets and outback adventures, while doubling as a smart configuration platform for your everyday mobility needs.
One bike engineered for all commuter types and individual needs. A machine built to last, the fastest way in traffic and equipped with accessories of your choice.
Features
Light – Up to 54 km of range gets you where you need to be, while a total 70 kg of weight secures excellent, driving characteristics.
Convenient – A wide array of accessories, including surf racks, topboxes, passenger and child seats can be mounted on the Makka.
Powerful – The combination of a strong battery and feather light weight earns the Makka a unique power-to-weight ratio.
Charging – 0-100% 3 hours
Easily removable, can be charged when installed in bike or separately
Smart charging system
Integrated SoC indicator
Intelligent battery management system with CAN for increased safety and performance optimization
Specs
Top speed 45km/h / 30mph
Range 54km / 34miles
Street legal Yes
License AM, B / Car, M1, M2
Weight 70kg / 154lbs
Peak power 2.8kW
Voltage (nominal) 48V
EBS – Electronic Braking System to regenerate the braking power into the battery and increase range
Price – $4,202
Veloretti Electric Ivy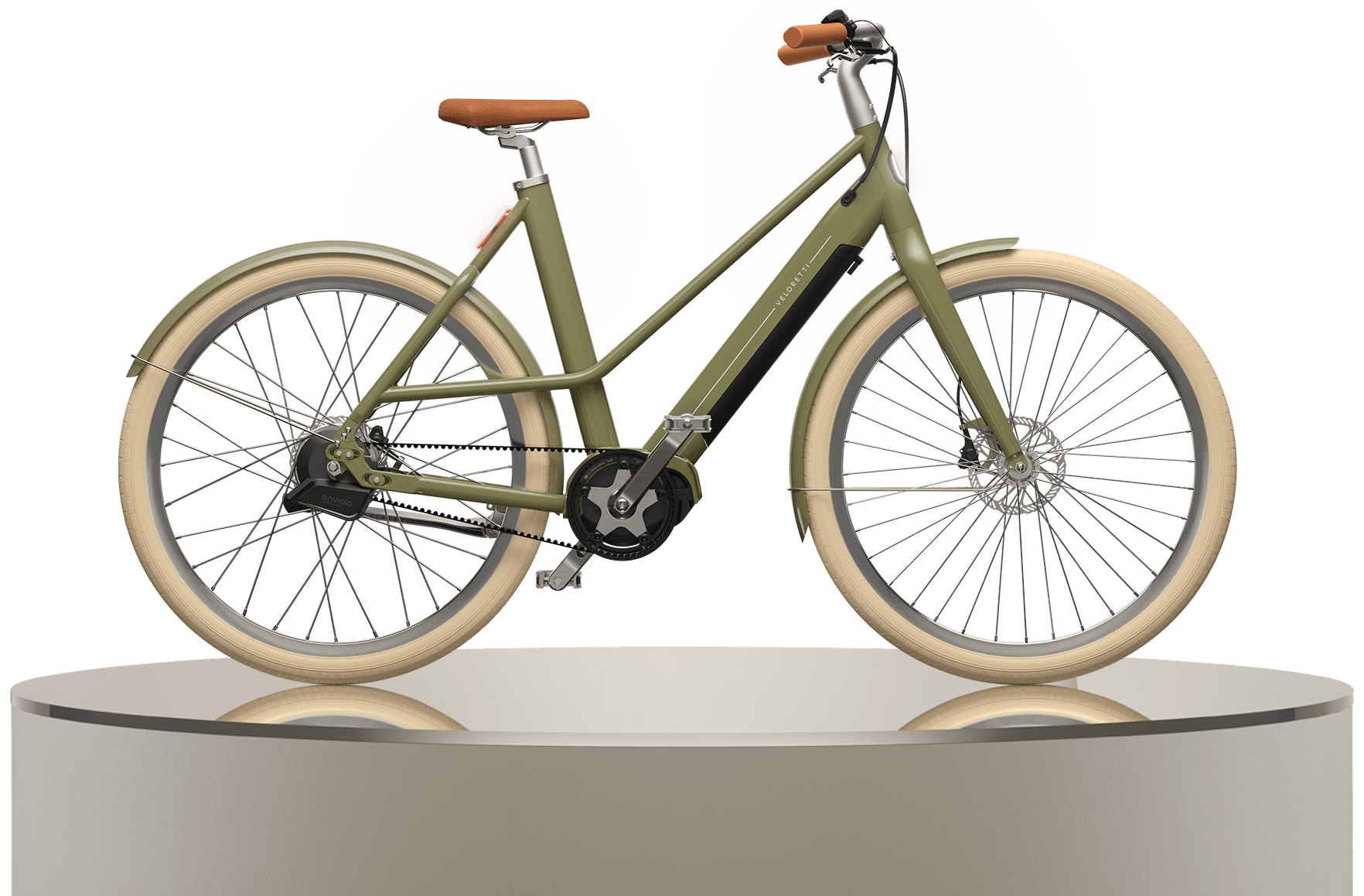 With intelligent and innovative features, the Ivy is the silent force that helps you go the distance. Fitted with state-of-the art technology such as a powerful and silent mid-engine and easy automatic shifting.
An all-around electric bike with a minimalist design to give you the best electric biking experience possible.
Because the engine is directly connected to your pedals, it automatically adjusts its power to your torque instead of speed. This gives you the most natural electric biking experience there is.
Features
Removable battery. Recharge anytime & anywhere
Safe and sound. Hyperbolic lights
Automatic shifting gears again
Pricing – $2,499
Causeartist
Causeartist is a multi media company spotlighting impact entrepreneurs, impact startups, and corporate social responsibility.