Email marketing platforms are software applications that enable businesses to create and manage their email marketing campaigns.
Email marketing platforms typically provide features such as contact management, campaign creation and tracking, and email deliverability.
When choosing an email marketing platform, it is important to consider the needs of your business.
For example, if you have a large mailing list, you will need a platform that can handle high volume email deliveries.
On the other hand, if you are only planning on sending a few emails per month, a less robust platform may be sufficient.
Additionally, it is important to consider the cost of the email marketing platform.
Some platforms are free to use, while others charge a monthly fee.
Be sure to compare the features and costs of different platforms before making a decision.
The different types of email marketing platforms available.
There are two main types of email marketing platforms: self-hosted and hosted.
Self-hosted email marketing platforms are installed on your own server.
This gives you complete control over your data and allows you to customize the platform to meet your specific needs.
However, self-hosted solutions can be more expensive and require more technical expertise to set up and manage.
Hosted email marketing platforms are cloud-based solutions that are managed by the provider.
This means that you don't have to worry about hosting or maintaining the software yourself. Hosted platforms are typically less expensive and easier to use than self-hosted solutions.
In this post we will mostly spotlight and feature hosted email marketing platforms.
MailerLite
Take email marketing beyond the inbox with advanced tools made easy. Enjoy award-winning live 24/7 support along with all the features you need to succeed.
Attract new people and turn them into loyal subscribers through websites, landing pages, pop-ups, and embedded forms.
Cast a wider net for a healthy flow of new customers and business growth. Build subscriber trust and boost engagement by using advanced email automation that results in highly targeted and personalized emails.
The best part— automation setup is now a breeze.
MailerLite Features:
Automation – Send perfectly-timed and targeted emails automatically. The anniversary of a date in field Birthday Grab your birthday discount
Email campaigns – Create engaging, dynamic emails in minutes with our intuitive drag & drop email editor
Track your results Monitor performance to find what works best for your business
Sell digital products Sell ebooks, downloads, or whatever else will help subscribers
Websites Build stunning websites on your own and let your business shine
Signup forms Grow your audience with highly-effective subscribe forms
MailerLite Pricing:
Free Tier – Yes
Growing Business – From $9/m
Advanced – From $19/m
Omnisend
Omnisend is an all-in-one email and marketing platform designed to streamline customer engagement and communication. It provides powerful automation tools, such as segmented emails, popup forms, SMS messages, and push notifications, to engage customers on a personalized level.
The platform also features comprehensive reporting and analytics capabilities that help marketers and businesses track customer interactions across multiple channels, enabling them to better understand their customers' needs and preferences.
Omnisend Pricing:
Free Tier – Yes
Standard – From $16/m
Pro – From $59/m
Zoho Campaigns
Zoho Campaigns is a cutting-edge email marketing software designed to streamline businesses' ability to effectively target their audience through personalized, data-driven campaigns.
With features such as advanced analytics, audience segmentation, and automation workflows, this comprehensive platform empowers organizations to nurture leads, enhance brand visibility, and foster lasting customer relationships.
Email Octopus
Simple, powerful tools to grow your business. Easy to use, quick to master and all at an affordable price.
Simplicity shapes everything Email Octopus does – from the way they run the team to the features they build.
They're committed to building an ethical and sustainable company that gives back to customers, their team and the community.
They're a bootstrapped startup without investment, here to provide value to customers – not shareholders.
Email Octopus Features:
Import existing subscribers and keep growing with customizable forms for your website.
Start with a pre-designed template and customize it with the easy-to-use email editor.
Save time and reach new subscribers while they're most engaged with an automated welcome series.
Use insights and data to segment your subscribers into target audiences.
Keep track of your open, click and bounce rates with straightforward campaign reporting.
Email Octopus Pricing:
Free Tier – Yes
Pro – starting at $8/m
Mailchimp
Mailchimp is an email marketing platform that makes it easy for businesses and individuals to create, manage, and monitor their email campaigns. It offers a suite of tools and services to facilitate newsletter creation, audience segmentation, automation, analytics tracking, integration with other applications, and more.
With Mailchimp's intuitive platform and user-friendly features, users and creators can design stunning emails, send them out to their target audiences in a few simple steps, and track their effectiveness in real time.
Mailchimp Pricing:
Free Tier – Yes
Essentials – starting at $13/m
Standard – starting at $20/m
FloDesk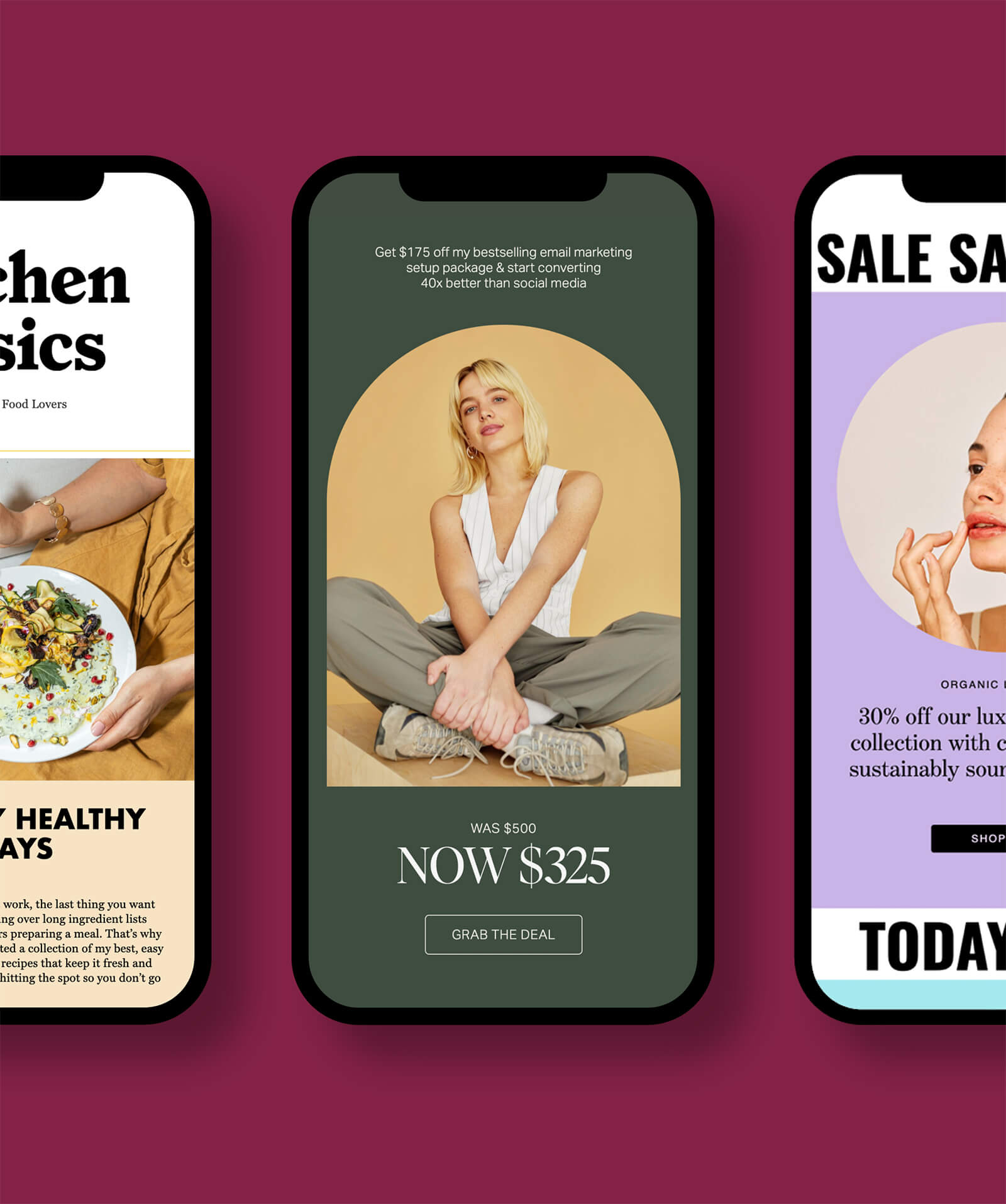 Design emails people love to open. Beginners and experts use Flodesk to grow their business.
Design emails that look great on any device. Start with a template, or create your own from scratch.
FloDeskFeatures:
Grow your list and stay on-brand with fully responsive forms
Create freely without limiting your growth
Connect with as many subscribers as you like
Connect your favorite apps
Build workflow automation in seconds
Win more subscribers by creating stunning, signup-worthy landing pages.
FloDesk Pricing:
Free Tier – No
Unlimited – $38/m
Get 50% off their first year of Flodesk
GetResponse
GetResponse is an all-in-one online marketing platform designed to meet the needs of businesses of any size. It offers email marketing, automation, landing pages, webinar hosting and other services, enabling customers to create effective campaigns that help grow their customer base and increase sales.
GetResponse is equipped with powerful features like autoresponders, lead scoring, A/B testing and analytics that provide actionable insights for businesses to optimize their strategies and maximize results.
GetResponse Pricing:
Free Tier – No
Pro – $16/m
ConvertKit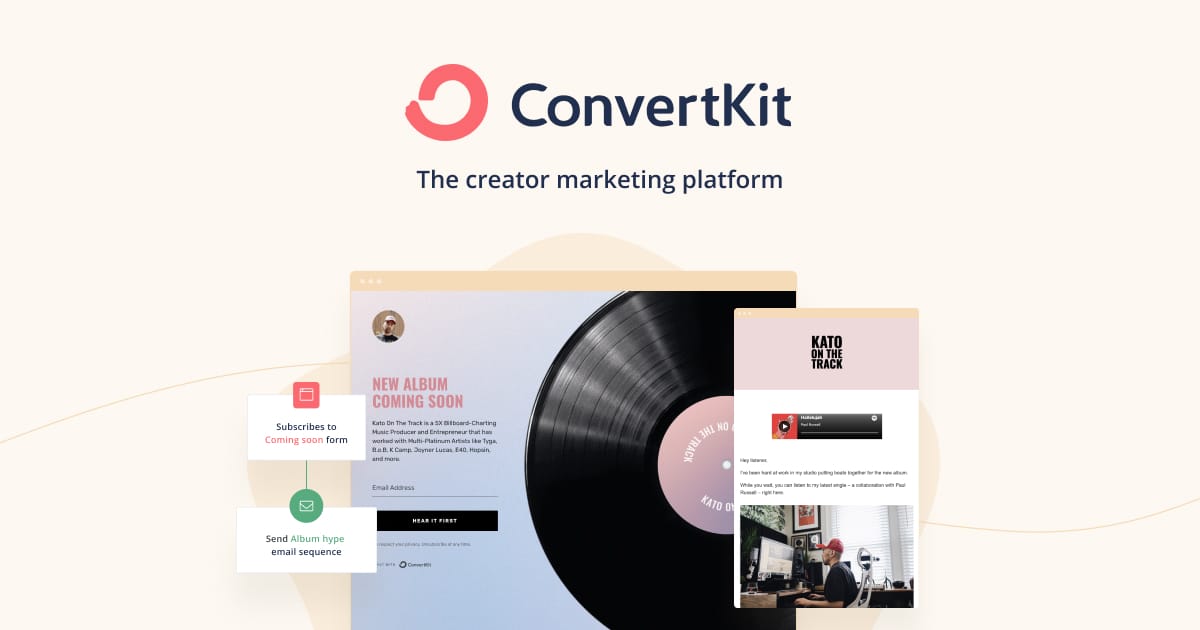 ConvertKit is the go-to marketing hub for creators that helps you grow and monetize your audience with ease.
Increase subscribers with beautiful landing pages, sign up forms, and link pages that make your work stand out.
Create lasting connections and promote like a pro with our intuitive email editor and powerful sales funnels.
Market and sell your digital products and subscriptions with ConvertKit to drive higher conversions and save big on fees.
ConvertKit Features:
Landing Pages – Create a landing page in minutes to promote your next project
Email sign up forms – Give readers an easy way to subscribe to your list on your website
Integrations – Expand your reach by connecting to tools you use for your business
Email marketing – Own the relationship with your audience & grow your business
Email designer – Write simple, beautiful emails that convert without hours of design time
Automations – Create a customized path to send your well-timed, targeted content
ConverKit Pricing:
Free Tier – Yes
Creator – Starting at $9 /month
Creator Pro – Starting at $25 /month
Drip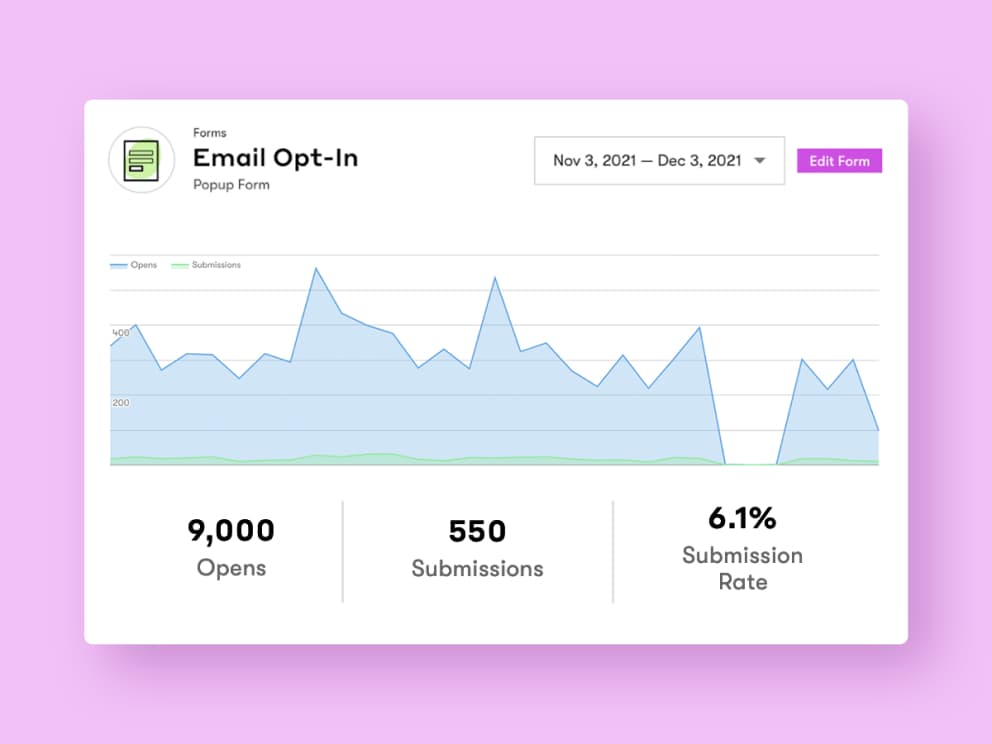 100% built for ecommerce. Drip has all the automated marketing tools, insights, and savvy to turn shopping experiences into useful data streams, emails into earnings, and popups into cha-chings.
Far beyond static lists, Drip analytics bring essential data to the surfa. Through next-level segmentation, use your data to send email content according to customer actions, and make engagement (and sales) pop.
Drip Features:
Forms & Popups – Build your lists and convert drive-by web traffic into customers.
Segmentation & Personalization – Send hyper-personalized messages that convert.
Email Marketing – Propel revenue growth while spending less time designing and managing emails.
Insights & Guidance – Make better decisions with analytics, benchmarking, guidance and more.
Automation – Automate your marketing with best practice email and SMS workflows.
Drip Pricing:
Free Tier – No
Paid Tier – Starting out at $39/m
Mailchimp
Win over new and repeat customers by sending emails and automations from a marketing platform that has expert advice built in.
Generate more orders with Mailchimp prebuilt automations: remind abandoned cart shoppers, reengage lost customers, or cross-sell your products.
Marketers have seen, on average, 4x more orders with their Customer Journey Builder than with bulk emails.
Find and target your most valuable customers to help get them to buy again.
Marketers have seen, on average, a 76% increase in revenue when using our Customer Lifetime Value and Likelihood to Purchase segments compared to when they didn't.
Mailchimp Features:
Mailchimp's email marketing software allows you to get a head start with a variety of drag-and-drop email templates.
Draw your customers in with the right subject lines based on feedback from the Mailchimp Subject Line Helper.
Make your emails more relevant with behavior-based automated journeys created in the Customer Journey Builder.
See what's working in your email campaigns and track your sales with Mailchimp Reports.
Learn what your customers need with Mailchimp Surveys
Boost your email results by connecting your other email marketing tools with Mailchimp Integrations.
Design and track your email campaigns anywhere and anytime with the all-in-one Mobile App
Mailchimp Pricing:
Free Tier – Yes
Essentials – $11/m
Standard – $17/m
Premium – $299/m
ActiveCampaign
ActiveCampaign gives you the email marketing, marketing automation, and CRM tools you need to create incredible customer experiences.
Use precise targeting to find the right prospects and grow your audience. Grow your relationship with your audience by providing tailored guidance.
Provide individual audience members with well-timed calls to take the next step. Delight each customer by knowing what they want, when they want it.
ActiveCampaign Features:
Dynamic content and Segmentation
Contact management and Pre-built automations
CRM and Lead magnets & forms
Pipeline automation and Engagement tracking
ActiveCampaign Pricing:
Free Tier – No
Lite – $29/m
Plus – $49/m
Professional – $149/m
Sendinblue
Sendinblue is one of the smartest and most intuitive platform for growing businesses. Thrive digitally as they guide your business with the right marketing & sales tools.
Focus on the important tasks and put the rest on autopilot with automation.
Named as one of the Top 100 software companies of 2021 and rated as the best Marketing Automation platform for SMBs.
Sendinblue Features:
Email marketing – Get the word out and sell more with sleek email messages that you can design in no time
Chat – Be there for customers instantly when they have a question while browsing your site
SMS – marketing Communicate more directly with customers for urgent messages or time-sensitive offers
Inbox – Keep your teams organized with a shared inbox and never lose track of your customer email history again.
Marketing automation – Save time and boost performance by automating your segmentation and marketing messages
Transactional email – Step up the design, engagement, and deliverability of your transactional email messages
Landing pages – Create a more targeted visitor experience with dedicated pages for each of your campaigns
Signup forms – Grow your email contact list with custom forms that you can integrate in your website
Sendinblue Pricing
Free Tier – Yes
Lite – $25/m
Premium – $65/m
Klaviyo
Turn hard-earned customer data into hard-working texts and email marketing.
Successful emails deliver the most relevant content to a customer at the right time—which is why Klaviyo segmentation tool is so incredibly powerful.
You can easily engage with your customers based on how they interact with your brand, automatically sending everything from abandoned cart emails to product recommendations based on past purchases.
Klaviyo Features:
Klaviyo seamlessly connects to your online store and other tools—with just a few clicks. From then on, your customer data is always on hand, updated in real time.
Start with a library of data-proven templates built for online brands. Incorporate your brand colors and images, and you're ready to go.
Dozens of built-in automations are fully customizable. Each can have any mix of emails and texts.
Benchmarks show you what to improve and how. Predictive analytics helps you read customers' minds. Your marketing becomes smarter than ever and keeps getting smarter.
Klaviyo Pricing:
Free Tier – Yes
Email – Starting at $45/m
Email + SMS – Starting at $60/m
Campaign Monitor
Connecting with your audience has never been easier with Campaign Monitor's straightforward email marketing and automation tools.
Combining SMS and email marketing is the perfect way to build a stronger connection with your audience and maximize ROI. We make it easy to get started.
Campaign Monitor Features:
EASE OF USE – Customize any template or design to showcase your brand using the simply powerful drag-and-drop email builder—no coding required.
COMPLETE CUSTOMIZATION – Display your brand at its best with precise adjustments to every aspect of your campaign in the email builder.
MOBILE OPTIMIZATION – Every template is responsive to mobile devices so you can send knowing your campaigns look great everywhere.
TEMPLATE MANAGEMENT FOR TEAMS – Allow your email designer to lock sections of the template so that your team only updates what you want them to — ensuring your brand style and business critical information all stay intact.
Campaign Monitor Pricing:
Free Tier – Yes
Basic – $9/m
Unlimited – $29/m
Premier – $149/m
Moosend
All the benefits of an email marketing platform minus the coding.
Size doesn't matter to us. Big or small, Moosend helps your business deliver powerful emails that get opened and clicked every time.
Simplify your marketing tasks and reach your goals at the push of a button.
Save time and headaches with Moosend's advanced automation features and thrust your email marketing forward.
Moosend Features:
Create beautiful, professional campaigns to engage your audience like a pro
Grow your audience and your business, with simpler marketing processes
Stay ahead of your competition and achieve your goals, with a set of powerful features
Automate repetitive tasks, and provide a more personalized experience for your customers
Measure your marketing success and collect powerful data for better decision-making
Moosend Pricing:
Free Tier – No
Pro – $9/m
Causeartist
Causeartist is a multi media company spotlighting impact entrepreneurs, impact startups, and corporate social responsibility.