Invoicing software helps small businesses manage invoices and payments. It can save time and money by automating the invoicing process, and it can also help businesses keep track of their spending.
When considering an invoicing software program, be sure to consider the following factors:
Ease of use: The software should be easy to use and understand. It should have a user-friendly interface that is intuitive and straightforward.
Features: The software should have all the features you need to manage your invoices and finances. Be sure to consider what types of reports and analysis tools you need, as well as whether you need features such as recurring invoicing and automatic payments.
Pricing: The software should be affordable and offer a price that is suitable for your budget. There are many free and low-cost options available, so be sure to compare prices before making a purchase.
Here are ten reasons why invoicing software is a must-have for any business:
1. Save time: With invoicing software, you can create and send invoices in minutes. There's no need to spend hours writing out invoices by hand or inputting data into a spreadsheet.
2. Get paid faster: Invoicing software makes it easy to track payments and see which invoices are overdue. This can help you get paid faster and avoid chasing after late payments.
3. Manage your finances: With all your invoices and payments in one place, invoicing software makes it easy to track your spending and see where your money is going. You can also use the software to create budget reports and forecast future income and expenses.
4. Stay organized: Invoicing software helps you keep track of all your customers and clients in one place. You can easily see which invoices have been paid and which are still outstanding, as well as when each invoice is due.
5. Send professional invoices: With invoicing software, you can create professional-looking invoices that include your company logo and branding. This can help you build and maintain a professional image for your business.
6. Automate billing: With recurring invoicing, you can set up your invoicing software to automatically send invoices on a regular basis. This can save you a lot of time and hassle, as well as ensure that your customers always receive their invoices on time.
7. Accept credit card payments: Most invoicing software programs allow you to accept credit card payments from your customers. This can help you get paid faster and reduce the risk of late or unpaid invoices.
8. Send reminders: If a customer hasn't paid an invoice, you can use your invoicing software to send a payment reminder. This can help you avoid having to chase after payments and keep your customers happy.
9. Generate reports: With invoicing software, you can generate reports on your income and expenses, as well as see who your best-paying customers are. This information can be helpful in planning your business finances and making future decisions.
10. Save money: With all the time and money you'll save by using invoicing software, you may find that it pays for itself in no time! There are many affordable options available, so be sure to compare prices before making a purchase.
There's no question that invoicing software can benefit any business. If you're not already using invoicing software, now is the time to make the switch. You'll be glad you did!
When choosing an invoicing software program, be sure to read reviews and compare features to find the best option for your business. With the right invoicing software in place, you can streamline your billing process and save time and money.
Some programs are free, while others can be expensive.
Below, we have highlighted both free and paid invoicing software.
Best invoicing software for small businesses and social entrepreneurs.
Freshbooks
Freshbooks is an award-winning cloud-based accounting software designed to make billing painless for small businesses and their teams.
Over 10 million people worldwide use Freshbooks to effortlessly send professional looking invoices, track their time and capture expenses.
What's more, Freshbooks comes with built-in project management tools to help small businesses deliver great client experiences from start to finish. If you're ready to ditch the paper trail and get organized, Freshbooks is the perfect accounting solution for you.
With its clean and user-friendly interface, Freshbooks is extremely easy to use.
You can create and send invoices in just a few clicks, track time and expenses with ease, and manage your projects from start to finish.
Freshbooks automates many of the tedious and time-consuming tasks associated with traditional bookkeeping, such as creating invoices, tracking payments, and following up with clients.
This frees up your time so you can focus on running your business.
Pricing: Free Tier – 30 Days Free
Plans – $15/m, $25/m, and $50/m
Bonsai
Bonsai is building the global operating system for freelance work.
Bonsai's all-in-one product suite with smart automation lets you focus on your passion, not your paperwork. Bonsai integrates and automates every step of your business so it runs seamlessly – from proposal to tax season.
Whether you're just getting started or your business is booming, Bonsai has you covered.
Bonsai Features:
Proposals
Contracts
Client CRM
Time Tracking
Invoices
Task Tracking
Accounting and Taxes
Forms
Pricing: Free Tier – No
Plans – $24/m, $39/m, and $79/m
Fiverr Workspace
Automate your business's back office with Fiverr Workspace.
Customize and automate invoices and accept payments quickly and securely, in any currency, via bank transfer, credit card, or PayPal.
Use smart proposals that also seamlessly generate contracts, collect deposits, and so much more.
Easily edit and share pre-populated contracts that build secure, fair relationships between you and your clients.
Stay organized with time tracking tools that offer "set and forget" ease-of-use and automated task prioritization.
Analyze your overall business performance in a single, integrated dashboard that automatically tracks both your Fiverr and non-Fiverr projects.
Pricing: Free Tier – Yes
Plans – $24/m
Incomee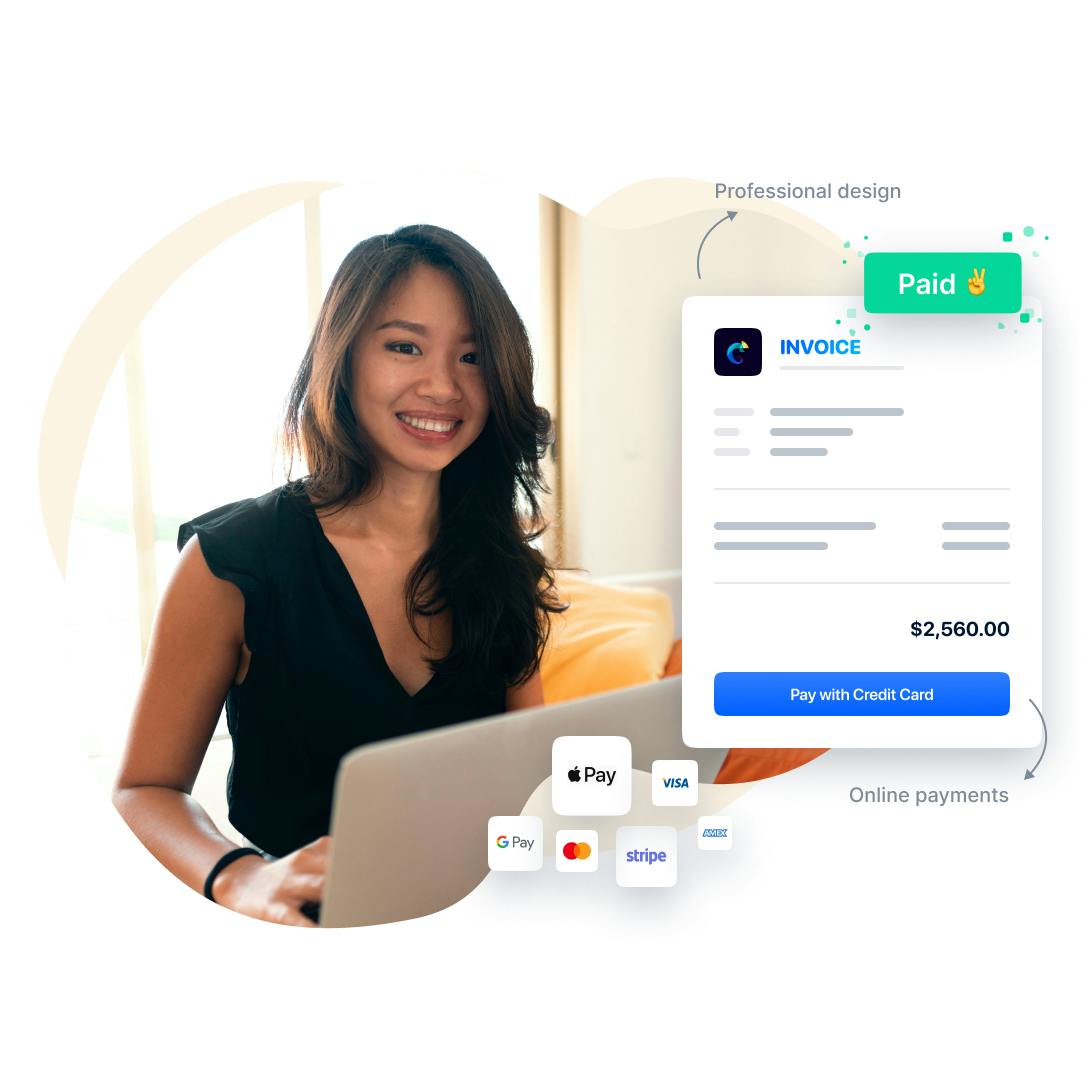 Incomee is the most intuitive, affordable, and smart way to automate your freelancer business and focus on what really matters.
Unlike other tools, Incomee is designed to save your time and money Incomee keeps everything simple, automating many actions to make freelancing as efficient as possible. You can save an average of 15% of your time compared to other freelance tools.
Incomee features:
Invoices – Create and send professional and beautiful invoices in seconds. By scheduling the send and by accepting online payments you can get paid faster and forget about late payments.
Proposals – Proposals that work for you and your clients. Create professional proposals within seconds, saving both time and money, while earning new clients and growing your business.
Dashboard – Have peace of mind knowing all your monthly profit and checking your progress in a simple user interface. Besides that, their data-driven intelligence provides you with a projection of your financial situation at the end of the year.
Stripe Invoicing
Invoicing built for speed and scale. Stripe Invoicing is a global invoicing platform built to save you time and get you paid faster.
Create and send a Stripe-hosted invoice in minutes—no code required. Or, use the Invoicing API and advanced features to automate how you collect and reconcile payments.
Stripe Invoicing features:
Get paid faster – Stripe's online invoices provide an optimized experience across mobile, tablet, and desktop. 70% of Stripe invoices are paid within 24 hours.
Easy to get started – Create, customize, and send a Stripe-hosted invoice in minutes—all from the Dashboard with no code required.
Configurable for any use case – Collect one-time or recurring payments via card, bank transfer, and other payment methods. Add line items, discounts, and tax rates directly to your invoices.
Scales with you – Stripe's APIs can help automate your invoicing workflows. Use automatic email reminders and aging reports to collect unpaid invoices.
Invoicely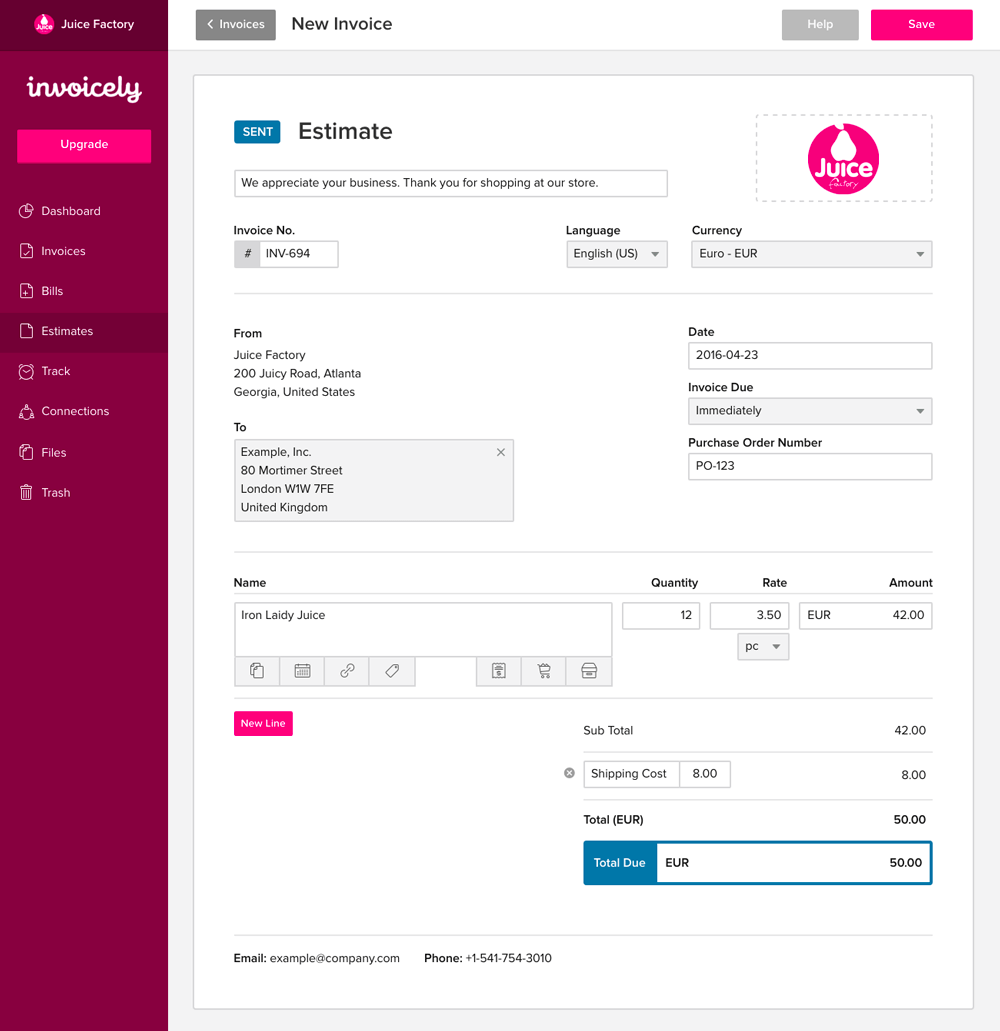 Invoicely is the easiest way to manage your business finances. With their online invoicing software, you can create and send invoices in minutes – and get paid faster.
They also got a suite of tools to help you run your business more efficiently.
Whether you're just getting started, or you're a seasoned pro, invoicely can help you get a handle on your finances – and free up your time to focus on what you do best.
Here's a quick overview of the features:
Online invoicing: Create and send invoices in minutes, from anywhere.
Accept payments online: Get paid faster with online payments.
Expense tracking: Track and manage your business expenses.
Online accounting: Stay on top of your finances with our easy-to-use accounting tools.
Task management: Stay organized and get more done with our task management tools.
Integrations: Connect invoicely to the other apps you use to run your business.
Pricing: Free Tier – Yes
Plans – $9.99/m, $19.99/m, $29.99/m
PayPal Invoicing
PayPal makes it easy to manage your billing and get paid from virtually anywhere. Customers can make a payment securely in just a few clicks and you can receive your money in minutes.
Create and send an invoice in minutes, from nearly any device. Choose to send your invoice via email or using a shared link. There's no need to download invoicing software.
Add your logo, contact information, and custom fields to your invoice template – you can save it for fast access whenever you do your billing.
Manage everything in one place. View your billing history online, track payments, and send reminders.
There's no subscription fee for sending invoices online. You pay only when you get paid.
Pricing: Free Tier – Yes – with PayPal account.
Bonus: For cryptocurrency Invoicing
Coinbase Invoicing
Easily accept and bill crypto to your customers. Powerful business tools to supercharge your crypto payments
Custom checkouts – Accept crypto from your customers for all your goods and services
Flexible invoices – Easily bill and invoice your customers
Biypay
Receive crypto payments with email billing and invoicing.
Lightning-fast global payments – You can send and receive blockchain payments to BitPay invoices in minutes from hundreds of supported countries.
Zero price volatility – BitPay shields you from the price volatility of Bitcoin and other cryptocurrencies. You get every dollar or euro of what you charge, minus 1%.
Quick bank settlement – BitPay can settle funds via local bank transfer (ACH, SEPA, FPS…)
For more information on top software tools to use to help grow your startup, listen to the Tools for Scale podcast.
Disclaimer
This post contain links to affiliate websites, and we receive a small commission for any purchase made by you on the affiliate website using such links.
Causeartist
Causeartist is a multi media company spotlighting impact entrepreneurs, impact startups, and corporate social responsibility.