Clean beauty brands are becoming increasingly popular as consumers become more aware of the ingredients in their cosmetics and skincare products. Clean beauty refer to products that are made with organic, nontoxic ingredients and do not use any synthetic fragrances, parabens, sulfates, or phthalates.
These brands are committed to using only the highest quality ingredients, and many of them are also vegan and cruelty-free. Clean beauty brands offer a wide range of products, from makeup to organic skincare to hair care. And with more and more people looking for ways to avoid toxic chemicals, it's likely that these brands will continue to grow in popularity.
How many products do you currently have in your bathroom? 5? 10? 20?
When you wake up in the morning, you're probably engaging with the following products:
Toothpaste
Face wash
Moisturizer
Serum
Toner
….and that's just before breakfast. Maybe after you apply makeup, which includes a foundation, bronzer, mascara, eye-liner, lip tint.
No wonder the average women applies 168 chemicals to her body everyday. Not to mention, 12.2 million adults are using known carcinogens in their daily skincare routine, simply because they are not aware of what is in their personal care products.
The personal care and beauty market is worth approx. 465 billion USD. Imagine the benefits for our bodies is we were all to switch to a couple of clean beauty brands in our bathroom that was a natural-based product?
To help you make the switch, here are socially conscious and clean beauty brands that you can shop and ship to your home right now.
---
Urtekram
Urtekram was founded in Copenhagen in 1972 and in 2017, Urtekram was named Denmark's most sustainable brand by the Sustainable Brand Index. The production is located in scenic Mariager in Jutland in Denmark, and here they produce natural and ecologically certified beauty products for all needs. Today, the products are in stores throughout Europe and large parts of the rest of the world.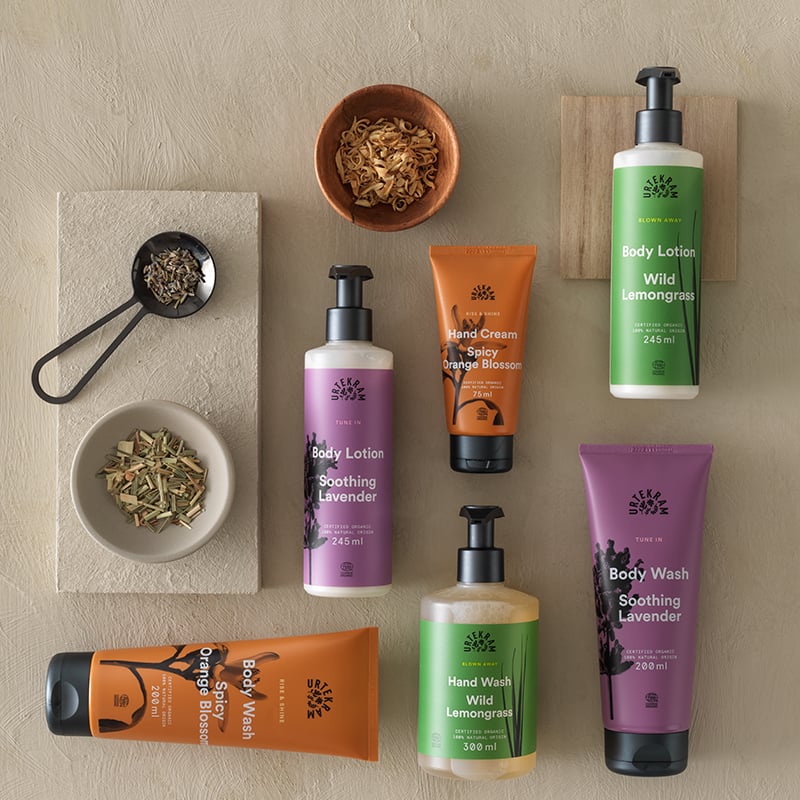 Urtekram was founded as early as 1972, at a time when pioneering spirit, a sense of belonging and environmental awareness, was emerging. Organic products were just an idealistic matter of the heart for the few. However, this was the beginning of the journey, that later would make the whole of Denmark – and Scandinavia – much sustainable and conscious.
The visionaries began the journey with a small spice shop in the heart of Copenhagen. Here they sold products, focusing on a natural, simple and clean lifestyle. The entrepreneurial spirit quickly took hold of them and soon the company Urtekram was founded. During the 1970s and 1980s, knowledge about Urtekram developed slowly but surely and spread beyond the small circle of early environmental enthusiasts.
Soapbox
For every product sold, the company gives back through bar soaps, health, and hygiene initiatives in communities both domestically and around the globe. Track your impact with your Hope Code at soapboxsoaps.com/hope.
Soapbox products reach the everyday consumer with the mission to change the world through quality purchases. All products are all made in the USA, with 100% recyclable packaging, and the products are sold in stores like Target, Marcs, Meijer, Walgreens, Rite Aid and thousands of other retailers across the nation.
Shea Yeleen
Established in 2005, Shea Yeleen is one of the top clean beauty brands dedicated to empowering women in West Africa and the United States through the production, sale and use of shea butter products.
A unique blend of grassroots organizing and business development, Shea Yeleen specializes in manufacturing high quality, organic, fair trade skin care products and utilizing a sales strategy that incorporates women's' micro enterprise development.
Ultimately, Shea Yeleen's beneficiaries are the women producers who will receive a fair price, small business start-ups and consumers who will have access to a guaranteed high-quality product that meets their health, cosmetic and personal beauty needs.
Shea Yeleen cares about the global community. They believe that business has an equal responsibility to make profits while benefiting and making change in the communities in which we do business.
Āthr Beauty
Founded in 2018 by Tiila Abbitt, a passionate, highly creative product development professional with 11+ years' experience – including the international prestige beauty industry.
Her obsession with sustainability lead her to become the lead R+D for sustainable materials while also being on the sustainability leadership council for the retailer.
Plastic makeup componentry is a huge source of pollution globally and Tiila really wanted to create a brand that was ethically-sustainable, beyond the formulation, but in everything that Āthr Beauty creates.
Tiila is aware of the eco footprint we have in everything we do and as a founder, wants to bring sustainability into every decision at Āthr Beauty. That's why she won't launch a product until there's a better sustainable alternative.
And when you purchase Āthr Beauty products a portion of sales goes to environmental charities, because giving back and being sustainable is the only way to ensure we leave this planet better than we found it.
Tierra & Lava
"We believe you shouldn't have to compromise with natural skincare – you can have a product that is both kind to your skin and the earth." LUCY ASHMAN, FOUNDER
The clean beauty brand seeks to capture the natural essence and healing properties of botanicals at their peak, unspoiled form to create beautiful, lush skincare products that have the power to unearth your natural beauty.
With every moment you spend caring for yourself, you are restoring your connection to the earth and your natural powers that come from it.
The ingredients are locally sourced in an ethical and transparent way so we can ensure quality at every part of their journey; from inception to the final product. Tierra & Lava builds relationships with our farmers and financially support them so they can carry on the legacy of their disappearing traditional Mayan cultural practices.
True Moringa
Natural skin and hair care powered by nature's best kept secret- antioxidant rich moringa oil. Moringa oil is sourced ethically from smallholder farmers and manufactured locally in Ghana with proprietary technology developed at MIT, thanks to True Moringa fouders Kwami Williams and Emily Cunnigham.
They took the Moringa tree's unused seeds and figured out how to cold-press the seeds to produce an oil that outperforms argan, jojoba, and shea. Together, they built True Moringa Natural skin & hair care with the mission of doing wellness differently. They believe that being healthy should be simple, affordable, and accessible to all.
Native
We all know how harmful mainstream deodorants are. So why do we keep buying them?
I get it-often it's hard to come across a natural solution for deodorant that actually helps with body odour.
Today is another friendly reminder that clogging your pores with aluminium (that's right! It's in your deodorant and even mentioned in the ingredients), and parabens (literally cancer causing chemicals!), has to stop.
Luckily there's Native. Their natural deodorants are free of all chemicals and toxins, and are responsibly made in the USA. Not only do their deodorants actually get the job done, they are extremely economical, and they offer an extended product line to help take more chemicals out of your bathroom, including fluoride-free toothpaste.
Hand in Hand
Remember those 168 chemicals I was mentioning earlier?
Imagine a brand that is so transparent, they tell you exactly what their main ingredients are (and why they stick to them).
Hand in Hand's core ingredient list is a recognizable 11 items that you can actually pronounce. Their "sustainable suds" are made in the USA and are vegan, cruelty-free, and palm oil free. All ingredients are responsibly sourced, and their one-for-one model helps provide clean water to underprivileged children.
Their collection includes all your essential bathroom needs from soap and body wash, to scrubs and essential oils.
Sitti Soap
Olive oil is one of the best oils for killing bacteria and hydrating your skin. Utilizing olive oil in skin care has always been a practice in the Middle East, but not as heavily practiced in North America.
Sitti Soap brings your olive oil-based soaps to the market, that are handmade and cold-pressed by refugee women at the Gaza refugee camp in Jordan. This incredible social enterprise is providing empowerment to women who have had to leave everything behind in countries such as Palestine. Every purchase cultivates community for these women, and allows them to earn an income and work towards a life of freedom.
Teadora
Adore yourself! That's literally what "Teadora" means—and they back it up with their vegan, cruelty-free, sustainable beauty products that feel and smell ahhh-mazing! Founder Val grew up near the Amazon rainforest, where her mother taught her to how to sustainably harvest Amazonian botanicals to make natural body care blends.
Val wanted to pass on those luxurious self care products as well as her love for the Amazon. So when you shop Teadora, you're getting natural body care that's great for you, and giving back to do great for the planet!
Every Teadora purchase plants one tree in the rainforest, and Teadora is on a mission to plant 1 million!
The PURE Collection
The PURE Collection is an award-winning Certified Organic luxury skincare brand with 100% recyclable packaging from London, UK. Since inception, they have drawn inspiration from nature to formulate a botanical line so clean, natural, pure and organic, that its simplicity will evolve you over time to give you transformative results for the look and feel your skin deserves.
The Pure Collection Organic luxury skincare sources their Argan oil directly from a small, independent producer near Agadir, Morocco. A cooperative of local Berber women operates it with good working conditions.

The method of harvesting, extraction, and storage is very important. Argan fruit is composed only from the ground. This protects the trees, making them more durable. Moroccans dry these nuts in the hot Moroccan sun for several days before de-pulping and cracking them by hand.

It is crucial to recognize that it is usually the women who do the hard work of hulling and shelling the fruit by hand.  After the fruit has been prepared, it is extracted by machine and filtered several times. First-pressed oils are used only. The PURE Collection only works with one cooperative that pays its women producers a fair wage.
Savhera
Pure and natural essential oils are actually not that easy to find. It takes a dedicated team who are passionate about providing consumers with exceptional products, and committing to sustainability to find a pure oil that comes with all the benefits for your skin and health.
Savhera sources their oils directly from the land of Ayurveda, India, while combatting sex trafficking by providing dignified employment to survivors of sexual exploitation in India and the USA. They are currently pending to become a B-Corp certified company, and we can't wait to celebrate this new achievement with them.
Nolé Care
Nolé Care is a new type of skincare that is taking the beauty world by storm. Nolé Care is made with natural ingredients that are designed to nourish and protect the skin. The Nolé Care line includes a face wash, moisturizer, and serum.
The face wash is made with aloe vera and chamomile, which helps to gently cleanse the skin. The moisturizer is made with jojoba oil and shea butter, which helps to hydrate and soften the skin.
The serum is made with rosehip oil and hibiscus, which helps to brighten and revitalize the skin. Nolé Care products are free of harsh chemicals, sulfates, parabens, and phthalates. Nolé Care is also vegan and cruelty-free.
LUXE Botanicals
LUXE Botanics is a luxury skincare brand that is committed to using only the highest quality botanical ingredients. The brand was founded by two women who have a passion for nature and a desire to create products that would nourish and revitalize the skin.
All of LUXE Botanics' products are lovingly handmade in small batches, using only the finest natural ingredients. The result is a skincare range that is both beautiful and effective.
Whether you're looking for a face cream, body lotion, or shampoo, LUXE Botanics has something to suit your needs.
Henua Organics
Henua Organics is a line of all-natural and certified organic skin, hair, and body care products. Henua's mission is to provide the highest quality products made with pure ingredients that are ethically sourced and environmentally sustainable.
Henua's products are free from synthetic fragrances, parabens, sulfates, phthalates, and artificial colors or preservatives. Henua is committed to using only the finest ingredients that nature has to offer, and their products are USDA certified organic and Leaping Bunny certified cruelty-free.
Henua's products are available online and in select retailers nationwide. Henua believes thatWhen it comes to your skin, what you put on it is just as important as what you put in your body, so they make it their mission to provide you with the safest and most effective products possible.
---
We are an affiliate for some of these products. If you buy one of these a products we may receive % of the sale when you purchase. Thanks.
Listen to our podcasts here.
---
Latest Stories:
Causeartist
Causeartist is a multi media company spotlighting impact entrepreneurs, impact startups, and corporate social responsibility.