In Episode 12 of the Disruptors for Good podcast I speak with Prashant Mehta, the Founder and CEO of Conscious Step, a social enterprise creating comfortable and beautiful socks that support social good causes with every pair sold.
Listen to more Causeartist podcasts here.
Conscious Step is redefining what it means to be a socially and environmentally responsible brand. They create premium-quality, organic cotton socks which give back to the world's leading non-profits.
Every pair is designed to tell a story about a cause and raise money to support it.
For every pair purchased of Socks that Plant Trees, for example, they donate to plant 10 trees. Similarly, we have causes that protect oceans, endangered wildlife like sharks, elephants and sloths, save LGBTQ+ lives, stop violence against women, give schoolbooks to children more.
Every pair is made sustainably and ethically: we are the only company with GOTS (organic), Fairtrade, and Vegan certifications.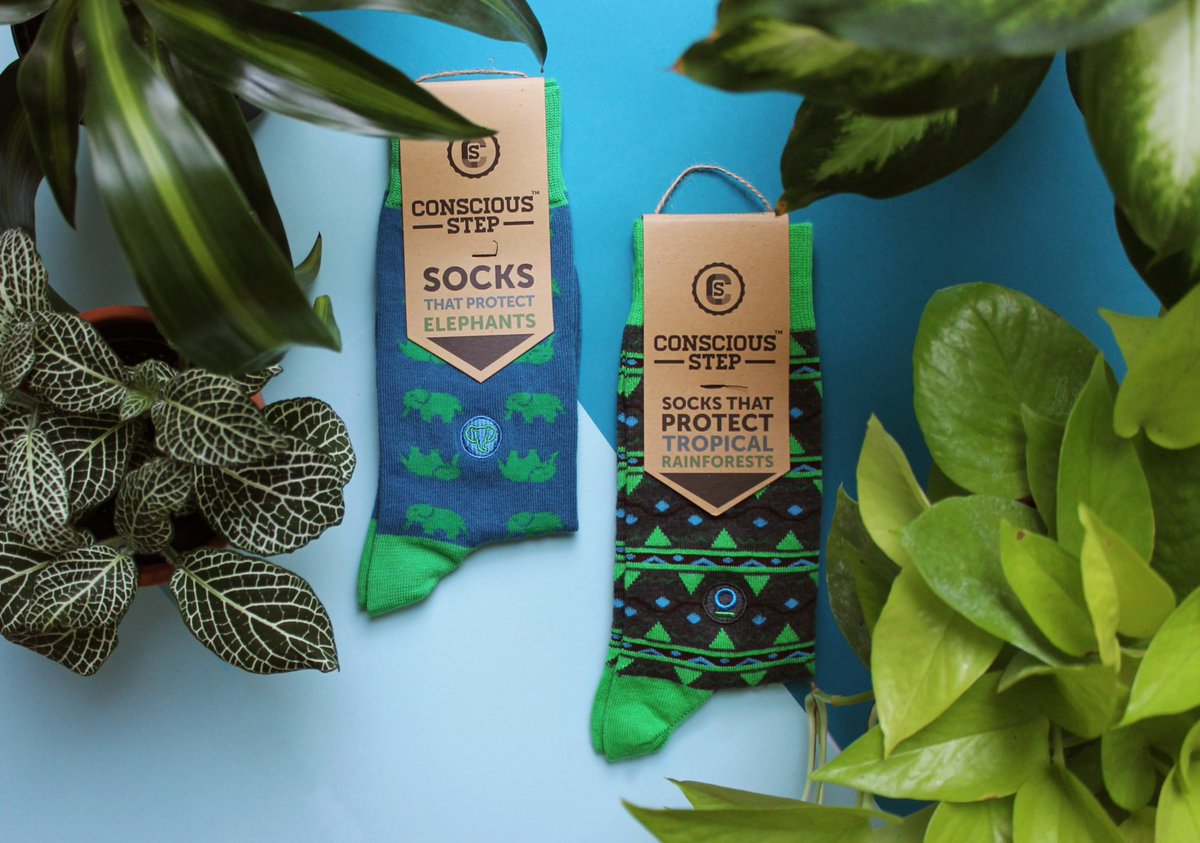 Sourced in India from one of the world's most ecologically and socially sustainable supply chains, Conscious Step socks are made from organic, Fair Trade cotton. This makes them unbelievably comfortable, uncommonly durable, and as good to your feet as they are for the environment.
Interview with the Conscious Step Co-Founder Prashant Mehta
---
Q:Tell us how you came up with the idea and model to build the Conscious Step brand.
---
A: From a young age, my mom has instilled the habit in me to give back. With each weeks allowance she provided me an envelope to donate to different causes, a constant reminder that whatever my issues, there were always people suffering.
As I traveled and searched for ways to use my skills and knowledge to give back and improve my surroundings, I began to realize that giving was inherent in those who are self-aware and happiest.
Through this time. I began to notice key factors in people's giving habits. Today, we often give back when it's convenient, such as a small donation after a purchase at the local store.
Finally, everyone today is aware of the many causes and issues that affect our personal lives and the well-being of our planet.
Together we exist to work and learn from those who continue to make great strides with modern day issues, while empowering our generation to take conscious steps in their everyday lives.

Prashant Mehta
Q:Manufacturing seems to be at the highest priority for you and your team. How difficult was it to build a fair-trade and sustainable manufacturing eco-system to help your brand grow?
---
A: Learning to manufacture ethically became inherent when our team decided we were going to raise awareness for the worlds most serious problems.
Today, manufacturing is one of the largest forms of pollution in the world. Our everyday clothes are a result of modern day tragedies, and our desire for fast fashion and the latest fads has allowed many to lose appreciation for the art and meaning of clothing we wear.
As we searched and built relationships with factories we continued to ask questions, make visits, and learn what it meant to be fair-trade and organic.
Q:Conscious Step works with some very established non-profits. Can you tell us a little bit about how you built those partnerships?
---
A: After interning at the World Health Organization, my co-founder Hassan had strong awareness for the United Nations Millennium Development Goals.
Goals the United Nations had collaborated on to raise awareness for humanities greatest issues.
Today they are known as the Sustainable Development Goals, launched in 2015 each of the seventeen issues represents one of modern societies greatest challenges.
The only way all of us can change these issues is by learning about them and understanding them.
After we surveyed different types of people on which issues they felt were most important, we began to speak to leading non-profits asking for a model of donation that would create quantified change.
Action Against Hunger for example shared they were raising awareness for malnutrition in Sub-Sahara Africa, and we worked with them to create a unique and engaging product that empowered our customers with solutions.
Hunger steps provide 6 meals, Education – 2 books, Environment – 20 trees, Disease/HIV – 1 week of therapy (preventing transmission from mother to child), and our newest partner Water.Org – 18 months of clean water (provided to one person per pair).
Conscious Step works with leading non-profits, due to their ability to deliver a powerful story and connect people directly to their inspired work.
Q:Your socks are very high quality and well designed. How long did it take you and your team to build a brand identity and come up with the designs that you were proud of?
---
A: With each design comes a powerful story. Colors, feeling, packaging, and sometimes even scents.
We began by asking people in different demographics what quality meant, and what designs they appreciated in different lifestyle situations. Mistakes were made, but failure always teaches valuable lessons.
Our team continues to speak to our customers and keep our products on limited runs. We continue to work with our partners to fund different projects and continuing to educate people and inspire positive change.
We've actually just released our second hunger sock as well, with a new environment one coming soon.
Q:When you think about business and social good what inspires you about these two worlds colliding to solve some major global issues? Do you think we are seeing the future of problem solving through consumer products?
---
A: I think it's necessary. In today's world we are overwhelmed with consistent problems and negatives that we don't feel we have solutions too, or don't completely understand from the people on the ground.
The world needs to continue it's shift in consciousness towards lifestyles of sustainability. We've continued to see amazing strides in the food and fitness industries over the past decade, but today a better understanding of consumption issues and sustainable solutions will and can last in our fast and evolving world.
Latest Stories