Looking for a way to clean your home without harsh chemicals? Check out these eco friendly cleaning products that will freshen up your home! From all-natural laundry detergent to window cleaner, we've got you covered. Plus, these products are gentle on both your wallet and the environment.
Eco friendly cleaning products are made with natural ingredients that are not harmful to the environment. These products are also biodegradable, meaning they will decompose naturally and not contribute to pollution.
Eco friendly cleaning products are becoming increasingly popular as people become more aware of the impact their choices have on the planet. There are a number of reasons to choose eco friendly cleaning products over traditional ones.
First, they are better for your health. Traditional cleaning products often contain harsh chemicals that can be harmful if inhaled or ingested. Eco friendly cleaning products, on the other hand, are made with natural ingredients that are not toxic.
Secondly, they also tend to be more gentle on skin, making them a good choice for people with allergies or sensitive skin.
In addition, eco friendly cleaning products are better for the environment. Because they are made with natural ingredients, they will decompose quickly and not contribute to pollution.
Finally, eco friendly cleaning products are usually more affordable than traditional ones. Many people assume that green products come with a higher price tag, but this is often not the case.
There are a number of affordable eco friendly cleaning products on the market that can help you save money while still doing your part to protect the planet.
Here is a list of eco friendly cleaning products you should check.
Koala Eco – Multi Purpose Cleaning Products
Koala Eco makes safe, powerful, plant-based products for a clean home, body and mind. Made locally with Australian essential oils and natural ingredients.
Koala Eco products are certified safe, non-toxic, natural and sustainable.
They are not tested on animals and do not contain any harmful chemicals or synthetic fragrance, smelling only of glorious Australian essential oils.
They are also extremely effective, and actually perform as well if not better than alternative products made with harsh chemicals.
All bottles are made with 100% recycled and recyclable materials, so no new plastic is created. For every bottle sold they donate a percentage to the charity One Percent for the Planet. They are also proud sponsors of WWF Australia and Port Stephens Koalas.
Kind Laundry – Eco-friendly Laundry Detergent Sheets
Made with zero-waste packaging and safer ingredients, our laundry detergent sheets is more eco-friendly than most conventional detergents out there. Goodbye single-use plastic jugs and packaging.
Kind Laundry Detergent Sheets is a completely zero-waste laundry detergent and an eco-friendly alternative to the traditional liquid and powder detergents in the market. It's 100% recyclable packaging has a dramatically smaller eco-footprint on the environment and helps you lighten your load on the planet.
Furthermore, the strong cleaning power of our waste-free laundry detergent comes from a completely plant-derived formula. This means it is also a gentler and safe alternative to synthetic, chemical-based detergents for you and your family.
Everneat – Surface Cleaner
Plant-Powered All-Purpose Cleaner, professional-grade degreaser that works safely on all surfaces but gentle with your hands, safe for your family, pets, and your home.
Plant & Mineral based ingredients powered with pure essential oils to clean the dirtiest messes effectively. Better for you, your family and the planet!
Have the freedom to choose your plastic or glass containers designed to be refilled and help divert single-use plastic from landfills.
Highly concentrated refills packed in stand-up spouted bags to reduce waste and ship more efficiently. Once your refill pouch is empty, you are welcome to reuse it or dispose of it in your plastic recycle bin.
Everneat products are 100% handmade in small batches at their headquarters located in Fairfield, CT.
Mrs. Meyer's All-Purpose Cleaner Spray, Honeysuckle
Mrs. Meyer's Clean Day products are inspired by the garden, which is why they're inspired to plant flowers, plants and trees. At Mrs. Meyer's, they have a passion for the environment.
They also know the importance of being a good neighbor in our home, our community and our world. That's why they've made a commitment to improving the earth one flower, plant and tree at a time through their campaigns, partnerships, volunteering efforts and donations.
Details about this item:
Quick and easy multi surface spray removes stuck on dirt
A fresh way to clean, refresh, and remove odors from non-porous surfaces throughout the house
Garden-fresh Honeysuckle has a tempting sweet scent – a charming mix of flowers and fruits
Safe to use as a hardwood floor cleaner, tile cleaner, on countertops, walls and more
Mrs. Meyer's produces cruelty free cleaners. None of our products are tested on animals.
Better Basics – Dish Suds Soap
The natural dish soap is made with sustainable, plant-based ingredients designed to be tough on food and grease, but gentle on you and the environment.
Moisturizing aloe vera keeps skin hydrated while lemon, eucalyptus, and tea tree essential oils add an extra layer of cleanness.
Better Basics is female-founded in beautiful Vancouver, Canada.
Better Basics was created to simplify your life and make eco-living easy. Their goal is simple: replace everyday items with the best reusable or biodegradable alternative that they can find.
tentree – Biodegradable Laundry Strips
tentree teamed up with Tru-Earth to bring you the most sustainable laundry detergent ever. These ultra-concentrated laundry strips are biodegradable and zero-waste to help clean up your footprint as well as your clothes.
Ingredients Matter – Laundry Detergent Soap
Made in the USA, Ingredients Matter's detergent soap is good for clothes, you and the earth. No hidden petroleum or needless plastic. No scent, either so it's ideal for sensitive skin and noses.
Wash your laundry with confidence knowing that our fragrance free laundry detergent does not contain artificial perfumes or dyes. It is hypoallergenic so it is gentle on your body, even baby skin. The detergent is independently tested to clean and eliminate odor as well as stuff in the big plastic jugs.
AIRNEX Biodegradable Natural Kitchen Sponge – Compostable Cellulose and Coconut Walnut Scrubber Sponge
Plastic sponges can only be used for a few weeks, but they're here to stay on our planet for centuries. This eco scrubber is made of 100% natural materials that can go straight into your compost bin after use!
Details about this item:
100% ALL NATURAL SPONGES FOR DISHES – Airnex's biodegradable sponges is made of white cellulose and coconut fiber. 100% plant-based, this compostable kitchen sponge provides you an opportunity to go green in the kitchen!
THE HEALTHIER WAY OF CLEANING DISHES – Our natural dish sponge can last long without being stinky! Unlike its plastic counterpart, it has porous structure helps it dry up quickly, lessening the chances for illness-causing compounds to breed.
ERGONOMIC SHAPE – Rectangular dishwashing sponges can be a hassle or tiring for you to hold, so we designed this eco friendly dish sponge with a unique S shape for easier use. Lesser risk of straining your hands while cleaning!
NON-SCRATCH MULTIPURPOSE SPONGES – Safely scrub your dishes and even delicate surfaces without worrying about unwanted scratching. This eco kitchen sponge can help you gently yet effortlessly wipe away grease, dirt, grime, and other impurities.
ZERO WASTE NATURAL CLEANING SPONGE – Your pack of 12 reusable scrubbers can go straight to the compost after use. We'll also plant a tree on your behalf with this purchase and gift you a free ebook to help you get started towards a natural, sustainable lifestyle!
The Good Roll – Toilet Paper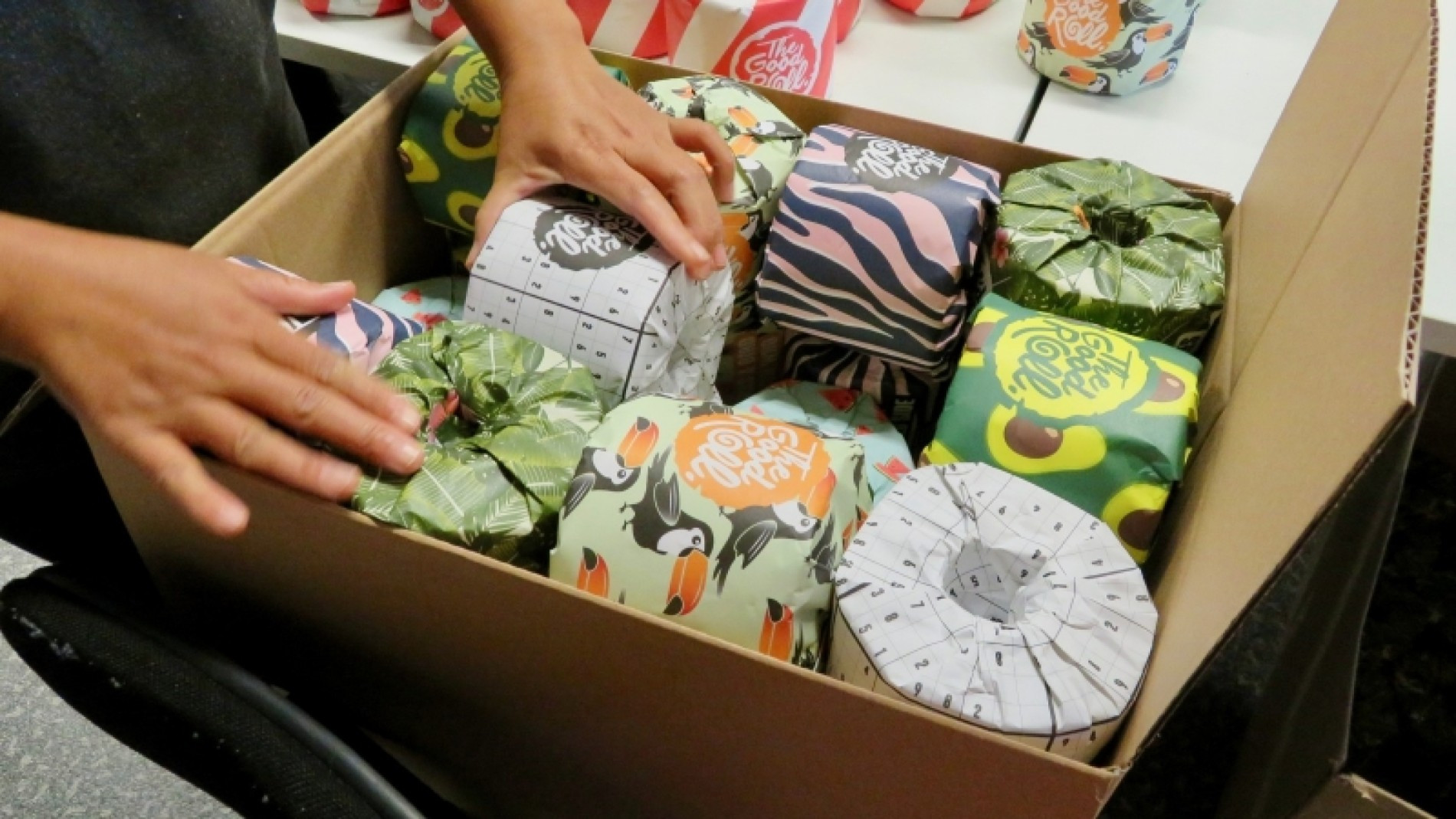 The Good Roll is a new type of toilet paper that is made from 100% recycled materials. The Good Roll is soft, absorbent, and gentle on the skin, making it an excellent choice for those with sensitive skin.
The Good Roll is also hypoallergenic and free of harmful chemicals, making it safe for use by everyone. In addition, The Good Roll is Septic tank and sewer safe, meaning that it will not clog pipes or cause any damage to your plumbing.
The rolls is also lined with a biodegradable film that will breakdown in water, making it environmentally friendly.
Encircled – Guppyfriend Wash Bag
Encircled's founder Kristi started Encircled in her kitchen with a sewing machine she bought on Craig's List! Now they've grown into a full-fledged brand making really comfortable, super versatile, and high-quality basics that cut down on garment waste and dress women in clothes they'll love.
If you're looking to simplify your closet or curate a capsule wardrobe, do yourself a favor and browse their collection—all ethically-made in Toronto with eco friendly fabrics and upcycled materials.
One of their top products is the Guppyfriend. The products protects your clothes so fewer plastic fibers break off, which extends the lifespan of your garments. The fibers that do break off are collected in the corners of the washing bag to be easily removed and disposed of after washing.
The Guppyfriend Wash Bag is made from untreated polyamide 6.6. It's designed to be completely recyclable when you remove the zip. 100% recyclable with plastic free packaging.
Sitti Soap – Natural Loofah Scrubber
Sitti Soap began when two friends, Noora and Jacqueline, began working with a motivated and talented group of women at the Jerash Refugee Camp in Jordan. Today, that's morphed into a blossoming social enterprise that employs 13 men and women who handcraft olive oil soaps and body care products.
Listen to our Causeartist podcasts here
Sitti Soap is dedicated to providing fair wages, as well as education and empowerment for their employees. They love to share the inspiring stories of their artisans and are proud to support them on their journey.
Sitti Soap products as great for the environment as they are for you; they're committed to vegan and toxin-free ingredients and zero-waste production.
Their "Raw Kitchen & Bath Natural Loofah Scrubber" comes in a set of 3 – raw, not sprayed, treated or sewn. Each piece expands and can be cut to your appropriate size.
Use in the kitchen, in the bath, on your body or to clean! They are super versatile and can be used for multiple purposes. Best of all the 100% natural loofah's are compostable (in your backyard!) to help promote a zero-waste lifestyle.
The Honest Company Conscious Cleaning Clean Vibes Kit
Clean responsibly with this all-in-one Clean Vibes Kit that cleans + deoderizes your home. The less waste + reduced packaging cleaning bundle comes with three empty spray bottles, three corresponding refills (two pods per refill), a reusable towel and a palo santo stick (for the good vibes).
By choosing our Clean Vibes Kit, you can use over 85% less plastic in two years. The Pomelo Spritz scent combines citrus, mint and sweet notes to make your home smell refreshingly clean.
Details about this item:
Less waste – refillable bottles can last up to a lifetime
Lighter footprint – kits are shipped without water to lower gas emissions
Powerful clean – formulas made with only naturally derived ingredients
Seventh Generation – Laundry Detergent
Seventh Generation produces sustainable household and personal care products. Their product line includes items such as laundry detergent, dish soap, all-purpose cleaners, and more.
The company also offers a line of baby products, which are made with gentle ingredients and are never tested on animals. Seventh Generation's products are made from plant-based ingredients and are packaged in recycled materials.
The products are also biodegradable and safe for use around children and pets. Seventh Generation's products can be found in major retailers across the United States. In addition to their consumer products, Seventh Generation also offers eco friendly cleaning products for businesses.
Rebel Green – Baby Laundry Detergent
Rebel Green is a line of organic and eco friendly cleaning products that are safe for the environment and gentle on the skin. The company was founded in 2009 with the mission of creating cleaning solutions that would be effective without using harsh chemicals.
Rebel Green's products are made from plant-based ingredients and are never tested on animals. In addition to being environmentally friendly, Rebel Green's products are also affordable.
The company offers a variety of cleaning solutions for the home, office, and car. Rebel Green also offers a subscription service that delivers new products each month. Whether you're looking for an all-purpose cleaner or a specific solution for a tough stains, Rebel Green has a product that will meet your needs.
Zero Co – Bathroom & Shower Cleaner Refill
Zero Co has supercharged plant based and eco friendly cleaning products that will leave you with a sparkling bathroom after every scrub down. Nice work winning the war on waste at your place!
Zero Co's reusable refill pouches are made from plastic waste diverted from landfill and are designed to be refilled and reused over and over and over again. Every refill equals one less new-plastic-bottle being made, used once and thrown away.
Their dispensers are made from plastic rubbish that they've pulled out of the ocean, beaches and landfill. So far they've removed almost 6,000kg of plastic rubbish from the ocean. That's the equivalent of more than 500,000 water bottles worth of plastic.
Seventh Generation Disinfecting Multi-Surface Wipes, Lemongrass Citrus
Clean and disinfect in one easy step. Botanical disinfectant made from essential oils. Kills 99.99% of germs botanically, specifically:
Influenza A viruses including H1N1, Rhinovirus (type 37, the Common Cold virus), Staphylococcus aureus, Salmonella enterica, Escherichia coli and Pseudomonas aeruginosa on hard, nonporous surfaces.
Effectively controls odors. EPA Registered.
Powered by CleanWell thyme based technology.
Details about this item:
Pack of three, 70 count tubs (210 Wipes)
Kills 99.99percentage of household germs botanically
Cleans and disinfects in one easy step
Streak free formula, no smear or spots; ammonia free glass cleaner
Utilizes patented thyme based disinfecting technology developed by clean well, EPA registered
Causeartist
Causeartist is a multi media company spotlighting impact entrepreneurs, impact startups, and corporate social responsibility.