Check out these ethical coffee brands that you can order online, so your morning cup can have lasting impacts beyond your caffeine boost.
If your morning routine is anything like mine, you can't get going without a cup of coffee (or several). But being coffee drinkers and consumers makes us part of an industry with a difficult history, which makes supporting ethical coffee brands essential in order to really savor every sip.
The coffee industry has its roots in the exploitation of people in Africa. This history has had lasting effects on marginalized communities to this very day, especially as many large coffee companies still take advantage of their farmers.
Furthermore, the demand for coffee has led some coffee producers to forego traditional shade-grown coffee methods in favor of clearcutting portions of forests to create sun-grown coffee farms.
You have the power to make sure every cup you pour has a lasting impact beyond your caffeine boost. Rather than purchasing coffee from the world's largest roasters, you can support these five ethical coffee brands, each of which is committed to advancing positive social and environmental change, by ordering their ethical coffee online.
By making a conscious choice about which brands you buy your coffee from, you can help mitigate the negative impacts of the industry while boosting the positive efforts of such companies.
Repetition Coffee
Repetition Coffee is a locally-owned and woman-owned coffee company in Lawrence, Kansas, that offers coffee beans from around the globe, including Uganda, Mexico, Brazil, and Colombia.
The founder of Repetition, Amy Pope, had dreams of becoming a foreign diplomat, but changed course on a trip to Paris that found her engaging with the Parisian specialty coffee world.
The company's website highlights its commitment to ethical coffee sourcing and production; Pope personally made trips to South America to meet with farmers, check the quality of the coffee beans, and ensure the farmers were operating with sustainability and social responsibility in mind.
You can buy Repetition Coffee by the bag, perusing the options, reading detailed descriptions about the coffee's origins and production, and considering which flavor notes you are craving. Then, once you've found your favorites, you can sign up for either a weekly, biweekly, or monthly coffee subscription.
Grounds & Hounds Coffee Co.
At Grounds & Hounds Coffee Co.®, they believe that great coffee can fuel a greater purpose. Through the sale of their organic and eco-friendly specialty coffees, they support rescue initiatives and organizations providing a second chance for pups in need of a helping hand.
20% of all Grounds & Hounds profits are deployed to their rescue organizations working to make the second-chance mission a reality. Beyond creating the best cup of organic and eco-friendly coffee possible, Grounds & Hounds was created with an overarching purpose in mind; to provide every at-risk pup with a second chance at a full life.
To turn their passion into action, they collaborate with some of the most innovative animal rescue & welfare organizations throughout the country to provide funding and support for life-saving initiatives that impact rescue pups in communities throughout the country.
Spirit Mountain Roasting Co.
A Native American-owned coffee brand, Spirit Mountain Roasting Co. is located in Winterhaven, California. Founder Tudor Montague is a member of the Quechan Tribe. Through a portion of its sales, Spirit Mountain Roasting Co. supports Indigenous nonprofits, including Kalpulli Yaocenoxtli/Indigenous Roots in Minnesota and Native America Humane Society in California.
The company considers its supply chain part of its community and is committed to ensuring ethical and sustainable operations throughout it. When it can, the company chooses to source its beans from Indigenous coffee farmers directly.
In addition, Spirit Mountain Roasting Co. recognizes its responsibility to the health of our planet and uses biodegradable coffee bags made from renewable materials to package its ethical coffee.
You can purchase Spirit Mountain Roasting Co. coffee by the bag along with apparel and other accessories. The company also offers its coffee wholesale.
Equal Exchange
Equal Exchange combines two of my biggest passions: coffee and democracy. If you're like me, you'll be excited to learn about Equal Exchange, a worker-owned cooperative based out of Bridgewater, Massachusetts.
The company is also a Fair Trade business, meaning the company supports small farmers around the world and pursues positive environmental and social goals through its supply chain.
As a worker-owned co-op, Equal Exchange involves its employees throughout its decision making process. When company decisions are on the table, every worker-owner (there are more than 130) gets one vote on the issue.
They also get a share of profits, regardless of their position in the company.
Furthermore, Equal Exchange is putting in the work to educate people on sustainable and equitable food systems by producing and gathering a robust trove of resources on its website.
Equal Exchange sells its ethical coffee online in a variety of formats: in bags, as single-serve coffee pods, and in bulk.
Additionally, Equal Exchange is a wholesale coffee supplier, so you can buy coffee for your cafe, your office, your congregation, or any other group you're a part of.
Bonus! Chocolate lovers, tea drinkers, and snackers rejoice because Equal Exchange offers all of these delectable treats as well.
Cxffeeblack
Located in Memphis, Tennessee, Cxffeeblack is a Black-owned coffee shop on a mission to connect coffee drinkers with the bean's African roots and provide opportunities to the Black community in Memphis.
In a video on the site, co-founder Bartholomew Jones says, "[Coffee] both makes the world run and brings people together. But the lesser known reality is this: Coffee was swindled from Africa in the 16th Century.
The company sells coffee by the bag and via its Anti Gentrification Cxffee Club Subscription Box of two bags per month plus early access to exclusive coffee flavors, monthly 8×10 prints, and music made available just for subscribers.
Speaking of music, the company does in fact sell music, produced by Jones, along with many apparel items and accessories.
While browsing the coffee, you can learn about the African history of coffee, how colonizers and slave traders stole it to make a profit off the backs of Black labor, and the lasting impact that has had on Black people around the globe.
Portland Coffee Roasters
As the name implies, Portland Coffee Roasters is based in, you guessed it, Portland, Oregon. (Sorry Portland, Maine.) The company has been in operation since 1996 with a focus on positively impacting people around the world since the beginning.
For three years in a row, Portland Coffee Roasters has received the Gold Certification awarded by the City of Portland's Sustainability at Work program to recognize businesses that operate according to sustainable and regenerative environmental principles.
To that end, Portland Coffee Roasters composts all of its organic waste, powers its headquarters and other buildings using 100% renewable energy, delivers its goods via bicycle for its local customers, and offers its used burlap bags to anyone who may use them.
Furthermore, the company supports community-improvement projects in the coffee growing communities it sources from. These projects have included building schools, childcare facilities, and clean water wells, and planting thousands of trees.
Portland Coffee Roasters sells its coffee by the bag, in single-serve cups and Nespresso-compatible capsules, and in bulk. It is also a wholesale coffee supplier.
Deans Beans
Listen to more Causeartist podcasts here.
The mission of Dean's Beans is to use high quality specialty coffee as a vehicle for progressive change throughout the coffeelands of Asia, Africa and the Americas. This is achieved through:
The company has been directly engaged in community development and activism for over twenty-five years now.
All of the high-quality specialty coffees are certified Organic, Fair Trade, and Kosher, and are roasted fresh to order in small batches at the companies beanery in Orange, MA. The vast use of pesticides in coffee production has serious impact on the ecology of the coffee-growing world and the health of farm communities.
Dean has committed his business career to only purchasing shade grown coffees that support healthy environments for coffee growers and protects critical migratory bird habitat. It is important to the company that the quality of coffee includes respect for the quality of life of our southern partners in the coffee world.
734 Coffee
Ethically sourced, fair trade, naturally farmed, locally roasted. Now that sounds like a good cup of coffee.
Coming from Gambela, Ethiopia, 734 Coffee is more than just exceptional coffee, it represents hope for over 200,000 displaced South Sudanese citizens who currently live in the region after fleeing war, atrocities, drought, and famine in South Sudan.
734 Coffee is the social enterprise arm of Humanity Helping Sudan Project(HHSP), a nonprofit dedicated to providing Sudanese refugees the tools and knowledge they need to achieve self-sufficiency.
Manyang Reath Kher, founder of HHSP, began the organization with hope in his heart after having lived in several refugee camps along the Sudanese and Ethiopian border.
Offering vocational programs, access to clean water, and farming tools, HHSP has helped hundreds of Sudanese refugees start a new, prosperous life.
At 734 Coffee, 80% of products go to scholarships and the education programs for refugees of Sudan. This means every bag of coffee purchased provides one more day of school for 4 refugees.
Refuge Coffee Co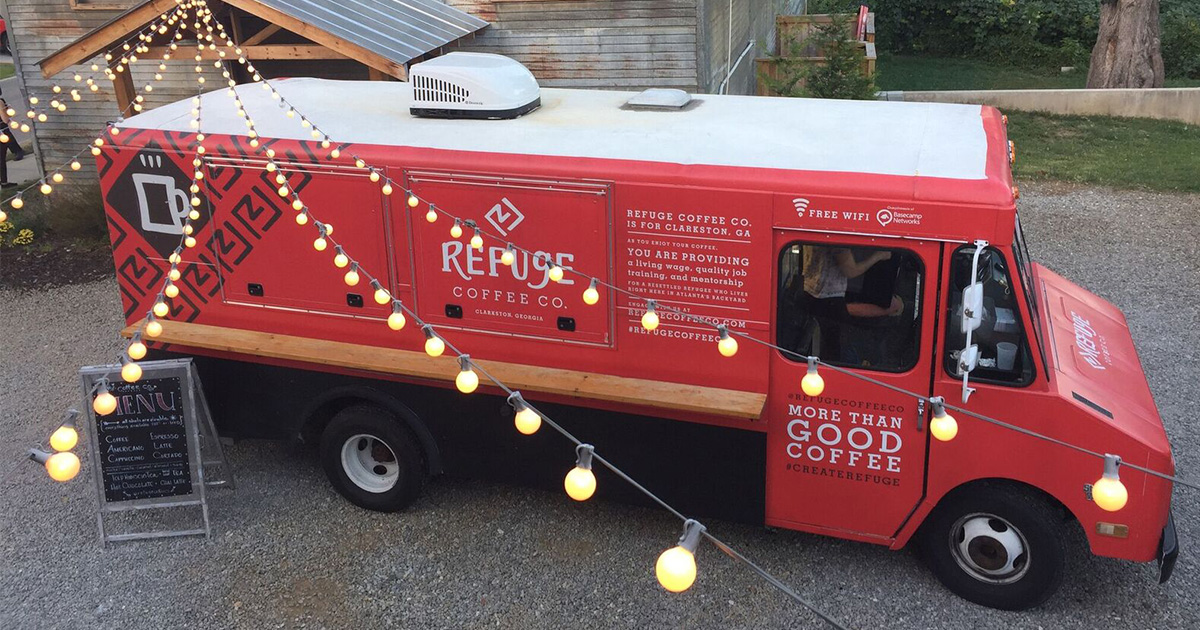 Refuge Coffee is a nonprofit that provides living wage, full-time jobs, job training, and mentorship to resettled refugees. The heart of the mission is welcome.
The Refuge trainees drive that mission, welcoming the world at two coffee shops in Clarkston and downtown Atlanta and from bright red coffee trucks all over the city.
Every time you taste one of their delicious drinks or pastries you are providing wages for a full or part-time job for a resettled refugee or immigrant who is part of the job training program.
They are a 501c3 non-profit, that exists to serve the global community in Clarkston and Atlanta, Georgia. In addition to the job training program, they work to create a fun, multi-ethnic comfortable gathering place at all of their locations.
Causeartist
Causeartist is a multi media company spotlighting impact entrepreneurs, impact startups, and corporate social responsibility.