The apparel and lifestyle-products industries, in their traditional forms, are built on a foundation of opacity. Who made that T-shirt you're wearing? How were the workers treated in the factory that produced your sneakers?
What was the environmental toll of crafting the handbag you carry each day?
The answers to these questions are often hard to find — and that's no accident.
Behind the thick veil that masks fast-fashion's inner workings are a host of disturbing practices that treat people and the planet as disposable … nearly as disposable as the cheap garments these companies manufacture and sell.
The silver linings to this tale are the innovative leaders of ethical fashion and lifestyle brands who are doing things better, and giving customers access to the stories behind their products.
The six ethical fashion and lifestyle brands in this article are shirking tradition and finding new ways to source eco-friendly materials, treat workers with dignity and care, and give back to their communities. This is a brave new world of fashion and style, and the outlook is bright.
Eileen Fisher: Timeless Clothing that Lives and Lives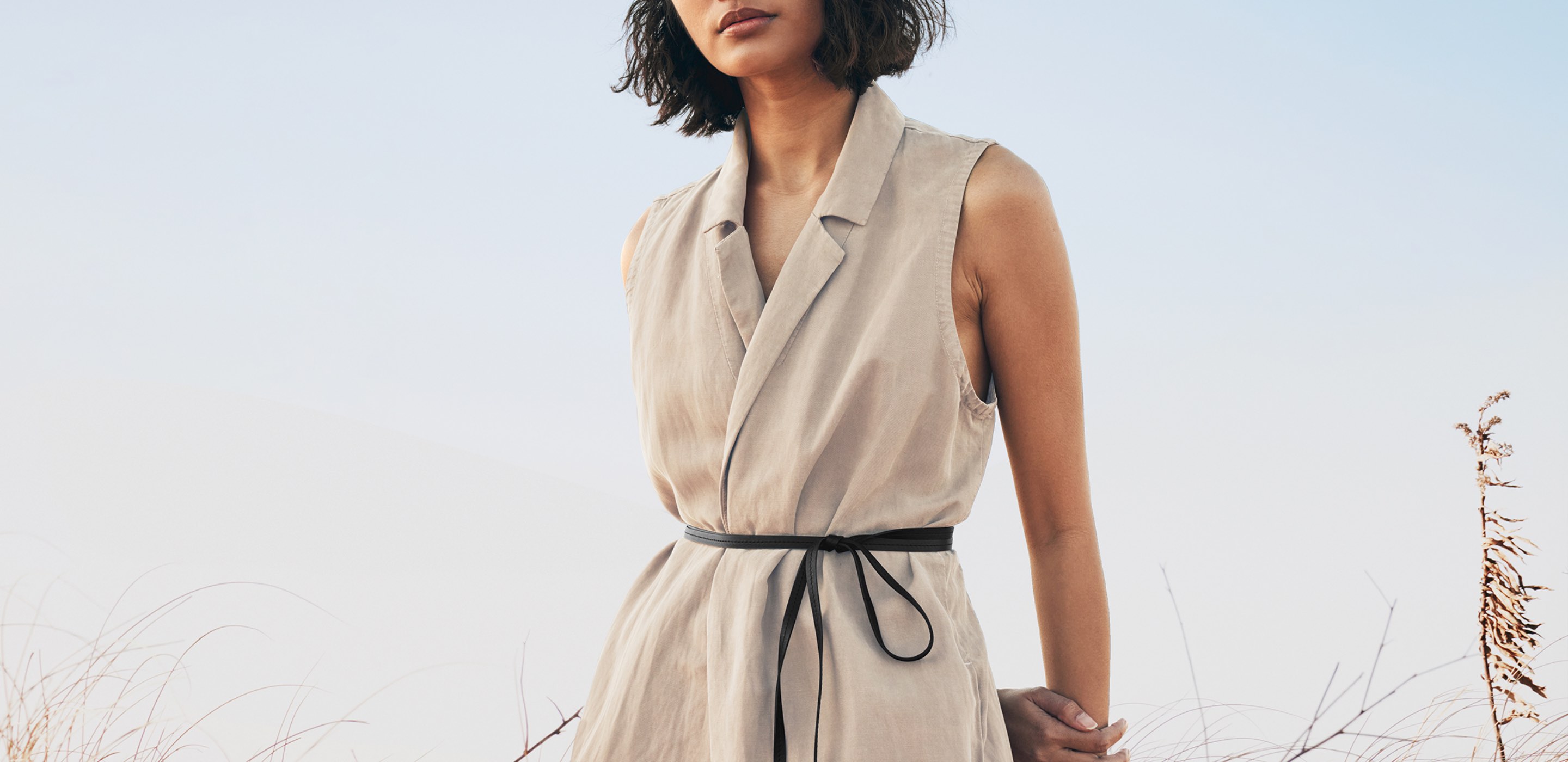 Eileen Fisher believes clothes should be ethical, timeless, well-made, and be designed to work together, wear effortlessly and be part of a responsible lifecycle. The company has a refreshingly transparent supply chain, and it doesn't cut corners when it comes to workers' rights.
Built on a circular-economy foundation, Eileen Fisher gives customers the ability to send back gently used or worn items, which the company either restores and resells or completely repurposes into new, fashionable pieces.
Parker Clay: Creating Dignified Employment via Premium Leather Bags
Parker Clay is creating better bags through a better process without shortcuts. The brand obsesses over sourcing, stitching, and every last grain of leather, leaning into centuries of Ethiopian leather-working tradition.
By owning its factory in Addis Ababa, Ethiopia, Parker Clay can create a safer workplace with more sustainable production.
To date, the company has created over 400,000 hours of safe, stable, and dignified employment in Ethiopia, helping women to support families, develop professional skills, and ultimately, transform communities.
MADI Apparel: Providing Underwear to Women in Need
Realizing that underwear is on the urgent needs list at almost every domestic violence and homeless shelter, MADI Apparel is on a mission to provide clean, comfortable confidence to shelter residents.
For each MADI item sold, the company donates a pair of underwear to a woman in need in domestic violence shelters, homeless shelters, rape clinics and disaster relief situations. To date, MADI has donated underwear to more than 7,000 women.
8000Kicks: Super Sustainable Shoes
8000Kicks shoes are in a league of their own. Each pair is made with super-strong hemp fibers and algal blooms, making these kicks durable as well as incredibly eco-friendly.
8000Kicks also works with its factory partners to increase their dependency on renewable energy sources, and it invests in capturing CO2 with its hemp farms. Listen to an interview with 8000Kicks CEO Bernardo Carreira here.
Soapbox Soaps: Giving Soap to Communities Throughout the World
Soapbox is on a mission to make the world a little safer through soap and hygiene. Soapbox products skip the harsh additives, in favor of naturally-derived nourishment for ultimate skin and hair days.
Better still, for every Soapbox product purchased, the company donates a bar of soap to someone in need. Each Soapbox product is stamped with a unique Hope Code that can be entered online to find out the specific project a purchase benefited. 
KNOWN SUPPLY: Humanizing the Apparel Industry
KNOWN SUPPLY's model is based on radical transparency, something that's often sorely missing in the apparel industry.
When you purchase an item from KNOWN SUPPLY, you'll have the opportunity to "meet" the makers; each product contains the signature of the maker who crafted it, and KNOWN's online search function gives you the opportunity to learn more about each maker.
The company works with underserved populations to provide meaningful work and to show the powerful impact clothing purchases can have if made thoughtfully.
Latest Stories
Causeartist
Causeartist is a multi media company spotlighting impact entrepreneurs, impact startups, and corporate social responsibility.