Getting through the holiday season can be a real challenge for the conscious consumer. For most shoppers, any item will do for their mother, father-in-law, uncle, or aunt, but for conscious consumers, their ethical values need to be represented in every gift given.
Here at Causeartist, we want to motivate you to keep those values in mind, and make it as accessible as possible. The holiday season is the perfect time of year to spread awareness, advocate for conscious consumerism and spread the joy of fair trade, empowering, organic, upcycled, artisanal, and ethical products through the spirit of gifting. That's why we've put together the ultimate holiday gift guide, featuring ethical brands from across North America and the world.
Shop the ethical gift guide below and enter the new year knowing how much you've positively impacted everyone in your life and those behind the production line of each item gifted.
---
When Julia Pennington and Allison Lange formed the benefit corporation, Animal Spirits, they also created the Animal Spirits Foundation as a separate non-profit entity. A percentage of the funds raised through the sale of Animal Spirits' products will be donated to the Animal Spirits Foundation to help support rescue groups, sanctuaries and individuals needing help with their four-legged family member through financial grants.
Since the launch in the Southern California area, ASF is currently helping communities in that area by funding free spay/neuter days and donating to local animal rescues' spay/neuter programs. They will also be providing grants for emergency vet care for rescue groups and individual animal care-takers.
Crafted from 100% Organic Wheat Non-GMO Distilled 7 times Slow-filtered using gravity through Walnut Husk Carbon Distilled and bottled in a Family-Owned and operated distillery.
---
By 2050 there will be more plastic than fish in our oceans (by weight). You can help preserve nature by switching from plastic and eating your spoon. Our neighbors in the ocean deserve it. Make your next picnic or party as incrEDIBLE as you are! Reinvent the way we eat the food by replacing ALL plastic utensils with our incrEDIBLE options.
---
rü creates sustainably and ethically made lunch bags for adults who know that less is more, so they can get excited about bringing lunch to work. The companies goal is to reduce the amount of waste from bought lunches. And put a dent in the 300million tonnes of garbage created by North Americans each year, while promoting personal and financial wellness.
---
Unlocked is an ethical jewelry brand that employs and empowers women transitioning out of homelessness, using 100% recycled metals to handcraft jewelry that's better for people and the planet. Partnering with local organizations, they provide holistic resources including housing, career counseling, and financial training to their employees. With dainty designs that are sure to become your next daily staples, Unlocked helps you feel beautiful inside and out.
"Jilly" Necklace: $58 The "Jilly" Necklace comes in sterling silver and 14K gold vermeil options with 14-16″ and 16-18″ length variants for each. Each necklace comes with a removable 2″ chain extender for a variety of sizing options.
---
Meet Elsa, the newest ethical jewelry brand, on a mission to make 50% of the world's entrepreneurs women. Elsa was born not far from the sea, in a small town in Portugal. Each piece is touched by hand & heart, and is shaped by women seeking to make something so much more than ornamental – simple, soulful jewelry.
The Micaela, priced at $187 – 'Inspired by minimal and dynamic design. A carefully shaped piece with a free-hanging bar so you always look your best. Crafted with only fine sterling silver and pure 24k gold'
---
Available in 2 sizes, with adjustable ear loops and split metal nose strips to ensure all-day comfort and protection. Also available with a carrying case for sanitary storage between uses. For each mask purchased, a mask is donated to someone in need in the First Mile of our supply chain.
Masks are made from First Mile materials. Locals make a living collecting and recycling plastic bottles, which then get transformed into innovative fabrics that are on the cutting edge of responsible retail.
---
Comfortable, lightweight and stretchy, Jelt Belts are made to keep pants in place with a flat, no-show buckle and grippy inner gel. Perfect for travel, outdoor sports, and everyday activities.
Functional and socially impactful, Jelt elastic belts are made from recycled plastic bottles and are manufactured in Montana, USA. A portion of every belt sold supports programs that give back to veterans, kids, and the environment the company is also a member of 1 Percent for the Planet. Jelt is a B Corp certified social enterprise based in Bozeman, Montana. Starting at $24 with looks for men, women and kids. Get 20% off with promo: CAUSE20
---
For every pair of headphones/speakers LSTN sells, they help restore hearing to a person in need through Starkey Hearing Foundation. In under 2 years, LSTN has been able to give the gift of sound to over 15,000 people through Starkey in the U.S., Peru, Kenya and Uganda because of the amazing support by consumers, musicians, and athletes.
---
Founded in 2018 by Tiila Abbitt, a passionate, highly creative product development professional with 11+ years' experience – including the international prestige beauty industry. Tiila has a BFA in sculpture and an MFA in fashion design. She worked in the fashion industry for over 5 years before transitioning to beauty.
She is highly passionate for the sustainable beauty product realm. Tiila spent 7 years at Sephora in charge of product development for makeup collaborations and accessories. Her obsession with sustainability lead her to become the lead R+D for sustainable materials while also being on the sustainability leadership council for the retailer.
Plastic makeup componentry is a huge source of pollution globally and Tiila really wanted to create a brand that was ethically-sustainable, beyond the formulation, but in everything that Āether Beauty creates.
Tiila is aware of the eco footprint we have in everything we do and as a founder, wants to bring sustainability into every decision at Āether Beauty.  That's why she won't launch a product until there's a better sustainable alternative. And when you purchase Āether Beauty products a portion of sales goes to environmental charities, because giving back and being sustainable is the only way to ensure we leave this planet better than we found it.
---
Looking to help out seniors in this trying time? The Good Tee has launched a campaign to support senior inclusivity and spread awareness on social isolation.
Through the sale of our reusable facemasks, they are donating 20% of the proceeds from the sale of our masks to Music Share. Music Share combats social isolation through music programming in seniors homes. Their services help stimulate emotional responses in the older adults they work with to combat the negative effects of social isolation
The Good Tee reusable face masks are engineered from ridiculously soft, stretchy and certified Fairtrade organic cotton fabric. It features two layers of protection, including a filter slot, adjustable nose wire and ties that can be cut and adjusted to fit you perfectly.
Kids $16 cad Adults $18 Cad
---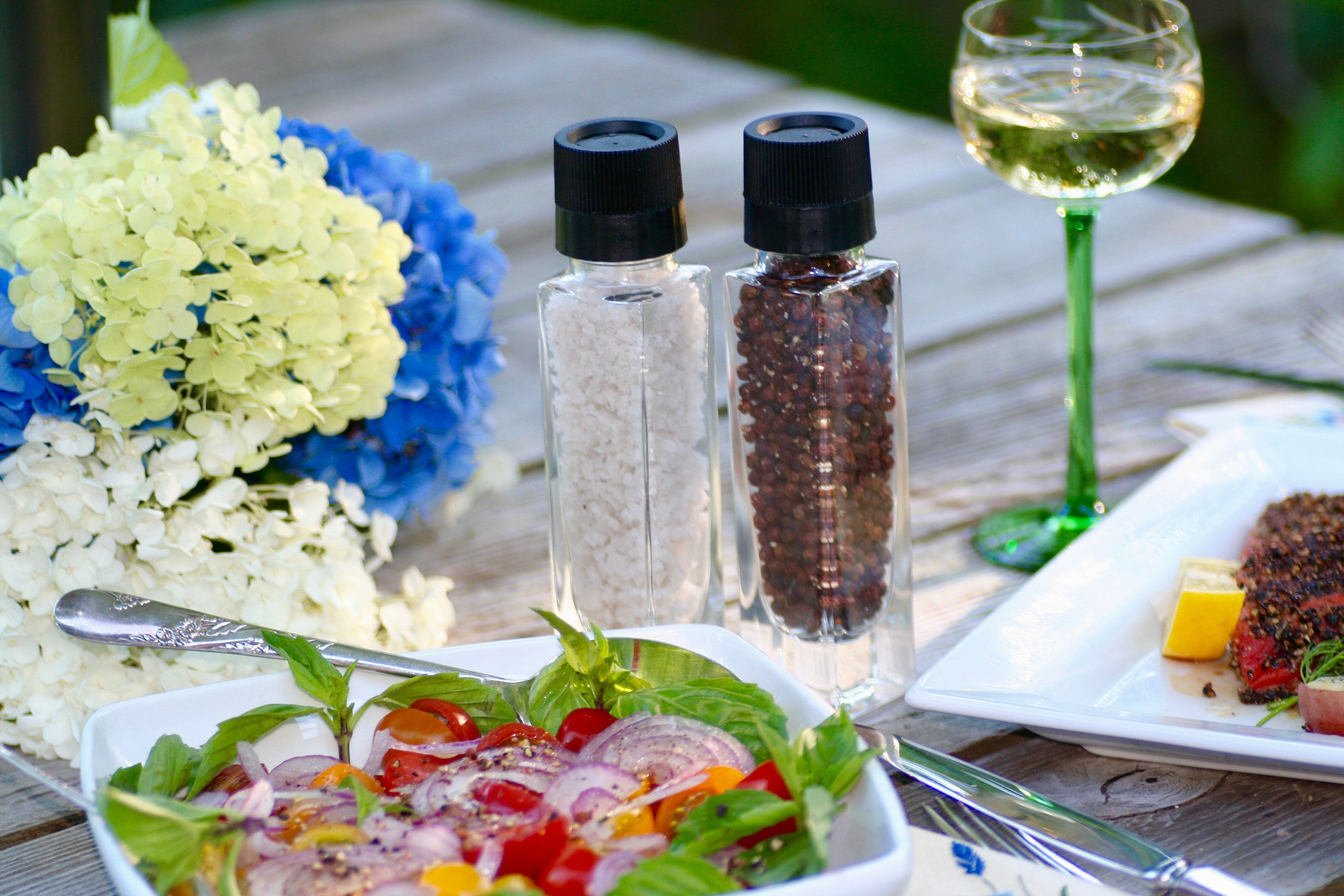 When you purchase Fair Trade Kampot Pepper your purchase not only helps your local food charity, family member, friend or local business that needs support during this critical time but you are helping small organic pepper growers and their families in Cambodia.
Add to that you will also experience an exquisite culinary delight – the best pepper in the world. During the pandemic when you purchase Fair Trade Kampot Pepper 50% of the purchase price goes to help the person who directed you here. Please choose your contact's store from the list below.
Kampot Pepper is known as the best pepper in the world and like Champagne, Cognac and other appellations of origin brands stands out as a singularly unique product. Once you try it no other pepper will do.
This Gift Set comes with two Italian style refillable glass grinders. One contains black Kampot Pepper and the other grinder has the delightful hand-crafted Kampot Sea Salt. There are also two 50 gram organza gift bags with Red & White Kampot Pepper.
---
Pulp Culture set out to create the healthiest alcoholic beverage in the world that uses 100% raw, fresh juice that naturally ferments over three months (thank you, mother nature). Called "wild fermentation," the result is a zero-additive, zero-sugar, bone-dry beverage with 6 billion naturally-occurring probiotics, B vitamins, and 4.9% ABV. The final touch is blending in fermented, nutrient-dense super fruits and performance-boostings botanical adaptogens.
---
Founded by husband and wife Joe Demin and Rachel Connors, Yellow Leaf is a lifestyle brand focused on relaxation and driven by positive impact. Yellow Leaf makes products that empower people to practice daily relaxation and to live their best, most stress-free lives.
The brand's first product is a line of hammocks that are impeccably handwoven, shockingly soft, and technically engineered for extreme comfort. Best of all, Yellow Leaf is committed to creating high-wage jobs for women in rural Thailand who weave each hammock by hand. The team's goal is to empower artisans to lift their families from poverty to the middle class.
---
Check out Little Loving Hands, an annual subscription that includes 6 boxes of craft kits with a focus on teaching kids kindness in the world, their community, their home, and to themselves. Most completed crafts can be sent back to Little Loving Hands in prepaid packaging to be donated to a charity. Some boxes will be kept by the kids to work on kindness to self, home, or community.
Crafts are designed for elementary-age children, and are fun for all ages! To receive the first box in time for Christmas, please place your order by December 10th. Subsequent boxes will ship every two months for a total of 6 boxes for the year.
---
Mi Terro is a biotechnology company that reengineers leftover milk into sustainable fibers that can replace plastic in the fashion, medical and packaging industries.
Mi Terro rescues excess milk from its dairy farm partners, skims it to remove fats before dewatering it to turn the liquid into powdered milk. It is then dissolved once again and purified to remove the bacteria, or the so-called 'bad' casein, from expired or spoiled milk. Casein makes up 80% of milk protein.
Once the 'bad' casein is removed, the remainder protein is spun through a spinneret to solidify it into fiber. The fibers are then stretched and spun into yarn for clothes manufacturing, but, according to Luo, can be also used in bed linen, food packaging, face masks, or toilet paper.
The first version of the milk-to-clothing process took about two months to complete, with one glass of milk making up five T-shirts. The company is currently developing the second version of its milk waste fiber, which they claim requires 60% less water than organic cotton, and is 100% biodegradable.
Repurposing milk waste into clothes is not Mi Terro's first foray into sustainable fashion – the team has previously designed a travel bag made from ocean plastic and cork.
---
Mayamam Weavers create handwoven home goods and accessories for modern living, inspired by the rich colors and patterns and traditional weaving techniques of Mayan culture. They began in 2008 as a cooperative of women in Cajolá, a Mayan town in the western highlands of Guatemala.
To overcome poverty, the women came together to explore ways to provide jobs within their community, rather than migrate to the U.S. and separate their families. Since then, then cooperative has grown to 20 weavers and seamstresses, all earning fair trade wages while learning the skills to run a business. It also provides on-site childcare and adult literacy classes for the community. Mayamam Weavers in the U.S. is based in Morristown, NJ. We are proud members of the Fair Trade Federation.
---
The Tria Serving Boards offers an innovative design with a great story. Available in two sizes or both together. Each board is hand-milled and fashioned from reclaimed wood in Tennessee USA. Subtle variations and supposed 'imperfections' are in fact the beauty of recycled materials, adding to the uniqueness of each product.
---
BogoBrush is rethinking the toothbrush with eco-designed toothbrushes made entirely in the USA. The plastics in almost all toothbrushes are non-recyclable, meaning over 450 million toothbrushes a year in the U.S. alone end up in landfills. These products are either bio-degradable or made from nearly 100% recycled plastic. When you're done, throw them in your compost or recycle bin—and nature will do its thing.
---
Madison Grace is an accessories boutique with purpose where everything is ethically made, sustainably designed and effortlessly chic for the women who give-a-care about people and planet.
Every purchase supports a cause.
A Madison Grace woman is our customers! She's the "it girl" who gives a care. She 's that one friend who always seems to be effortlessly chic and "in the know". She believes that eco + ethical can also be stylish + elevated.
Madison Grace women are good people with good style doing good in the world!
---
For every product sold, the company gives back through bar soaps, health, and hygiene initiatives in communities both domestically and around the globe. Track your impact with your Hope Code at soapboxsoaps.com/hope.
Soapbox products reach the everyday consumer with the mission to change the world through quality purchases. All products are all made in the USA, with 100% recyclable packaging, and the products are sold in stores like Target, Marcs, Meijer, Walgreens, Rite Aid and thousands of other retailers across the nation.
Soapbox won NEXTY Editors'​ "Choice Award" for Beauty and Natural Living in 2014, "Best Body Wash of the Year" at the 2014 Beauty & Body Awards by Delicious Living, Delicious Living Bathroom Staple 2015, and the "Sherbrooke Capital Entrepreneurship Award" in recognition of Excellence in Innovation. Soapbox's co-founder was a finalist in 2015 for Entrepreneur of the Year and the company made the list of Most Entrepreneurial Companies, both sponsored by Entrepreneur Magazine. Lastly, the company is also a Game Changers 500 member and certified BCorp.
---
Designed from pre-consumer excess kiteboarding kite sails, each piece from the collection brings new life to material that would've otherwise ended up in a landfill. Why? Because, on average, 30% of the material produced for the fashion, apparel, and footwear industry ends up getting labeled as waste despite it being perfectly good. So we ensure some of this material doesn't see landfill unnecessarily – but rather, lives a full, adventurous life.
This waist bag comes with a double dose of reinforced strap, so you can wear it comfortably in a variety of positions to suit your needs. Surprisingly spacious, one can easily fit all they need for a day's adventures. Exterior pocket provides easy access to essentials and naturally water resistant acrylic sail exterior keep the elements at bay.
---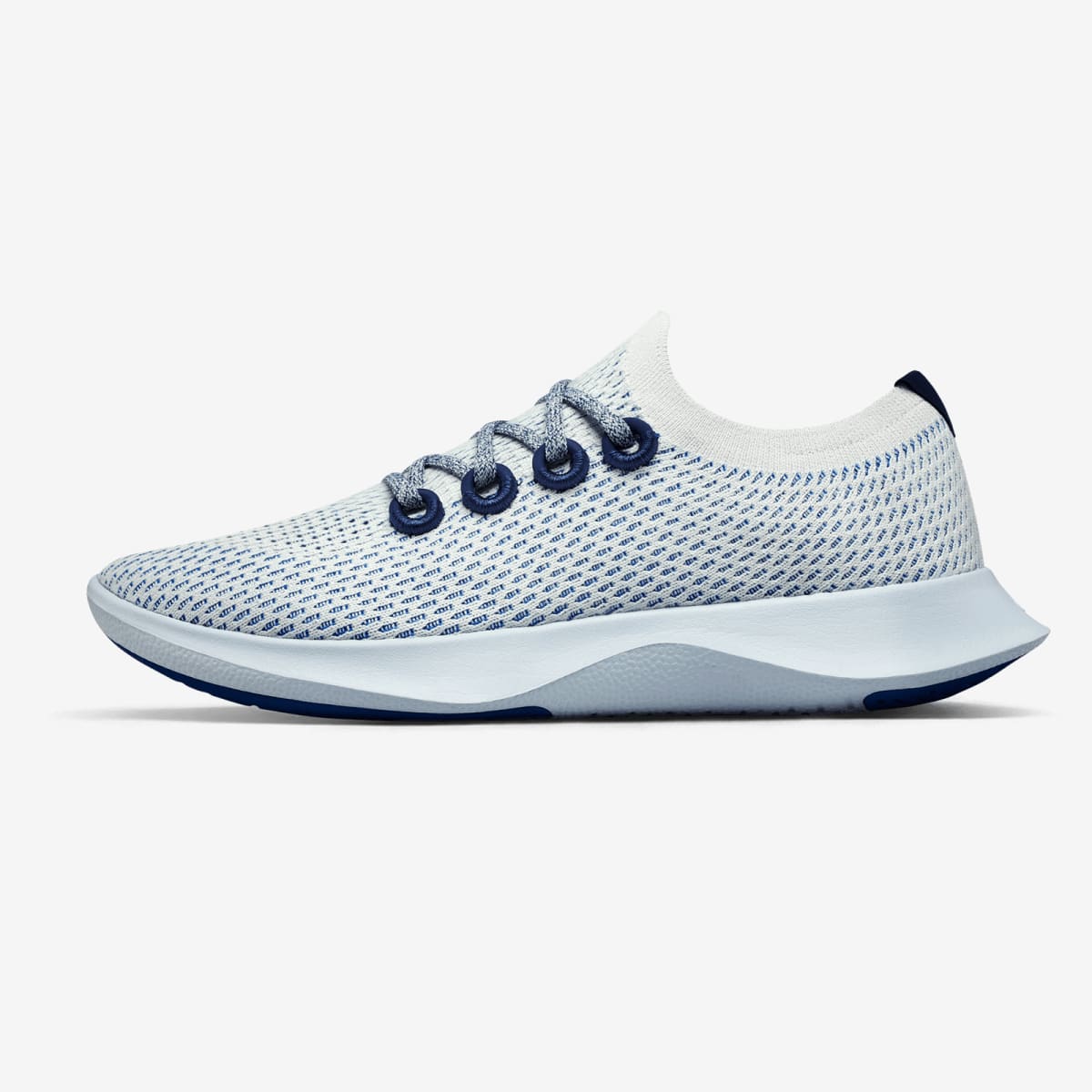 Allbirds is on a mission to prove that comfort, good design and sustainability don't have to be mutually exclusive. The company is dedicated to making the most sustainable footwear we can using premium natural materials, designed for the to and from of everyday life.
---
This traveler blanket is made with a water resistant taslan liner, thermal micro fleece and reinforced webbed cotton straps with a compact roll design for easy storage.
Employs the Transitioning Homeless: Mitscoots been at this for years working hard to get individuals off the streets and into stable employment. the company has made a huge impact with their gear and now it's time to take the next big leap. With this blanket they are employing the transitioning homeless to package up each and every blanket and get them sent out the door to you. –
Giving to the Homeless: For each blanket purchased, Mitscoots gives an equal quality blanket to a shelter helping individuals in need. Get + Give + Employ
---
Meet MADI Apparel, for every pair of product they sell, they donate a pair to a woman in need. Why? Because underwear is the most needed, under-donated item of clothing. MADI Apparel is a women's undergarment brand with the dedication to Make a Difference domestically and globally. MADI was founded upon the principles of American manufacturing, self-sustaining fabrics/packaging and global impact through underwear donations.
Our headquarters and flagship store are in Kansas City, MO. As Kansas City football fans, we were beside ourselves when our hometown red and yellow gold boys took home the world championship this year. So, obviously we had to make limited edition world champs sweatsuits to celebrate. It's not in our style to make gaudy sports gear. Instead, we designed a classic sustainable sweatsuit with a "subtle nod" to our Kansas City football champions, chalked full of local pride.
Garment designed by founder, stripes hand-dyed by founder
Made by Kansas City cut and sew artisans
Ethically sourced Tencel/Organic Cotton Stretch Fleece fabric blend
Ridiculously soft, cozy, stretchy. You won't want to take it off. And you don't have to! Meant for all day lounging.
Sustainable, ethical basic
---
World's only iPhone case made from 100% recycled compact discs.
Slim & Clear Design
6 Ft Drop Test Certified
Permanent Antimicrobial Protection
Scratch Resistant & Anti-Yellowing
MagSafe & Qi Wireless Charging Compatible
Compact Discs are mostly made of polycarbonate – a highly durable & recyclable plastic. Using specialized methods, discs are cleaned & compounded into new, high-grade material. Ideal for new products.
Designed and tested to withstand everyday drops and bumps. The impact-absorbing outer band and raised front lip not only ensures your phone's safety, but adds extra grip to help avoid drops before they happen.
With every Disc Case purchase, receive a free shipping label to send any used plastic case to use for safe, responsible recycling. When you do, get 15% off your next purchase.
Your Disc Case package is made using zero plastic and no harmful chemicals. It's minimal, fully recyclable, and printed with water-based inks.
Related Posts