What is fair trade chocolate? You may have seen this label before, but what does it mean? Fair trade chocolate is a type of chocolate that is sourced from cocoa farmers who are part of a fair trade cooperative.
Most people love chocolate, but many of us don't realize that much of chocolate on the market is produced using exploited workers, including children. The good news is that there are now fair trade options available for those who want to enjoy their chocolate guilt-free.
Fair trade chocolate is made from cacao beans that are grown and harvested by workers who are paid a fair wage for their labor. In addition, fair trade chocolate companies often invest in the communities where their cacao is sourced, providing much-needed resources and support.
If you're looking for a delicious and ethically responsible chocolate option, then check out some of the best fair trade chocolate brands listed below.
---
Tony's Chocolonely
Tony's Chocolonely is a fair trade chocolate brand that is made in a way that is designed to be more ethical and sustainable than traditional chocolate production.
The brand sources its cocoa from small farmers in West Africa, and pays them a fair price for their beans. The company also works to improve the working conditions and lives of the farmers, by providing training and support in sustainable agriculture practices.
Tony's Chocolonely chocolate bars are also certified by Fairtrade, meaning that the farmers receive an additional premium for their cocoa. As a result of these efforts, the brand is able to produce high-quality fair trade chocolate while also making a positive impact on the lives of the farmers and their families.
---
Krakakoa
Krakakoa is a fair trade chocolate social venture that trains and equips cocoa farmers in Indonesia with the skills and resources to improve their livelihoods and protect the environment through sustainable and organic farming methods.
The farmer-to-bar chocolatier produces artisanal chocolate from 100% Indonesian cocoa beans, bought from the smallholder farmers they train with a premium paid on top of the fair trade minimum price.
With an exquisite packaging reflective of the country's cultural and ethnic diversity, each chocolate bar is infused with the unique spices and flavors characteristic of the Indonesian archipelago, including chili, sea salt, salted cashew, coconut brittle or cinnamon.
---
The Functional Chocolate Company
The Functional Chocolate Company is a fair trade chocolate company that makes health-conscious chocolate. The company was founded in 2014 by two health-minded individuals, Julie and Lisa. The company's mission is to create delicious, healthy chocolate that everyone can enjoy.
The company's mission is to create delicious, healthy chocolate that can help people feel their best. The company's products are made with natural ingredients and are free of harmful chemicals. The Functional Chocolate Company's products are also vegan, gluten-free, and certified organic. The company offers a variety of products, including chocolate bars, truffles, and hot cocoa mix. The Functional Chocolate Company's products are available online and in stores across the United States.
---
Guittard Chocolate
Guittard is a five generation family company that is committed to delivering products with the highest degree of sustainability. The engagement on the farm level is designed to ensure the long-term success of the farmers and the co-ops.
Quality products, improvements in environment and community are the pillars of the company sourcing efforts. From collaborating with farmers on their post-harvest techniques to developing community education programs, they work to build relationships throughout our supply chain that will create and maintain long lasting success in cocoa growing communities.
---
Chocolove
Tucked away in Boulder, Colorado sits an unassuming building where a little magic takes place. Every day, decadent fair trade chocolate bars are carefully crafted using the timeless combination of chocolate and love. Chocolove make and sell flavors of organically grown and Fair Trade USA chocolate bars.
Chocolove uses only the finest ingredients in its chocolate, including Fair Trade certified cocoa butter and cane sugar. Chocolove's fair trade chocolate is also non-GMO and gluten-free. In addition to its delicious taste, Chocolove's chocolate is also beautiful to look at, with each bar featuring a unique design that reflects the company's commitment to sustainable sourcing and ethical production.
---
Davis Chocolate
Davis Chocolate is a family-owned business that was formed to provide a chocolate with a superb flavor, aroma, and complexity with an exceptional taste. The high demand for chocolate worldwide unfortunately takes a toll on the environment and its producers.
Davis Chocolate believes that in order to craft premium, fair trade chocolate, the company must work in ways that do no harm to our planet and create opportunities for the communities where the cacao beans are grown.
---
Lake Champlain Chocolates
Lake Champlain Chocolates is a fair trade chocolate company that specializes in artisanal chocolate. Founded in 1983, the company has been committed to using only the finest ingredients in all of its products.
Lake Champlain Chocolates sources its cocoa beans from family-owned farms in Peru and Ecuador, and its milk comes from small dairies in Vermont. The company also uses local fruits and nuts, as well as Vermont honey, to create unique flavors that are beloved by chocolate lovers around the world.
In addition to its delicious chocolates, Lake Champlain Chocolates is also known for its beautiful packaging, which features scenes of Lake Champlain and the Adirondack Mountains.
---
Island Harvest
Island Harvest was originally founded in 1991 to help manage Kohala's agricultural lands in the post-sugar era. Island Harvest took over the macadamia orchards that were planted back in the 1970's and 80's when sugarcane production became less feasible and plantations shut down throughout the Hawaiian Islands.
With that in mind, Island Harvest was an early adopter of sustainable farming methods and in 2015 began transitioning all the macadamia orchards to be eligible for full organic certification.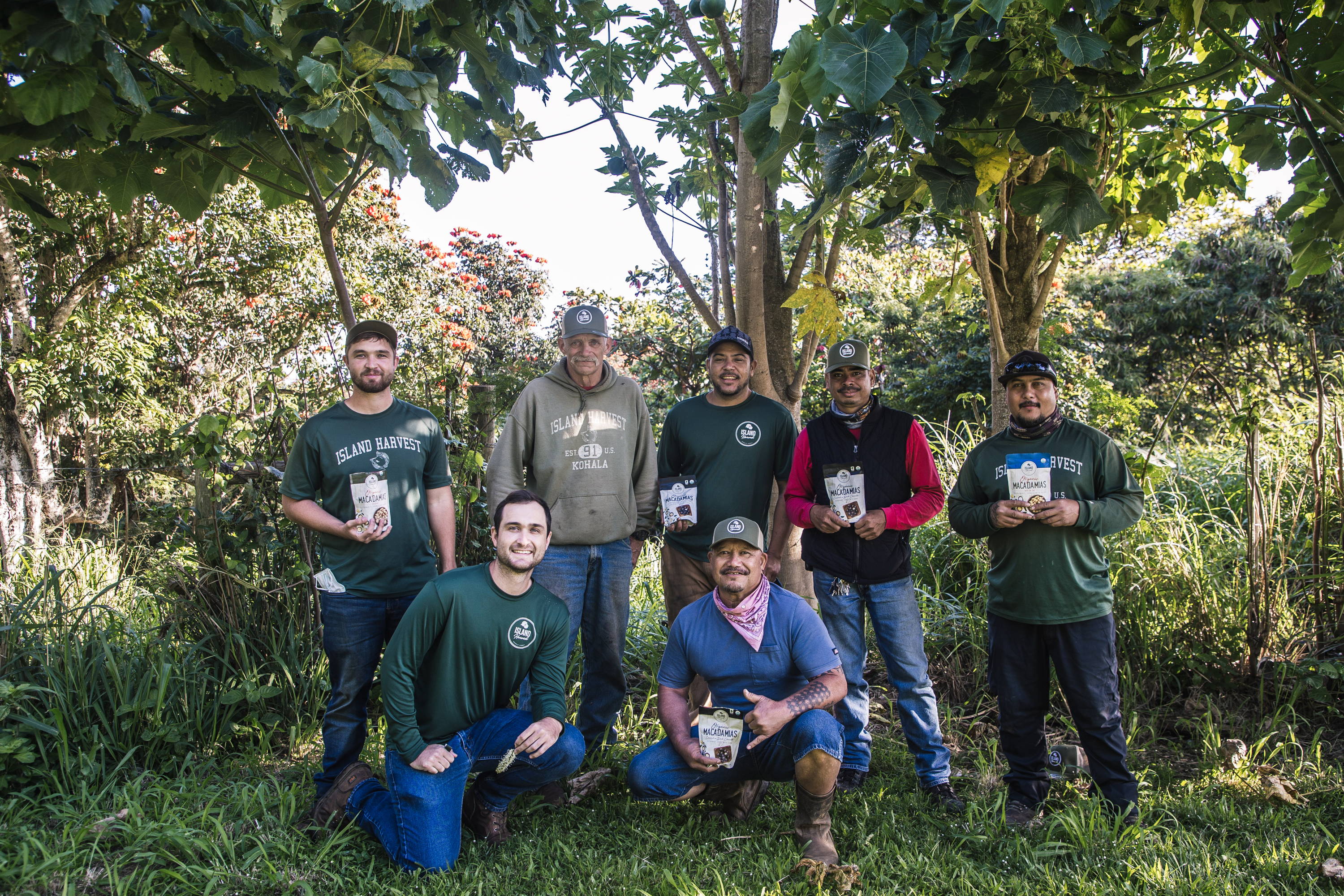 With sustainable methods and inputs, Island Harvest seeks to always increase soil life, reduce erosion, and grow healthy trees to produce a healthy crop for its community.
Inside each bag of Island Harvest Organic Macadamias with Dark Chocolate are single-origin, certified organic, Hawaiian macadamia nuts slow-roasted to perfection, covered with indulgent dark chocolate, making for a sweet (but healthy) snack.
---
Pasha Chocolate Company
Nobody thinks of chocolate as being a major source of food allergens, but read the back of most chocolate bars and see the declarations of trace elements of often 5 or 6 of the big 8 allergens – peanuts, milk, tree nuts, soy, wheat, gluten and even egg. The problem with these ingredients is that once they are in a chocolate facility they are almost impossible to get out with any degree of certainty.
So that is why PASCHA was created – with a mission to make the purest, safest chocolate without any allergenic ingredients. Ironically what they found is very similar to my prior experience in the water business – the less you touch a food product, the more you let it take its natural form, the purer and more delicious the taste.
Years after the start of the journey PASCHA Chocolate launched. It is a pure and simple approach to chocolate. Absolutely pure and absolutely delicious, but more importantly without any trace of any of the 8 major food allergens.
---
TCHO
We go beyond fair trade chocolate(which we also support) to partner directly with growers. We help them improve the genetics of their plants, improve their cacao fermentation by redesigning their fermentaria, and improve cacao drying by designing new drying racks.
We also provide them flavor labs where they can actually make chocolate — for many, this is the first time they taste chocolate made from their own beans. Then we provide sensory training so we can speak a common language about the results of their efforts.
And finally, we link it all together in a common, cloud-based database — called Cropster — where we can share the results of all our efforts in real time. All to enable our partners to produce the exceptional, flavor-driven cacao that we pay premium prices for, so we can make seriously superior chocolate — New American Chocolate.
As a member of this industry, TCHO is taking a stand against slavery. We intend to raise consciousness about the reality of modern slavery in our industry and in the world, and set an example by refusing to use cacao produced by slaves.
That's why you will find "NO SLAVERY" on every product TCHO makes. TCHO sources beans for "Chocolatey" from Ghana, Ivory Coast's neighbor to the east. We have been concerned about Ghanain beans because old reports describe slavery as being practiced in "West Africa." While that may have been true once, today it is certainly not true of Ghana.
---
Shaman Chocolates
Shaman's Chocolate's goal is to create the most delicious and fair trade chocolate possible, while simultaneously giving back to the Huichol people, who have honored this food of the gods since time immemorial. We strive to do good in all that we do.
Rather than creating profits for itself or shareholders, SHAMAN Chocolates sole purpose is to help sustain the Huichol Indians. Shaman Chocolates is a project of the Dance of the Deer Foundation, Center for Shamanic Studies, based in Santa Cruz, CA. To learn more about the work of the Dance of the Deer and experiential workshops and pilgrimages led by Shaman Brant Secunda.
---
Latest Posts
Causeartist
Causeartist is a multi media company spotlighting impact entrepreneurs, impact startups, and corporate social responsibility.