(c)3 wines, founded by Brady and Christen Raanes, is a winery, based in Napa Valley, donating 100% of its profits to charitable organizations. The desire to create the socially conscious brand began in 2010, after the couple spent several months in Ghana, Africa, finalizing the adoption of their son. Following their time in Africa, the couple sought to use business as a means of supporting non-profits.
By partnering with existing charities, (c)3 supports organizations focused on sustainable solutions to global issues like education, employment, and economic opportunity. (c)3's partnership allows non-profits to focus more on achieving their goal, rather than fundraising, while providing supporters with an enjoyable way to fund amazing organizations.
For (c)3's inaugural wine, a 2012 Cabernet Sauvignon, the company sourced grapes from two Napa Valley AVAs: Oakville and Atlas Peak. The Oakville vineyard is a small six acre plot on the valley floor, while the Atlas Peak region provides grapes from some of Napa's highest elevations. (c)3 strives to produce exceptional wine to support exceptional non-profits.
Below is a quick interview with co-founder Christen Raanes.
Tell us a little bit about your interesting business model and why you choose to go that route?
(c)3 is a cause-focused brand that partners with charitable organizations by donating ALL of our profits to support their mission. Throughout our travels in impoverished areas, we have seen such a need for the basics in life. Initially, our mind went to the idea of starting a charity; but, with so many great non-profits in existence, we didn't need to 'reinvent the wheel' to make a difference. We loved the idea of coming alongside amazing organizations and supporting their efforts with business. Using (c)3 to create re-occurring cash flow for nonprofits is something that excited us.
How long after you got back from Ghana did you decide to build a social good business around wine?
In 2010, we spent three months in Ghana, Africa, finalizing the adoption of our first son. Our day to day activities included A LOT of down time. It was during our time there, that the first pieces of the foundation for (c)3 were laid. Two years and a lot of bad ideas later, we began making connections with winemakers and the like in Napa.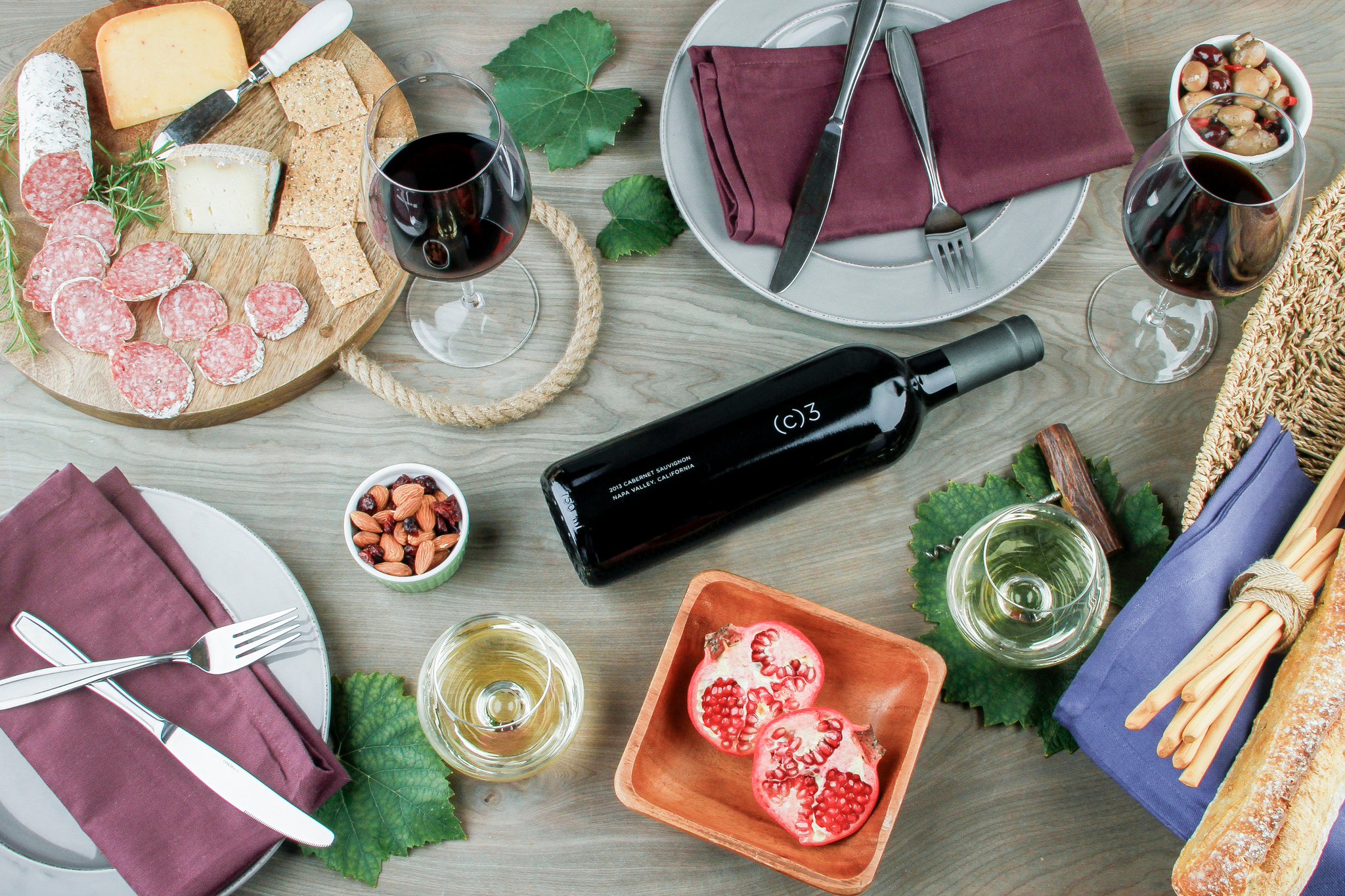 Are you and your husband wine enthusiast? Why wine as the chosen product to launch your social good business model?
We had traveled to Napa Valley earlier in our marriage and fell in love with wine, the process, and the subtle nuances that distinguish each bottle from the next. We didn't have a background in viticulture, or a zip code in the famous wine growing region, but our desire was to choose a product that fostered a spirit of togetherness. Wine naturally brings people together, so it seemed like the perfect fit.
You currently have one type of wine that you produce. Will this expand or do you like the fact that you can stick with one type of wine and perfect it?
It's no secret that Napa Valley is known for its Cabernet Sauvignon. After many tasting sessions, we knew this varietal would be our first offering. We particularly enjoyed Cabernet Sauvignon wine from two regions (Oakville & Atlas Peak) in the valley. There are plans to broaden our offerings with a white varietal that is friendlier on the wallet and requires less time aging in barrels. So, it's definitely on our radar.
Your current non-profit partner is The Adventure Project. What was it about them that intrigued you to choose them as your first partner?
TAP is one of those nonprofits that stand in a category all their own. They put their donations to good use; addressing poverty with sustainable solutions like job creation. We have followed their progress for years and love the opportunity they are providing to those impoverished. We are proud to contribute specifically to the amazing work they are doing to train Well Mechanics in Uganda to restore lifesaving, clean water to their communities.
Going forward will you have more non-profit partners as different wine varietals come out?
Yes, we hope to continue to cultivate partnerships to recognize many more incredible nonprofits. Our business model is a campaign style. We partner with nonprofits for a specified period of time (typically 1–3 months), sell wine, donate the profits, and then repeat the cycle with a new charitable partner.
Related Post: 
Grant Trahant
Grant is the founder of Causeartist, one of the most influential impact business platforms in the world. Since 2013, Causeartist has been read in over 150 countries. Grant has personally interviewed 700+ impact entrepreneurs from around the world, highlighting innovations in ethical fashion, climate change, ethical technology, impact investing, and sustainable travel.