If you manage a team of employees, keeping track of payroll can be a daunting task. Thankfully, there are many software options available to make the process easier.
HR and payroll software can automate many of the tasks involved in managing employee compensation, including tracking hours worked, calculating pay rates, and issuing payments.
When choosing a modern HR and payroll software, it's important to consider your specific needs.
Some software programs are more comprehensive than others, offering features like time tracking, benefits administration, and talent management. Other programs are more focused on payroll tasks alone.
No matter what kind of HR and payroll software you're looking for, there are many great options available.
In this roundup, we'll take a look at some of the best HR and payroll software on the market.
Deel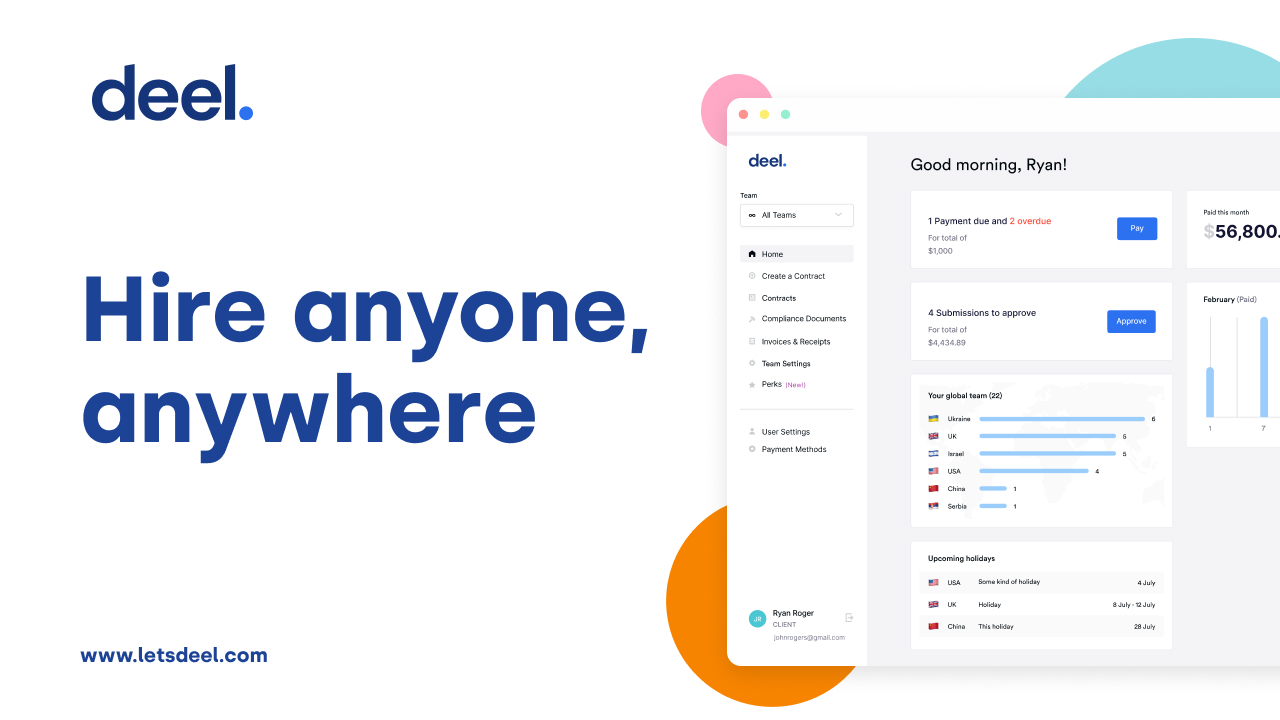 Deel is a leading global compliance and payroll solution that helps businesses hire anyone, anywhere. Deel's technology offers unmatched payroll, HR, compliance, perks, benefits, and other capabilities needed to hire and manage a global team.
Using a tech-enabled self-serve process, Deel's customers can hire independent contractors and full-time employees in over 150 countries, compliantly and in minutes.
With more than 250 legal, accounting, mobility, and tax experts as partners, Deel enables any business to create, sign and send compliant localized contracts from a library of templates and pay teams in more than 120 currencies with just a click.
Deel Features
Hire Employees – Hire employees abroad with our Employer of Record service
Hire Contractors – Hire, pay and manage contractors
Run Global Payroll – Hired employees abroad already? Deel can can help run payroll
Deel Pricing:
Free Plan – No
Contract and Freelance – $49/m – $99/m
Employees – from $599/m
Remote
Remote opens the vast potential of the world for every person, business, and country, building a world where every person and business truly belongs.
They empower companies of all sizes to pay and manage full-time and contract workers around the world. Remote makes it easy to manage international payroll, benefits, taxes, stock options, and compliance in 50+ countries.
No matter where your team lives and works, their global employment solutions provide the best experience for your workers.
Best of all, Remote never charges percentages or fees: one low flat rate helps you control your budget so you can focus on growing your business.
Remote Features:
Easily hire employees or contractors from anywhere in the world. Leverage Remote's local entities and expertise to avoid the usual time, cost, and risk of going it alone.
Offer competitive, localized benefits to attract and keep great talent Access our country-specific benefits packages at great rates to build belonging for everyone on your team.
Pay your global workforce on time in their local currency They'll keep you and your hires compliant with ever-changing taxes and regulations.
Remote Pricing:
Free Plan – No
Contract and Freelance – $29/m
Employer of Record – $299/m
Gusto
Gusto is a modern, online people management platform that helps businesses onboard, pay, insure, and support their teams.
Gusto's all-in-one solution offers a streamlined experience for both employees and employers.
With Gusto, you can manage all of your employee information in one place.
You can also automate many of the tedious and time-consuming tasks that come with managing a team.
For example, Gusto can help you with onboarding new employees, calculating payroll taxes, and distributing paychecks.
Gusto is also integrated with a number of benefits providers, so you can offer your employees health insurance, retirement savings plans, and other perks.
Gusto makes it easy to administer these benefits, and employees can access everything they need in one place.
If you're looking for a comprehensive people management platform, Gusto is a great option to consider.
Gusto Features:
Full-service payroll – Unlimited payrolls and automatic tax filing
Medical, dental, vision – Integrated employee health benefits
Certified HR experts – Direct access to certified HR experts
Time tracking and PTO – Time tracking, PTO, holiday pay, and more
Compliance help – Reminders about tax laws and regulations
Friendly support – A team of people to answer your questions
Gusto Pricing:
Free Plan – No
Simple – $40/m
Plus – $80/m
Oyster
Back in 2019, Oyster began with a question: How can we make global employment easier for companies and talented workers?
‍
Building an all-star team shouldn't be limited by borders. Oyster is on a mission to make it easier than ever for growing companies to hire, pay, and take care of brilliant employees—wherever they are in the world.
‍
Today, the fully-distributed team is based in 60+ countries and this number is expanding every week. Oyster embraces the benefits and opportunities that come with global employment—and they're working together to provide them to you too.
Oyster Features:
Global employment – Quickly and compliantly hire Team Members in 180+ countries with no surprise fees and no commitment
Localized benefits – Provide exceptional health, dental, and vision coverage for your Team Members, no matter where they live
Contractor management – Save time with a streamlined set of tools for signing, onboarding, and paying global contractors—all in one place
Multi-country payroll – Pay each of your Team Members on time and in their preferred local currency
Global HR tools – Easily navigate cross-border hiring challenges with tools like our Employment Cost Calculator
Oyster Pricing:
Free Plan – Yes
Business – $399/m
Homebase
Homebase payroll software is a cloud-based platform that streamlines the process of managing employee payments, tracking labor costs, and preparing payroll taxes. It offers an efficient payroll system by automating time-consuming tasks such as calculating taxes and generating reports.
The software also provides various features to help simplify payroll processes, including the ability to manage employee reimbursements, direct deposits, and online timesheets.
Homebase's powerful yet user-friendly platform helps companies reduce operational costs associated with their payroll function while ensuring compliance with federal and state laws.
Pricing:
Free Tier – Yes
Essentials – $20/m
Plus – $48/m
All-In-One – $80/m
Firstbase
Firstbase is best knows for helping startups launch a business entity fast. However, recently they've launched Firstbase Agent™, which handles your filings, registrations, hiring, payroll, and more – all done from one secure platform.
Let Agent™ handle your ongoing compliance so you can confidently grow your business. Get integrated one-click services to manage more complex compliance across multiple states effortlessly, so your business always stays one step ahead.
Firstbase Agent™ Features
Save time on annual reports and filings. They've pre-filled all the required state and federal forms so you have everything you need to file accurately and fast.
Expand your business in more states. They'll register your company to transact in other states so you can build your business across state borders.
Hire and pay in any state. Automate employer registration and tax accounts to hire, process payroll, and file tax returns across multiple states, compliantly.
Firstbase Agent™ Pricing:
Free Plan – Yes
Firstbase Agent™ – $99/year
Sage
Sage provide businesses with software and services that are simple and easy to use, as they work with you to give you that feeling of confidence. Customers trust the Payroll, HR, and Finance software to make business flow with ease.
From local network of experts to the ever-growing partnerships, Sage is on hand to give you all the insights you need to thrive.
Sage Features:
Easy accounting software for small businesses. Get MTD compliant with Sage Accounting and feel confident knowing your books are covered. Perfect for sole traders and small business owners. Get 1 month free now.
Simplify your pay run with Sage Payroll. Filing pensions, P60s, and payslips is made simple for your small business with Sage Payroll. Reduce paperwork and access accurate reports for quicker decision making.
Effortless HR for small businesses. Ready to attract, engage, and nurture the best talent, all from one place? With Sage HR, it's simple. Get started by booking a demo or signing up for a free trial today.
Sage Pricing:
Free Plan – Yes
Pricing depends on amount of employees
Pilot
Payroll, benefits & compliance for remote teams, in one secure platform. Easily onboard and pay employees and contractors worldwide.
Save time by managing everything in one platform. Pilot is your all-in-one payroll and HR solution for your global team.
Get expert international HR guidance at every step
Pilot Features:
Run payroll for W2 and global team members – Pay team members in 100+ countries, including the US, using one payroll, regardless of whether they're contractors or employees
Get visibility into your entire team with HRIS features – See PTO for your whole team at once, easily pull team data for custom reports, and more
Unified staff directory – Access your contractor and employee data in one central place
Offer benefits to everyone on your team – Benefits are available in 175+ countries, including to contractors, if you choose
Pay your team faster and without costly fees – No e-wallets, hidden fees, or conversion markups
Pilot Pricing:
Free Plan – No
Contractos – $29/m
Employees – starting at $299/m
Employees plus – starting at $459
Causeartist
Causeartist is a multi media company spotlighting impact entrepreneurs, impact startups, and corporate social responsibility.