Social Entrepreneurship has taken off and it has become an inspirational way to motivate many to start businesses. There's no doubt that social entrepreneur books can be a great source of inspiration for people looking to make a difference in the world.
We've all been inspired by stories of social entrepreneurs who have used their talents and creativity to solve some of the world's most pressing problems.
Social entrepreneur books provide readers with an inspiring and informative look at the stories of social entrepreneurs who have made a difference in the world.
They offer valuable lessons on what it takes to create change, as well as insight into the challenges and rewards that come with social entrepreneurship.
If you're looking for some new reads that will inspire you to take on your own social entrepreneurship journey, we've got you covered!
If you are interested in learning more about impact leaders around the world, listen and subscribe to the Disruptors for GOOD podcast.
Check out these social entrepreneur books that will motivate and educate you on how to make an impact in your community.
Listen to our social entrepreneur podcast.
---
The Greater Good: Social Entrepreneurship for Everyday People Who Want to Change the World – by Madeleine Shaw
The Greater Good is a 21st century call to action for everyday people to tap their unique perspectives to found and lead successful social impact ventures.
Groundbreaking menstrual health innovator Madeleine Shaw (co-founder of Aisle—previously known as Lunapads) presents an inspiring look at the inner journey behind creating businesses and initiatives that make a difference.
In addition to sharing frank insights from her own career, she highlights the journeys of a host of other successful social entrepreneurs, and in so doing surfaces an emerging movement—a movement that may be the driver of a more just and sustainable future.
Dispelling the myth that you need a business degree or a blockbuster tech idea to change the world, Shaw guides readers in mining their own experience, values, and passion to forge a unique and personal vision for the greater good.
---
The Business of Good: Social Entrepreneurship and the New Bottom Line – By Jason Haber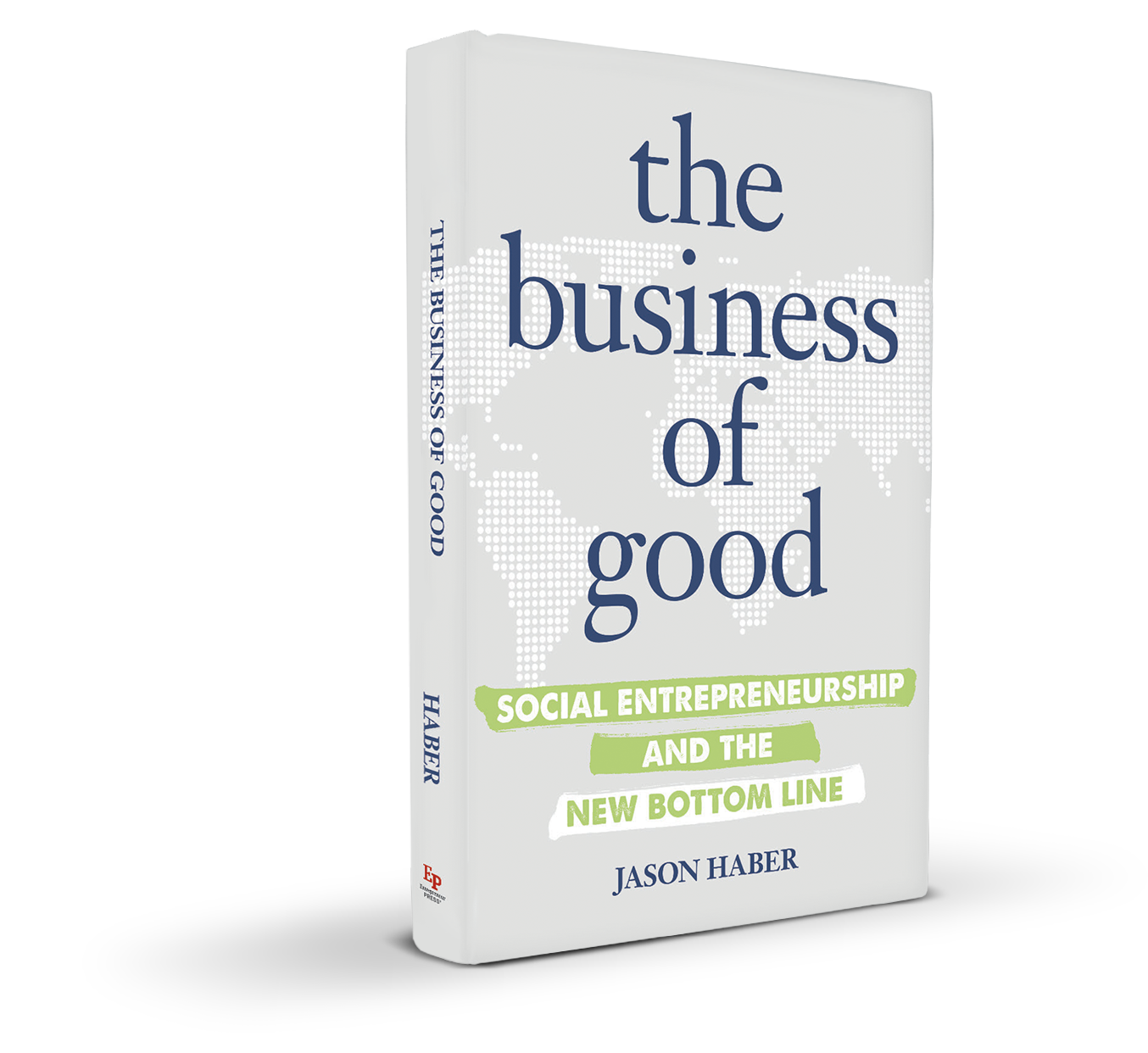 The Business of Good narrates the story behind social entrepreneurship as told by the individuals compelled to create a change in the world–not just another business.
Serial and social entrepreneur Jason Haber intertwines case studies, anecdotes, and initiatives that have become part of the larger narrative of entrepreneurship.
From Main Street to Wall Street, today's social entrepreneurs are rebooting capitalism, challenging the charitable industrial complex, and are disrupting the way companies do business with exciting innovations designed to solve society's most vexing problems.
In this book, Haber examines Capitalism 2.0, philanthropy, and the role and power of media alongside the world's response as social entrepreneurship changes how we give, how we invest, and who we are.
---
By: Ruth Shapiro
Today, "social entrepreneurship" describes a host of new initiatives, and often refers to approaches that are breaking from traditional philanthropic and charitable organizational behavior.
Nowhere is this more true than in the United States—where, from 1995–2005, the number of non-profit organizations registered with the IRS grew by 53%.
But, what types of change have these social entrepreneurial efforts brought to the world of civil society and philanthropy? What works in today's environment? And, what barriers are these new efforts breaking down as they endeavor to make the world a better place?
The Real Problem Solvers brings together leading entrepreneurs, funders, investors, thinkers, and champions in the field to answer these questions from their own, first-person perspectives.
Contributors include marquee figures, such as Nobel Laureate Muhammad Yunus, Ashoka Founder Bill Drayton, Jacqueline Novogratz, Founder of the Acumen Fund, and Sally Osberg, CEO of the Skoll Foundation.
The core chapters are anchored by an introduction, a conclusion, and question-and-answers sections that weave together the voices of various contributors. In no other book are so many leaders presented side-by-side.
Therefore, this is the ideal accessible and personal introduction for students of and newcomers to social entrepreneurship.
---
By: Daniel Lubetzky
In Do the KIND Thing, Lubetzky shares the revolutionary principles that have shaped KIND's business model and led to its success, while offering an unfiltered and intensely personal look into the mind of a pioneering social entrepreneur.
Inspired by his father, who survived the Holocaust thanks to the courageous kindness of strangers, Lubetzky began his career handselling a sun-dried tomato spread made collaboratively by Arabs and Jews in the war-torn Middle East.
Despite early setbacks, he never lost his faith in his vision of a "not-only-for-profit" business—one that sold great products and helped to make the world a better place.
While other companies let circumstances force them into choosing between two seemingly incompatible options, people at KIND say "AND." At its core, this idea is about challenging assumptions and false compromises.
It is about not settling for less and being willing to take greater risks, often financial.
It is about learning to think boundlessly and critically, and choosing what at first may be the tougher path for later, greater rewards.
By using illuminating anecdotes from his own career, and celebrating some past failures through the lessons learned from them, Lubetzky outlines his core tenets for building a successful business and a thriving social enterprise.
He explores the value of staying true to your brand, highlights the importance of transparency and communication in the workplace, and explains why good intentions alone won't sell products
---
John Wood discovered his passion, his greatest success, and his life's work not at business school or helping lead Microsoft's charge into Asia in the 1990s but on a soul-searching trip to the Himalayas.
He made the difficult decision to walk away from his lucrative career to create Room to Read, a nonprofit organization that promotes education across the developing world.
By the end of 2007, the organization will have established over 5,000 libraries and 400 schools, and awarded long-term scholarships to more than 3,000 girls, giving more than one million children the lifelong gift of education.
If you have ever pondered abandoning your desk job for an adventure and an opportunity to give back, Wood's story will inspire you. He offers a vivid, emotional, and absorbing tale of how to take the lessons learned at a hard-charging company like Microsoft and apply them to the world's most pressing social problems.
---
Collective Wisdom: Lessons, Inspiration, and Advice from Women over 50 – by Grace Bonney
In this rich and multilayered collection of interviews, conversations, and intimate photographs, over 100 trailblazing women describe the ups, downs, and lessons learned while forging their unique paths.
Collective Wisdom celebrates the stories of those who have been there and know the road—from an Olympic athlete and a NASA team member to award-winning artists, activists, writers, and filmmakers, from women in their fifties to centenarians.
It is also a tribute to the importance of intergenerational connections between women, with interviews conducted by daughters, friends, mentors, and colleagues. Collective Wisdom creates a living, breathing sense of community—a space where all of us can gather, listen, share, and learn.
---
By : Aaron Hurst
A series of shifts are happening in our economy: Millennials are trading in conventional career paths to launch tech start-ups, start small businesses that are rooted in local communities, or freelance their expertise.
We are sharing everything, from bikes and cars, to extra rooms in our homes. We now create, buy and sell handcrafted products in our local communities with ease.
Globally recognized entrepreneur, founder of Taproot Foundation and CEO of Imperative, Aaron Hurst, argues in his latest book that while these developments seem unrelated at first, taken together they reveal a powerful pattern that points to purpose as the new driver of the American economy.
Like the Information Economy, which has driven innovation and economic growth until now, Hurst argues that our new economic era is driven by connecting people to their purpose.
It's an economy where value lies in establishing purpose for employees and customers through serving needs greater than their own, enabling personal growth and building community.
Based on interviews with thousands of entrepreneurs, Hurst shows this new era is already fueling demand for a whole host of products and services and transforming how millennials view their careers.
A new breed of startups like Etsy, Zaarly, Tough Mudder, Kickstarter, and Airbnb are finding new ways to create value by connecting us with our local communities. At the same time, companies like Tesla and Whole Foods are making the march from just appealing to affluent buyers to becoming mainstream brands.
Hurst calls these companies, along with the pioneering entrepreneurs who founded them, the Purpose Economy's taste-makers.
This book is at once a personal memoir of Aaron Hurst's own awakening as a purpose driven entrepreneur, when he left a well-paying tech job in 2001 to launch Taproot, creating a pathway for millions of professionals and Fortune 500 companies to volunteer for nonprofits.
It's also a blueprint for a new economic era that is transforming companies, markets and our careers to better serve people and the world.
---
By: Muhammad Yunus
Muhammad Yunus, the practical visionary who pioneered microcredit and, with his Grameen Bank, won the 2006 Nobel Peace Prize, has developed a visionary new dimension for capitalism which he calls "social business."
By harnessing the energy of profit-making to the objective of fulfilling human needs, social business creates self-supporting, viable commercial enterprises that generate economic growth even as they produce goods and services that make the world a better place.
In this book, Yunus shows how social business has gone from being a theory to an inspiring practice, adopted by leading corporations, entrepreneurs, and social activists across Asia, South America, Europe and the US.
He demonstrates how social business transforms lives; offers practical guidance for those who want to create social businesses of their own; explains how public and corporate policies must adapt to make room for the social business model; and shows why social business holds the potential to redeem the failed promise of free-market enterprise.
---
By: Peter H. Diamandis
A radical, how-to guide for using exponential technologies, moonshot thinking, and crowd-powered tools, Bold unfolds in three parts. Part One focuses on the exponential technologies that are disrupting today's Fortune 500 companies and enabling upstart entrepreneurs to go from "I've got an idea" to "I run a billion-dollar company" far faster than ever before.
The authors provide exceptional insight into the power of 3D printing, artificial intelligence, robotics, networks and sensors, and synthetic biology.
Part Two draws on insights from billionaires such as Larry Page, Elon Musk, Richard Branson, and Jeff Bezos and reveals their entrepreneurial secrets. Finally, Bold closes with a look at the best practices that allow anyone to leverage today's hyper-connected crowd like never before.
---
by Ann Mei Chang
Lean Impact is a hands-on guide designed to exponentially increase the impact of our time and money.
Building on the modern innovation practices that have fueled the technological breakthroughs that have touched every aspect of our lives, Lean Impact puts the focus on a new purpose–radically great social good.
Of course, making the world a better place is far more complicated than building an app. It involves more listening, more care, and more stakeholders to ensure solutions are fully embraced, address root causes, and include an engine that will drive growth.
Lean Impact offers practical tools and strategies that are inspired by the customer-centered, fast iteration, and data-driven approaches popularized by The New York Times bestseller, The Lean Startup.
---
By: Jason Fried
Rework shows you a better, faster, easier way to succeed in business. Read it and you'll know why plans are actually harmful, why you don't need outside investors, and why you're better off ignoring the competition.
The truth is, you need less than you think. You don't need to be a workaholic. You don't need to staff up. You don't need to waste time on paperwork or meetings. You don't even need an office. Those are all just excuses.
What you really need to do is stop talking and start working. This book shows you the way. You'll learn how to be more productive, how to get exposure without breaking the bank, and tons more counterintuitive ideas that will inspire and provoke you.
With its straightforward language and easy-is-better approach, Rework is the perfect playbook for anyone who's ever dreamed of doing it on their own. Hardcore entrepreneurs, small-business owners, people stuck in day jobs they hate, victims of "downsizing," and artists who don't want to starve anymore will all find valuable guidance in these pages.
---
by Sarah Frey
Sarah Frey sells more pumpkins than any other producer in the United States. Her family business, Frey Farms, plants thousands of acres of fruits and vegetables in Florida, Georgia, Missouri, Arkansas, Illinois, Indiana, and West Virginia.
With a mission to end food waste in the fresh produce industry, the family makes natural food products and beverages from imperfect or "ugly fruit."
Inspired by her humble beginnings and early life on the farm, she continues to create opportunities for those living and working in rural communities. Frey lives in Southern Illinois and is raising her two sons, William and Luke, on the same family farm where she grew up.
---
By: Jena Lee Nardella
Jena Nardella, cofounder of Blood:Water and one of Christianity Today's 33 Under 33, shares a "captivatingly honest" (Publishers Weekly) account of how her passion for saving the world grew into a humbler, long-term calling of loving the world in all its brokenness in this beautifully written memoir.
Ten years ago, Jena Lee Nardella was a fresh-out-of-college, twenty-something with the lofty goal of truly changing the world.
Armed with a diploma, a thousand dollars, and a dream to build one thousand wells in Africa, she joined forces with Grammy Award–winning band Jars of Clay to found Blood:Water and begin her mission.
Jena's dream for her nonprofit turned that initial $1 into $20, and then $100, and today into more than $25 million.
Working throughout eleven countries in Africa, Blood:Water has provided healthcare for over 62,000 people in HIV-affected areas and has partnered with communities to provide clean water for more than one million people in Africa.
But along the way she faced many harsh realities that have tested her faith, encountered corruption and brokenness that nearly destroyed everything she'd fought for, and learned that wishful thinking will not get you very far.
Jena discovered true change comes only when you stop trying to save the world and allow yourself to love it, even when it breaks your heart.
---
By: David Bornstein
Now published in more than twenty countries, David Bornstein's How to Change the World has become the bible for social entrepreneurship–in which men and women around the world are finding innovative solutions to a wide variety of social and economic problems.
Whether delivering solar energy to Brazilian villagers, expanding work opportunities for disabled people across India, creating a network of home-care agencies to serve poor people with AIDS in South Africa, or bridging the college-access gap in the United States, social entrepreneurs are pioneering problem-solving models that will reshape the 21st century.
How to Change the World provides vivid profiles of many such individuals and what they have in common. The book is an In Search of Excellence for social initiatives, intertwining personal stories, anecdotes, and analysis. Readers will discover how one person can make an astonishing difference in the world.
---
By: Blake Mycoskie
The incredible story of the man behind TOMS Shoes and One for One, the revolutionary business model that marries fun, profit, and social good. People often ask me what I consider my goal to be at TOMS. The truth is that it's changed over the years.
When we first began, the goal was to create a for-profit company to help the children that I met in a small village in Argentina. And that objective to give new shoes to children in need continues to be a powerful driver for me and everyone else at TOMS.
But recently my personal mission has changed. Today, I would say that my goal is to influence other people to go out into the world and have a positive impact, to inspire others to start something that matters, whether it's a for-profit business or a nonprofit organization.
I feel a deep sense of responsibility to share everything that we've learned from TOMS, so that others can learn from both our mistakes and the counter intuitive principles that have guided our success.
---
By: Michel Gelobter
For years, the lean startup has been revolutionizing both new and established businesses. In this eye-opening book, serial social entrepreneur Michel Gelobter shows how it can do the same for nonprofits.
Traditionally, whether creating a new business or a new program, entrepreneurs in all sectors develop a plan, find money to fund it, and pursue it to its conclusion.
The problem is, over time conditions can change drastically—but you're locked into your plan. The lean startup is all about agility and flexibility.
Its mantra is "build, measure, learn": create small experimental initiatives, quickly get real-world feedback on them, and use that data to expand what works and discard what doesn't.
---
By: Micheal Strong
What if the distinction between business and doing good vanished? What if all those who engaged in business were committed to a deeper purpose, and all those committed to doing good were entrepreneurial and enterprising?
What would it take for a world of seven billion such people to solve all the world's problems?
More and more people are looking for meaning and purpose in their lives as employees, as consumers, and as investors.
More and more people have more than enough material goods and are more interested in the qualities of the goods they buy; in the experiences associated with the services they provide and buy; in the way the companies they buy from act as citizens; and in self-actualization—rising up Maslow's hierarchy.
As an increasing percentage of the population reaches the point at which they no longer need more stuff, what will they do, how will they live their lives?
---
By: Nick Cooney
Many of us donate to charitable causes, and millions more work or volunteer for non-profit organizations. Yet virtually none of us have been taught what it means to succeed at doing good, let alone how to do so. In short, we've never been encouraged to treat charity with the seriousness and rigor it deserves.
How to be Great at Doing Good is a complacency-shattering guidebook for anyone who wants to actually change the world, whether as a donor, a volunteer, or a non-profit staffer.
Drawing on eye-opening studies in psychology and human behavior, surprising interviews with philanthropy professionals, and the author's fifteen years of experience founding and managing top-rated non-profits, this book is an essential read for anyone who wants to do more good with their time and money.
---
By: Billy Parish
As we emerge from the recession, a generation is searching for practical answers about how to succeed and make positive change in the world. With real-life success stories and practical advice and exercises, Making Good outlines how to find opportunities to effect change and make money.
These opportunities are not just for entrepreneurs and Fortune 500 companies.
Making Good shows step-by-step how any person can achieve financial autonomy, capitalize on global changes to infrastructure, and learn from everyday success stories—providing the skills and insights this generation needs to succeed and build careers and lives of consequence.
Charismatic, young, and passionate, Billy Parish and Dev Aujla have been recognized in media outlets like Vanity Fair, Salon, and Rolling Stone as the voices of their generation.
They are at the vanguard of figuring out how the next generation will rethink, reimagine, and rebuild the world around us. Making Good culls the knowledge that has allowed Billy and Dev to build thriving, meaningful careers into a book that will be What Color Is Your Parachute?
---
By: Adam Braun
Adam Braun began working summers at hedge funds when he was just sixteen years old, sprinting down the path to a successful Wall Street career. But while traveling he met a young boy begging on the streets of India, who after being asked what he wanted most in the world, simply answered, "A pencil."
This small request led to a staggering series of events that took Braun backpacking through dozens of countries before eventually leaving a prestigious job to found Pencils of Promise, the organization he started with just $25 that has since built more than 250 schools around the world.
The Promise of a Pencil chronicles Braun's journey to find his calling, as each chapter explains one clear step that every person can take to turn their biggest ambitions into reality.
If you feel restless and ready for transition, if you are seeking direction and purpose, this critically acclaimed bestseller is for you. Driven by inspiring stories and shareable insights, this is the book that will give you the tools to make your own life a story worth telling.
---
By: John Wood
The inspirational story of a former Microsoft executive's quest to build libraries around the world and share the love of books.What's happened since John Wood left Microsoft to change the world? Just ask six million kids in the poorest regions of Asia and Africa.
In 1999, at the age of thirty-five, Wood quit a lucrative career to found the nonprofit Room to Read.
Described by the San Francisco Chronicle as 'the Andrew Carnegie of the developing world,' he strived to bring the lessons of the corporate world to the nonprofit sector-and succeeded spectacularly.
In his acclaimed first book, Leaving Microsoft to Change the World, Wood explained his vision and the story of his start-up.
Now, he tackles the organization's next steps and its latest challenges-from managing expansion to raising money in a collapsing economy to publishing books for children who literally have no books in their native language.
---
By: William D. Eggers and Paul Macmillan
World hunger. Climate change. Crumbling infrastructure. It's clear that in today's era of fiscal constraints and political gridlock, we can no longer turn to government alone to tackle these and other towering social problems. What's required is a new, more collaborative and productive economic system.
The Solution Revolution brings hope—revealing just such a burgeoning new economy where players from across the spectrum of business, government, philanthropy, and social enterprise converge to solve big problems and create public value.
By erasing public-private sector boundaries, the solution economy is unlocking trillions of dollars in social benefit and commercial value.
Where tough societal problems persist, new problem solvers are crowdfunding, ridesharing, app-developing, or impact-investing to design innovative new solutions for seemingly intractable problems.
Providing low-cost health care, fighting poverty, creating renewable energy, and preventing obesity are just a few of the tough challenges that also represent tremendous opportunities for those at the vanguard of this movement.
They create markets for social good and trade solutions instead of dollars to fill the gap between what government can provide and what citizens need.
---
By: Jonathan David Golden & Bob Goff
Almost anyone you ask would say that they want to do work that matters. Yet many people do not feel like they are actively making a difference in the world. Others may feel a sense of calling but lack either the courage or the supportive community to carry it out.
But if God created each of us on purpose, for a purpose, we should be ordering our lives around that purpose.
Jonathan D. Golden, founder of Land of a Thousand Hills coffee company, has discovered and is living out his unique calling to promote social, spiritual, and economic justice while providing a living wage to 2,500 farmers in Rwanda.
Now he reveals to readers how to identify their calling, dispels the myths and misunderstandings we often have about what constitutes a calling, and challenges them to pursue that calling with a courage that can surmount the many obstacles that may lie in their path.
He also shows readers how to cultivate a community of support that will help them fulfill their calling.
---
By: Kerryn Krige & Gus Silber
Can business change the world? Can the world change business? For a new breed of social entrepreneurs, striving to build and grow enterprises that fight social ills, foster opportunity, and help to improve society, the answer is not can, it's must. Impassioned by purpose, driven by dreams, emboldened by ideals, social entrepreneurs imagine a better way to a better world.
And then they go out of their way to bring it to life. In the process, they shake the dust off old ways of thinking and disrupt the way business has always been done. In this book, brought to you by GIBS, a leading business school based in Johannesburg, South Africa, you'll get to meet The Disruptors.
Through these tales of daring, struggle, triumph and innovation, you'll see the world through the eyes of a diverse range of social entrepreneurs, and learn their secrets for changing the world by changing business.
From healthcare to mobile gaming, from education to recycling, from dancing to gardening, these are the game-changers, the difference-makers, the doers of good. Here are their stories.
---
by: Kathleen Kelly Janus
Kathleen Kelly Janus, a lecturer at the Stanford University Program on Social Entrepreneurship and the founder of the successful social enterprise Spark, set out to investigate what makes a startup succeed or fail.
She surveyed more than 200 high-performing social entrepreneurs and interviewed dozens of founders. Social Startup Success shares her findings for the legions of entrepreneurs working for social good, revealing how the best organizations get over the revenue hump.
How do social ventures scale to over $2 million, Janus' clear benchmark for a social enterprise's sustainability?
Janus, tapping in to strong connections to the Silicon Valley world where many of these ventures are started or and/or funded, reveals insights from key figures such as DonorsChoose founder Charles Best, charity:water's Scott Harrison, Reshma Saujani of Girls Who Code, and many others.
Social Startup Success will be social entrepreneurship's essential playbook – the first definitive guide to solving the problem of scale.
---
We hope you've found this list of social entrepreneur books to be inspiring. Reading about the work and successes of others can help motivate us to do more good in the world. What book on this list are you most looking forward to reading?
Grant Trahant
Grant is the founder of Causeartist, one of the most influential impact business platforms in the world. Since 2013, Causeartist has been read in over 150 countries. Grant has personally interviewed 700+ impact entrepreneurs from around the world, highlighting innovations in ethical fashion, climate change, ethical technology, impact investing, and sustainable travel.