Mobile devices have changed the way everyone lives. Here is a list of some amazing social good apps that can be used for a variety of different things. Some of theses apps can be used on a day to day basis, others can be used for research, and some can be used to educate.
There is a growing trend of social good apps that are designed to make a positive impact on the world.
These apps range from social networks that connect people with similar interests and causes, to apps that allow users to donate money or time to charitable organizations.
Some social good apps even allow users to directly engage in acts of kindness, such as performing random acts of applause or leaving encouraging notes for others.
By harnessing the power of social media and mobile technology, social good apps are making it easy for people to do good deeds and make a difference in the world. In a world that often seems full of negativity, these apps are a much-needed breath of fresh air.
No matter the reason, these social good apps give you the ability to stay consumer conscious and socially involved in every facet of your life.
Check out these amazing social good apps below.
---
Humanity
Humanity is the #1 app for increasing your health span (years of healthy life). Join nearly 100 thousand Humanity users already learning how fast they are aging, and most importantly, what actions they can take to optimize it and live healthier.
Humanity makes maximizing your healthspan (and lifespan) super simple. Anyone at any level of health can find out how biologically old they are right now, and how fast they are aging.
Humanity then uses AI to provide personalized, step by step guidance based on what has worked for people like them in the past.
Features include:
• Monitor your Rate of Aging and Biological Age, calculated using AI algorithms that have been validated against real-world health outcomes – from your existing phone and wearables' movement and heart rate patterns – understand how healthy you are and what direction your health journey is taking.
• Continuous monitoring of your actions in our four categories: Movement, Nutrition, Mind and Recovery – our H Score rewards every positive action you take on your journey.
• AI driven analysis of your actions – and the actions of users like you – to provide personalized, data driven, effective guidance – navigating you step by step to a healthier today and tomorrow.
Goals you can strive for with Humanity:
• See whether the actions you are taking can make you healthier.
• Staying healthy and fully functional for more years.
• Reducing your stress levels.
• Increasing your happiness.
• Helping your family and all humanity stay healthier for longer.
• And so much more…
---
---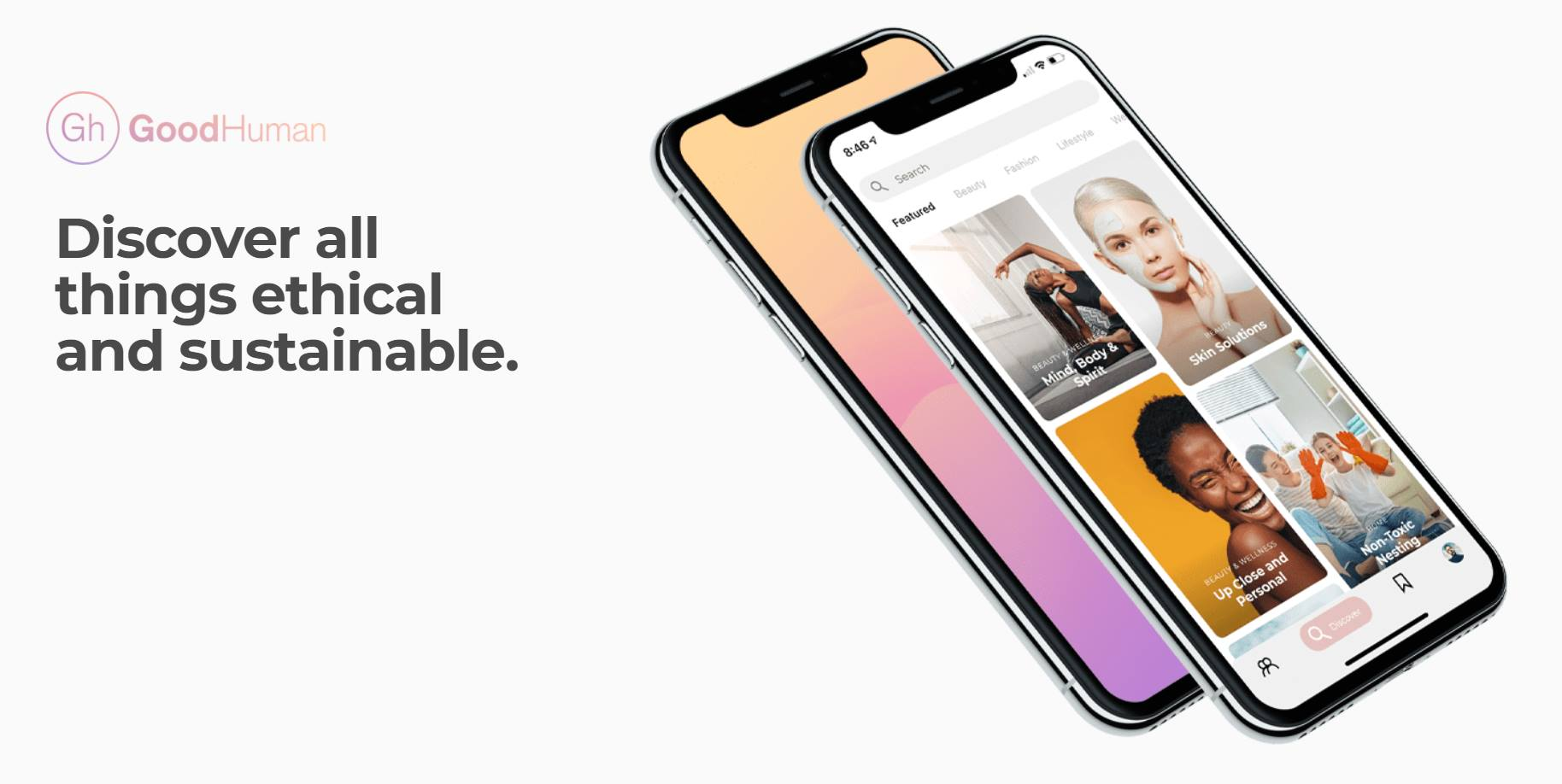 GoodHuman is a social good app that believes that prioritizing people and the environment should be easier. It's simple to put your money where your values are with GoodHuman.
The GoodHuman app is a one-stop shop for sustainable products and ethical brands that addresses two major issues: not knowing which brands to trust and price.
Most people want to purchase more wisely, but it's overwhelming to know where to start and many believe it's not affordable. That's where we come in. 650+ vetted brands and 180,000+ curated products (more than Amazon) and hundreds of promo codes (think Honey, for good).
---
---
 Earth Hero makes acting on climate change easy. It helps you take positive practical action in response to the climate emergency while discovering more satisfying ways to live. Earth Hero connects you to a global movement rising to the interconnected crises of climate change and rapid species loss.
Mobilize with a community of change-makers actively working to address global warming and rapid extinction.
Choose from personalized actions in areas such as travel, food, energy, and advocacy.
Discover ideas for healthy, smart, satisfying ways to live.
Calculate and use the carbon tracker to understand your carbon footprint and changes over time.
Compare your emissions reduction with science-based recommendations for a liveable planet.
Set your own green goals.
Share your actions with others.
Through personal change, collective action, and advocacy, together we can rise to the challenge of our age.
---
---
Daffy makes giving a habit. Contribute cash, stock, or crypto, watch it grow tax-free, and donate to 1.5M+ charities in the U.S. Get started in seconds—and join a community committed to putting money aside for those less fortunate than themselves.
How it works:
Take the Daffy Pledge by choosing how much money you want to put aside for charity every week, month, or year, or make a one-time contribution to get started.
Contribute in cash, stock, or crypto, and pick any amount that's right for you.
Invest your Daffy fund in one of our nine modern investment portfolios, including Standard, ESG, Crypto.
Watch your fund grow tax-free—and send more money to charities over time.
Whenever you want to give, donate to any of over 1.5 million charities in the U.S, right from your phone.
---
---
Peekabond aims to become a digital playground for families, where they can enjoy playful activities and spent quality time together. The app is now available — a video messenger to connect families using science-based play activities.
Using technology for good, they help strengthen real-life relationships. With simple, engaging, and clever content ideas at the touch of a button, it's easy for every member of the family to get a little closer, even when you are not close by.
---
---
Newday lets you invest in companies that are making the world better. Access impact portfolios that address some of the biggest environmental and social challenges today including climate change, the health of our oceans, gender, and race equality, animal welfare, access to clean and fresh water, and more.
---
---
Good On You is your trusted source of sustainability ratings for fashion. Join more than a million people worldwide using Good On You to shop better and create a sustainable future.
---
The Good On You app gives you the power to easily check the impact of your favourite fashion brands on the issues you care about. Use the app to discover better alternatives, learn more about ethical fashion shopping, and get exclusive offers from the best brands.
---
Browse over 3,000 brands, all assessed against our comprehensive rating system. Each brand receives an easy-to-understand rating out of five, from 'We Avoid' (1) to 'Great' (5), and individual scores for its impact on people, the planet, and animals.
---
If the brand you're looking for isn't listed yet, just hit a button and we'll rate it! And if your favourite brand doesn't make the grade, use Good On You to find sustainable alternatives that meet your needs. You can also use your consumer power by sending a message to brands, urging them to do better.
---
Just window shopping? Good On You is the world's best source of ethical fashion knowledge: use the app to find sustainability tips, guides, and style edits, and stay up to date with the latest in eco-conscious fashion.
---
Klima
---
---
With Klima, a carbon neutral life has never been simpler. Calculate your carbon footprint and neutralize 100% of your CO2e emissions in just three minutes. How? By funding science-based climate projects that capture or prevent the same emissions elsewhere. Next, learn how to shrink your own footprint sustainably and watch your positive impact grow.
---
---
The Humanly° app is a window to the world that fits in the palm of your hand. First, make your impact through the innovative organizations that use Humanly° and then track your impact in the app to see how your dollars are making a difference around the world.
Track your impact with the coordinates or code provided by the organization.
Step into the world you're changing by watching immersive 360° videos.
Learn about the strengths and obstacles of those you're impacting.
Receive live notifications about how you're making a difference.
See a map of exactly where your money landed.
Write the people you've impacted directly from your phone.
---
---
Support your favorite team and experience the excitement of sports games for charity. GoodBookey includes major sporting events from football, basketball, baseball, hockey, soccer, and more in this fun social betting game. It's like other popular fantasy sports apps, but it's all about giving back!
---
Choose a game, choose a charity, choose a dollar amount and challenge a friend on all the big sporting events! We feature events from NFL, NBA, MLB, NHL, MLS, UEFA, EPL, and MMA so pick your favorite league and create a challenge. We also feature NCAA games, perfect for basketball season. This sports betting game is all about charity!
---
Our partners at The Chive exclaim that "the GoodBookey game makes giving back easy! It provides a non-traditional, engaging, and competitive platform to keep donors excited." So join the team and start changing the world one bet at a time.
---
---
---
Get the gratitude app for a new era. gthx "makes good visible" by using first-of-their kind mindfulness tools to shift your whole life toward the healthier and happier one you want. Because, even though there's an abundance of good that exists in this world, it often feels easier to notice the negative… This common "negativity bias" is deeply rooted in human biology: Our early ancestors had to notice all the Bad Things (predators! threats! natural hazards!) if they wanted to survive. These days, that biological instinct still exists within you—but so does the power to shift your life toward the positive.
---
Gratitude rewires your brain through the simple habit of noticing the good around you, which leads to scientifically proven benefits: lower stress, better sleep, less loneliness, stronger relationships, more joy. gthx is designed to make this shift a reality, through our gratitude tools, daily mood boosters, on-the-go guides from wellness experts and a supportive global community that taps into the collective power of gratitude as a social emotion. It all helps you uncover the good that already exists in your world—past, present and future. It's life-changing. It's gratitude.
---
Aerial
---
---
Aerial is the easiest, most accurate way to manage your carbon footprint and sustainable lifestyle. We automatically track your emissions, give you an effortless way to offset them, and offer exclusive insights into how you can live sustainably.
---
How it works:
Track Your Carbon Footprint
It accurately calculate's how much carbon you emit from flights, rideshare, and rail. Support for more emissions sources coming soon.
---
Offset Your Emissions with our Climate Subscription
By contributing to verified forest conservation projects and innovative carbon capture initiatives, you help balance your emissions.
---
Make an Impact
Compete with friends to save trees and help the planet.
---
Get Informed
Gain actionable climate insights from our exclusive content in the Discover tab. New climate action Stories have been added.
---
---
---
Deedly uses education to empower youth to be the change we want to see in this world. Through the Deedly program, students are educated about world issues and the charities that strive to fix them. In doing so they will receive the knowledge and power needed to make conscious, philanthropic, and eventually world changing decisions.
---
Through this knowledge, students will be able to unlock money given by donors. Donations are unlocked and released to various non profits after a student gains the knowledge through watching videos, taking quizzes and doing activities.
---
By teaching our children to give back to causes that matter most both early and often, we can rest easy knowing we've spread the notion to take care of the world that provides us all a chance at life.
---
---
---
The Samaritan app reveals the story of homeless individuals whom you pass by daily. You can give towards critical needs and create lifelines of hope. The Samaritan app exists to reveal the stories with those we pass everyday—the single mom on the bus, the grandfather on the street, or the homeless teen outside the supermarket—and help us respond well in these moments.
---
When you cross paths with a Samaritan Beacon Holder, a notification will appear on your phone. Tapping on the notification provides an opportunity to read about the person's story or contribute $1 or more towards a needed good or service (such as food, fuel or clothing). The app currently supports Beacon Holders in Seattle, WA only.
---
---
The Сharidy app allows you to donate to any org in under 10 seconds! It's the place to track all your donations and organizations, store your receipts, and set up recurring giving to your favorite causes. It's a donor haven…in your pocket!
---
---
ShareTheMeal is an initiative of the United Nations World Food Programme (WFP). WFP is the world's largest humanitarian agency fighting hunger. Each year, WFP reaches 80 million people with food assistance in around 80 countries. WFP is 100% voluntarily funded, so every donation counts. WFP's administrative costs are among the lowest in the non-profit sector – with 90% of donations going directly to WFP operations that are building a world with zero hunger.
---
---
Charity Miles is a free app that allows you to earn money and raise awareness for charities by walking, running or biking– all courtesy of our corporate partners. Just choose a charity and hit the streets. As you walk, run or bike, the app will measure your distance and you will earn money for your charity: 10¢ per mile for bikers; 25¢ per mile for walkers and runners, all up to our initial $1,000,000 corporate sponsorship pool.
---
Capture
---
---
Raise money and awareness for good causes when you walk, run, workout, bike, do yoga, lose weight, drink water or any other activity based challenges you choose. Every check-in allows you to easily raise awareness, earn sponsored donations and enters you to win big prizes for your social good! Everyday you check-in to your challenge you earn points for rewards and earn entries to win rewards and experiences from our sponsors & celebrities.
---
---
Discover high-impact nonprofits. Swipe right to give. Change the world. With Millie, charitable giving is now that simple. Every week, you'll get matched with 3 nonprofits, giving you the chance to easily back the causes you care about. DISCOVER NONPROFITS – Learn about specific nonprofits you care about based on your personal preferences, giving patterns, and location. QUICK & EASY – Upload money to your giving wallet, choose where to allocate your funds, swipe right, and easily track your giving.
---
Joro
---
---
Track, reduce, and offset the carbon footprint of everything you buy. Tackle climate change as you spend money. Shift your demand away from fossil fuels and decarbonize the economy.
---
To estimate the footprint of what you buy, Joro's Carbonizer combines datasets on the carbon intensity of production, transportation, and end-of-life use of over 300 unique spending categories with localized information about you and your lifestyle.
---
For instance, if you spend $30 at the gas pump, the Carbonizer accounts for the price of gas in your area and the carbon intensity of gasoline to estimate your footprint. The goal isn't to be 100% accurate. Instead, Joro helps you understand your relatively most important levers for impact.
---
For instance, instead of comparing the footprint of one brand of beef to another, we reveal that the choice of chicken over beef is the one you should be relatively more focused on.
---
---
---
Want to make a difference for the causes you care about but can't afford to put a dent in your wallet? Are you looking to give to nonprofits in new ways? Do you want to see the direct impact of your donations? If you answered yes to any of these questions, look no further. Give to the organizations and causes you care about by rounding up and giving the spare change from credit/debit card purchases, setting daily donations, giving one-time donations, and more.
---
Build relationships with the nonprofits you support by funding specific projects, giving your input on decisions regarding your money, and receiving progress updates. Flourish is designed to fit your lifestyle and needs. Set limits on how much you want to donate every month or suspend your giving at any time. Flourish makes giving in small ways easy and impactful, while allowing you to watch the change you make.
---
---
---
Called the fitness app that gives back, Atlas connects runners, corporations and charities to power change globally. The idea behind the app is pretty simple – The mobile fitness app allows users to raise funds and awareness for a good cause for every mile they track their runs, hikes and bike rides. The miles are sponsored by corporate partners for whom Atlas unique means of community engagement and positive brand awareness.
---
Latest Stories:
Grant Trahant
Grant is the founder of Causeartist, one of the most influential impact business platforms in the world. Since 2013, Causeartist has been read in over 150 countries. Grant has personally interviewed 700+ impact entrepreneurs from around the world, highlighting innovations in ethical fashion, climate change, ethical technology, impact investing, and sustainable travel.