Sustainable backpacks are those made of materials that are environmentally friendly and can be reused or recycled. Sustainable materials include bamboo, hemp, organic cotton, and jute.
Sustainable backpacks are often better for the environment because they don't rely on petroleum-based synthetic materials like polyester or nylon. They can also be made of recycled materials, such as recycled plastic bottles or post-consumer waste.
These type of backpacks often have a smaller carbon footprint than their traditional counterparts because they don't require as much energy and water to produce.
In addition, sustainable backpacks often last longer because they're made of higher-quality materials. As a result, sustainable backpacks are a great choice for anyone looking to reduce their impact on the environment.
Mini Sustainable Backpack from Fair Anita
Get ready for your next adventure with this unique and versatile mini-backpack! Meticulously crafted from handwoven organic cotton, it's perfect to have on the go.
With two open pockets inside as well eco-friendly screen printing prints outside, you don't need anything else – just slip into its adjustable crossbody strap (52″ at longest or 45″ shortest) and take off. Socially responsible without compromising style – what more can you ask for?
OXYGEN 45 from XACT
The OG 45 is the ideal single-carry bag to replace your upright roller and keep your hands free. Switch from backpack to duffel on the fly, your OG 45 swiftly goes from your back to under the seat or the overhead bin.
Made from premium 900D recycled polyester, not only is OG 45 tough as nails but prevented 24 plastic bottles from ending up in landfills. OG 45 integrates device charging, specific bottle storage, and tech compartments. The most comfortable and practical hybrid travel bag keeps you equipped for the journey ahead.
Fair Anita is challenging the norms within the fashion industry and creating supply chains in the most ethical way we can imagine: investing in women and centering makers throughout every part of the process.
They believe accessories should be stylish, affordable, and thoughtfully-sourced. We go beyond fair wages, investing in the individuals who breathe life into each of our products.
Nisolo – Cordoba Backpack
The fashion industry continues to have a devastating impact on People and the Planet.
Meeting the highest standards of verified social and environmental responsibility, your support has enabled Nisolo to become one of the world's top rated Certified B Corporations and the #1 ranked Re/Make brand.
They scored this product across 200 sustainability metrics to help clarify its social and environmental impact and to hold ourselves more accountable in hopes that the industry will begin to do the same.
Baabuk – Blacknose – Hooded Backpack
As with everything at Baabuk, their sustainability efforts begin with wool — a fabric that is long lasting, recyclable and renewable.
The Hoodie backpack has adjustable shoulder straps and small outer compartment.
The Baabuk Blacknose Collection is a special edition of sneakers and accessories made with wool from the Valais Blacknose Sheep, the cutest sheep in the world. Quantities are limited.

Co-designed with Burel Factory. Made in Portugal by Burel with Swiss wool from the Valais Blacknose sheep.
Design by Aforestdesign
They source the wool for the sneakers and other products from Portugal, where the sheep are certified mulesing-free and live in Serra de Estela Natural Park, the largest protected area in the country.
Because of the the country's long-standing history with wool production, Baabuk chose Nepal as the manufacturing hub for our slippers and boot-bodies for the chance to make a positive impact in a local community.
They do so by providing good working conditions, 25% higher salary than the national average and, in a country where men have more job opportunities, by employing more women than men (14 women and three men) in the workshop.
Cotopaxi Vaya Backpack
Cotopaxi creates outdoor products, apparel, and experiences that help alleviate poverty, move people to do good, and inspire adventure. Their social impact strategy focuses on global poverty alleviation, and we employ responsible sourcing and manufacturing practices throughout the companies supply chains.
Cotopaxi's mission is to create innovative outdoor products and experiences that fund sustainable poverty relief, move people to do good, and inspire adventure.
This model allows us to offer higher-quality products without the retail markup. In turn, Cotopaxi funds nonprofit organizations that address the most persistent needs of those living in extreme poverty.
Purse & Clutch – Laptop Backpack
The name kind of undersells them. Purse & Clutch not only sells well…purses and clutches…but all kinds of unique bags that are doing good in the world!
All their products are ethically handmade by artisans in Mexico and Ethiopia with practices that are great for people and the planet.
Purse & Clutch is committed to eco-friendly materials and production, great relationships with their artisans, and no child or underpaid labor in their supply chain.
All this works together for globally-inspired, high-quality bags that give back. Jen, the founder, even mentors young female entrepreneurs from in Austin, Texas, several of which have gone on to start their own social enterprises. Talk about good begetting more good!
MADE FREE – Urban Pack Mini
MADE FREE thinks handouts of food, water, and clothing in the developing world are great—just not enough.
They're seeking change at the root levels of poverty and human trafficking around the world, and they're doing it through handcrafted and high-quality bags and accessories!
Every purchase supports crafters around the world through self-sustaining employment, and MADE FREE even tells you how many days of freedom you're providing by purchasing one of their sharp-looking products.
MADE FREE also works with big brands to supply all of their promotional tees and bags—providing hundreds of days of freedom and fair pay to at-risk people all over the world. They're taking the war on slavery to the next level!
Patagonia Refugio Daypack 30L
The largest of their core daypack line, the Refugio Daypack 30L has a few more features and a slightly greater carrying capacity for heavier workloads or days when you might need gym clothes or climbing shoes. Fair Trade Certified™ sewn.
Tentree Backpack
Listen to more Causeartist podcasts here.
tentree believes it can inspire a new group of consumers to tackle the environmental issues we are now faced with. By planting ten trees and ensuring that all tentree clothing is produced responsibly they allow each and every customer to make a difference.
Their commitment to the environment isn't just a catchy hook to drive sales. It is something they fundamentally believe in, that will have an enormous impact on our environment going forward. It's your world, your life, your playground. Let's protect it – together, we can build forests.
Tree planting is a way of restoring the environment, maintaining ecosystems, and making our world a healthier place to live. This isn't new; but what is new, is how they have used the concept of planting trees to inspire entrepreneurship, build sustainable communities, provide shelter and generally increase quality of life.
Raven + Lily Yami Backpack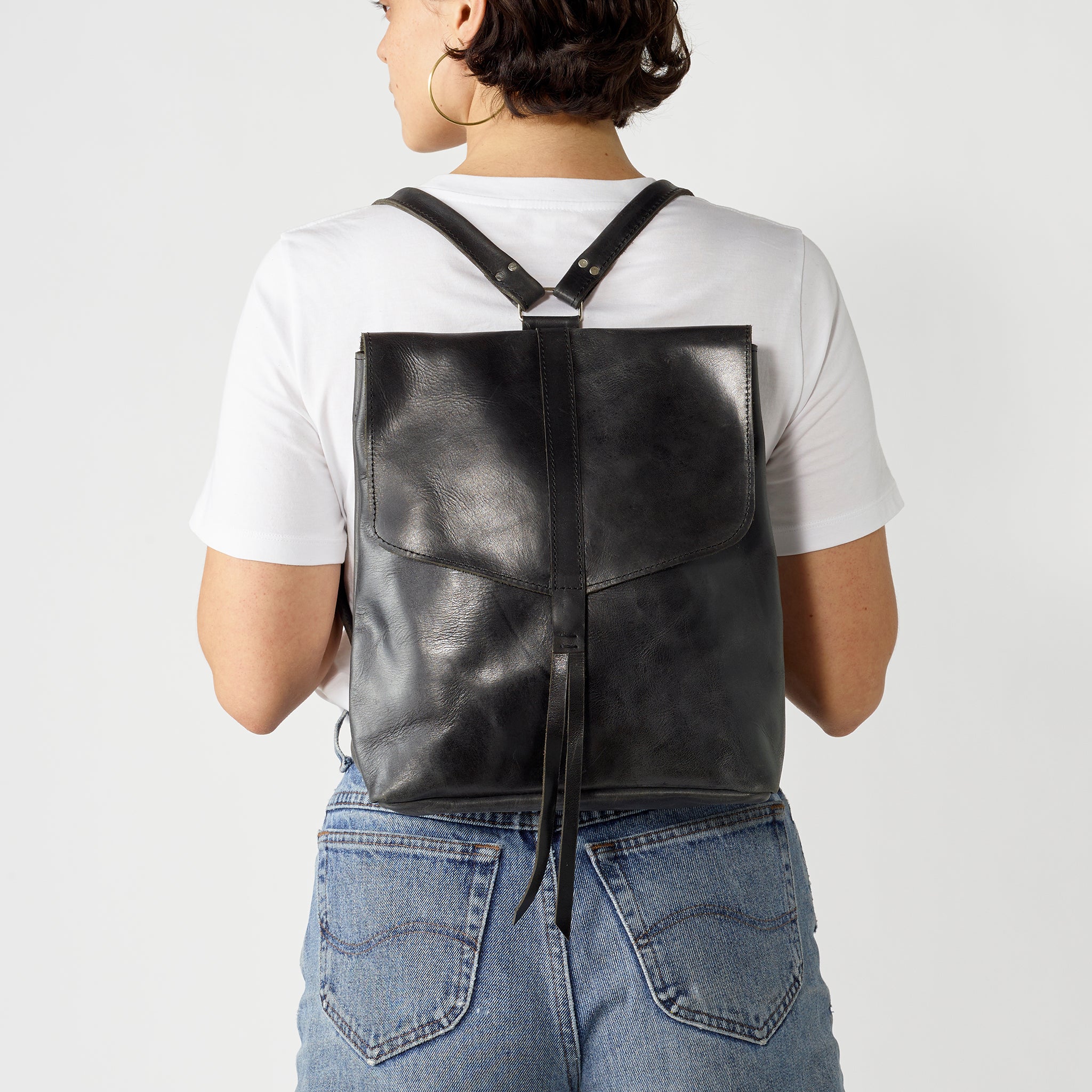 Sustainable and responsible, the colorblock Yami Remnant Backpack utilizes excess leather that would otherwise go to waste. Inspired by Yamerote Mengistu, the Yami Backpack is as resourceful and worldly as her namesake.
Crafted from recycled and repurposed natural leather by our artisan partners in Addis Ababa, Ethiopia, the Yami Remnant Backpack is the ideal travel companion.
Sustainable Backpacks from Looptworks
Looptworks is a sustainable lifestyle brand that upcycles and recycles materials to create high-quality sustainable backpacks and other products. The company was founded in 2009 with the mission of reducing waste and environmental impact, and all of Looptworks' products are made from post-consumer or industrial waste.
Looptworks partners with a variety of brands and organizations to source materials, and the company also offers a line of certified organic cotton products. In addition to its commitment to sustainability, Looptworks also focuses on social responsibility, working with artisans and producers around the world to create fair trade relationships. Looptworks' products are available online and at select retailers.
New Life Project X Outerknown Backpack
Welcome to the New Life Project, an original assortment of sustainable travel accessories to stand up to the wear and tear of the road. High function. Minimal design. Positive impact.
The backpack was designed with ergonomic straps and pockets to store everything you need for an overnight work trip or a weekend away.
Outerknown sets out to change the apparel industry by building clothing in harmony with this planet and taking care of the people they work with.
Co-founded by pro-surfer and 11x world champion, Kelly Slater, and acclaimed designer, John Moore, Outerknown is a sustainable men's and women's clothing brand that makes desirable, high quality clothes of premium materials that make you look great and can stand the test of time.
Over 90% of the fibers they source are organic, recycled or regenerated, they participate in Fair Trade programs and use FLA accredited facilities wherever possible. They're not perfect, but the goal is constant progress. Sustainability is the destination.
Atlas Backpack from Parker Clay
The flagship Atlas Backpack was inspired by the Parker Clay founders travel between the US and Ethiopia, a journey of over 9,000 miles one-way. The Atlas is the ideal backpack that goes with you on every work venture or weekend adventure.
Created for optimal functionality, with an exterior foam-padded laptop compartment and five interior pockets to keep your life organized. The sleek design matched with the premium full grain Ethiopian ethical leather makes the Atlas a fundamental piece to your collection and built to last.
Sustainable leather is leather that is a byproduct of local farming and agriculture industries. It is considered sustainable because the animals are not raised for the express purpose of using their leather for goods — they are first and foremost farm animals.
The brand sources the leather from local Ethiopian providers who treat their animals with care and respect. They also offer prime fair-trade prices to local farmers. Since they use ethically sourced leather from food animals, the sourcing has a negligible environmental impact on local agriculture and processes.
And because the products are hand-made, the industrial processes are likewise low impact and sustainable.
Sustainable Backpacks from Ethnotek
Ethnotek creates high quality laptop and travel bags that feature ethically sourced handmade textiles. Your purchase helps us sustain employment and demand for the art of hand printing, weaving and embroidery in our partnering artisan villages in Ghana, Guatemala, India, Indonesia and Vietnam.
thnotek is so much more than just a bag! It's a celebration of culture, it's a community, it's a global movement.
Listen to the founder of Ethnotek talk about the mission and vision.
Sustainable Backpacks from 8hz
8hz is a new ethical brand dedicated to making sustainable backpacks with fabric created from recycled plastic bottles. The whole idea started when Mateo Neri, CEO of 8hz, was doing a large project on climate change with scientist and health experts around the world.
After exiting his other startup URB-E, and being exposed to what's been happening in the climate world he decided to focus on recycling, up-cylcing and saving the oceans.
The core mission was to make beautiful products from waste and not virgin plastic derived from petroleum, which is the easy way to manufacture products but is also extremely detrimental to the environment. Making products here in the U.S. was also an important factor for Mateo and his team.
Sustainable Backpacks from grunBAG
grunBAG is a new type of reusable sustainable backpack that is made from 100% recycled materials. The bags are strong and durable, and they can be used over and over again. grunBAG is also committed to being eco-friendly, and all of the bags are made in an earth-friendly way.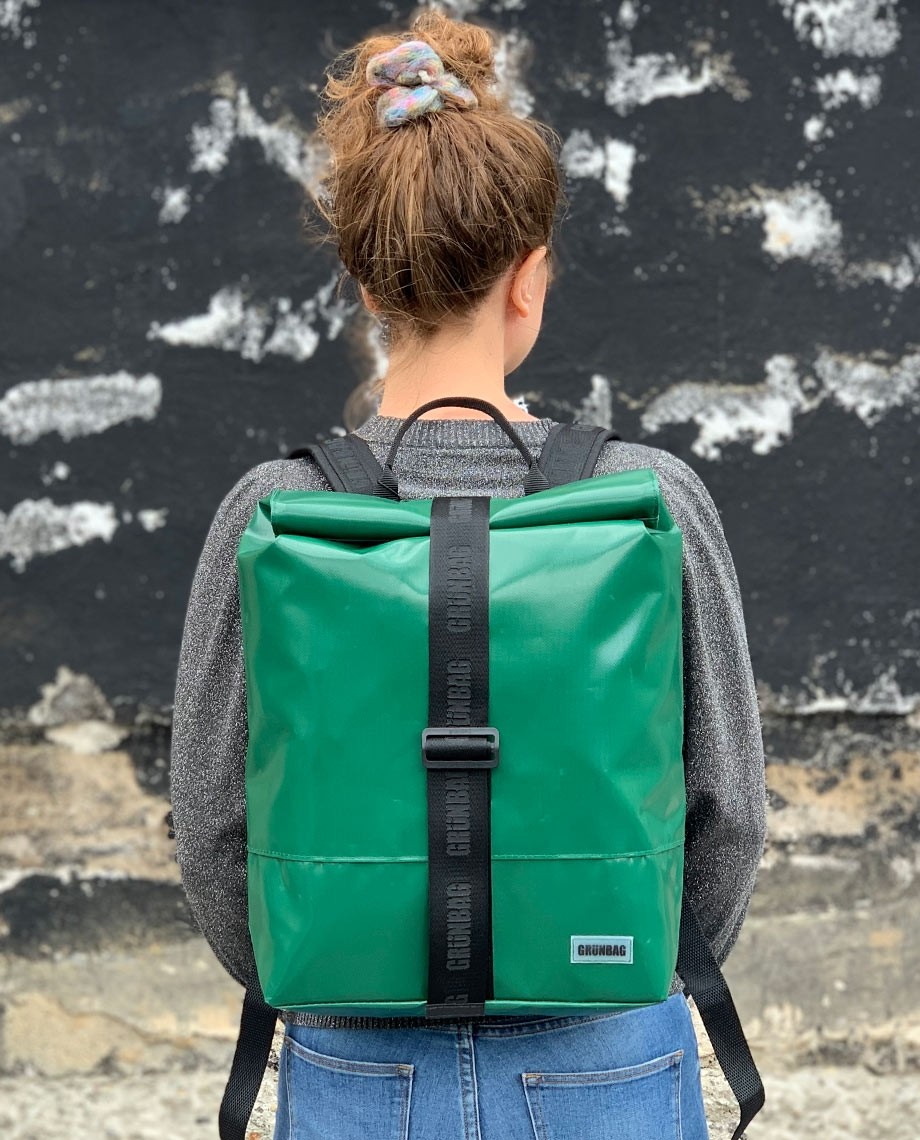 The company uses only recycled materials, and all of the bags are made in the USA. grunBAG is also a member of 1% For The Planet, which means that 1% of all sales are donated to environmental causes.
grunBAG is a great way to reduce your use of plastic shopping bags, and it's also a great way to help the environment. Sign up today and start using grunBAG!
Sustainable Backpacks from Rewilder
Meet Rewilder, a sustainable fashion brand that finds beauty in discarded industrial materials, upcycling them into classic products that highlight their strength and durability. The brand is women owned, and manufacture ethically in Los Angeles.
The mission was to design a product that was completely zero waste, giving the founders the challenge of not using ANY material that wasn't previously trashed. Adhering to this rule was a technical challenge that took three months to design and prototype.
Every bit is salvaged: body, lining, thread, cords, and all hardware elements! Rewilder flipped the design process, letting the materials dictate the design, rather than designing first and finding materials to fit.
Sustainable Backpacks from Purse for the People
Purse for the People lets you customize your own timeless accessories, while empowering indigenous artisan communities around the globe and transforming the fashion industry with ethical practices.
The brand believes in fashion centered around rare craftsmanship, and giving back to the people and the planet that creates it. In partnership with a global community of local artisans who care deeply about the earth and honor its ethically-grown resources and materials, Purse for the People craft uniquely personalized designs into a symbol of not only your style—but your values and hopes for the planet.
Sustainable Backpacks from NOVICA
Combining warm bronze with gleaming aluminum, Neide Ambrosio presents a delightful backpack-style purse. She crochets the chic, modern piece by hand. By recycling pop-tops, she affirms environmental responsibility.
NOVICA is an artisan marketplace that sells fair trade goods from around the world. NOVICA partners with National Geographic to help promote awareness of global cultures and traditions.
The platform offers a wide variety of products, including jewelry, home décor, and clothing. NOVICA provides an opportunity for customers to connect with artisans from different countries and learn about their culture and craft.
NOVICA also offers customers a way to support Fair Trade practices. NOVICA ensures that all of the products sold on the site are made with fair labor practices and that the artisans are paid a fair price for their work.
By shopping at NOVICA, customers can help to make a difference in the lives of artisans around the world.
Sustainable Backpacks from Ecowings
The beautiful bags and accessories offered by Ecowings are made from upcycled tire tubes. Recovered from the waste stream of India, the inner truck tubes are given a useful second life.
Ecowings is on a noticeable mission to facilitate conscious shopping by making sustainability and fair production the new normal. This fully aligns with Fairbees' ambitions which is why we are honored to have Ecowings on our platform.
Causeartist
Causeartist is a multi media company spotlighting impact entrepreneurs, impact startups, and corporate social responsibility.