Sustainable backpacks are those made of materials that are environmentally friendly and can be reused or recycled. Sustainable materials include bamboo, hemp, organic cotton, and jute.
Sustainable backpacks are often better for the environment because they don't rely on petroleum-based synthetic materials like polyester or nylon. They can also be made of recycled materials, such as recycled plastic bottles or post-consumer waste.
These type of backpacks often have a smaller carbon footprint than their traditional counterparts because they don't require as much energy and water to produce.
In addition, sustainable backpacks often last longer because they're made of higher-quality materials. As a result, sustainable backpacks are a great choice for anyone looking to reduce their impact on the environment.
Sustainable Backpacks from Day Owl
Day Owl is a direct-to-consumer brand that has created a backpack out of First Mile materials that the team feels will prepare everyone to take on the world. Ian works most in landfill community assessment, sourcing strategy, understanding how to translate impact into economic value, and leveraging impact in storytelling.
20% off site wide – use code SAVE20
First Mile has redirected over 96 Million plastic bottles from landfills and the ocean and transformed them into consumer goods for global brands trying to find value in authenticity, transparency, and responsibility.
The Day Owl backpack is designed to carry you through your day, wherever it may take you. Every detail and material has been carefully curated to create the most functional backpack made in the most sustainable way.
Even better, Day Owl is completely circular. When you're ready for an upgrade, send this bag back to us and we'll find a way to give it new life. Not only does this keep what we make out of landfills, it ensures that the story—of you, all the people that made this bag, and whoever owns it next—lives on for as long as possible.
Listen to the founder of Day Owl talk about the mission and vision.
Listen to more Causeartist podcasts here.
20% off site wide – use code SAVE20
Sustainable Backpacks from Suave Kenya
Suave Kenya was founded by Mohamed Awale, a sustainable brand aimed at waste reduction. Established in 2014, this brand offers leather goods, backpacks, and accessories from upcycled material and leathers ranging from second-hand clothing to leather. Their designs are dynamic, bold, and made from kitenge and denim material.
Sustainable Backpacks from Looptworks
Looptworks is a sustainable lifestyle brand that upcycles and recycles materials to create high-quality sustainable backpacks and other products. The company was founded in 2009 with the mission of reducing waste and environmental impact, and all of Looptworks' products are made from post-consumer or industrial waste.
Looptworks partners with a variety of brands and organizations to source materials, and the company also offers a line of certified organic cotton products. In addition to its commitment to sustainability, Looptworks also focuses on social responsibility, working with artisans and producers around the world to create fair trade relationships. Looptworks' products are available online and at select retailers.
Atlas Backpack from Parker Clay
The flagship Atlas Backpack was inspired by the Parker Clay founders travel between the US and Ethiopia, a journey of over 9,000 miles one-way. The Atlas is the ideal backpack that goes with you on every work venture or weekend adventure.
Created for optimal functionality, with an exterior foam-padded laptop compartment and five interior pockets to keep your life organized. The sleek design matched with the premium full grain Ethiopian ethical leather makes the Atlas a fundamental piece to your collection and built to last.
Sustainable leather is leather that is a byproduct of local farming and agriculture industries. It is considered sustainable because the animals are not raised for the express purpose of using their leather for goods — they are first and foremost farm animals.
The brand sources the leather from local Ethiopian providers who treat their animals with care and respect. They also offer prime fair-trade prices to local farmers. Since they use ethically sourced leather from food animals, the sourcing has a negligible environmental impact on local agriculture and processes.
And because the products are hand-made, the industrial processes are likewise low impact and sustainable.
Sustainable Backpacks from Ethnotek
Ethnotek creates high quality laptop and travel bags that feature ethically sourced handmade textiles. Your purchase helps us sustain employment and demand for the art of hand printing, weaving and embroidery in our partnering artisan villages in Ghana, Guatemala, India, Indonesia and Vietnam.
thnotek is so much more than just a bag! It's a celebration of culture, it's a community, it's a global movement.
Listen to the founder of Ethnotek talk about the mission and vision.
Sustainable Backpacks from 8hz
8hz is a new ethical brand dedicated to making sustainable backpacks with fabric created from recycled plastic bottles. The whole idea started when Mateo Neri, CEO of 8hz, was doing a large project on climate change with scientist and health experts around the world.
After exiting his other startup URB-E, and being exposed to what's been happening in the climate world he decided to focus on recycling, up-cylcing and saving the oceans.
The core mission was to make beautiful products from waste and not virgin plastic derived from petroleum, which is the easy way to manufacture products but is also extremely detrimental to the environment. Making products here in the U.S. was also an important factor for Mateo and his team.
Sustainable Backpacks from grunBAG
grunBAG is a new type of reusable sustainable backpack that is made from 100% recycled materials. The bags are strong and durable, and they can be used over and over again. grunBAG is also committed to being eco-friendly, and all of the bags are made in an earth-friendly way.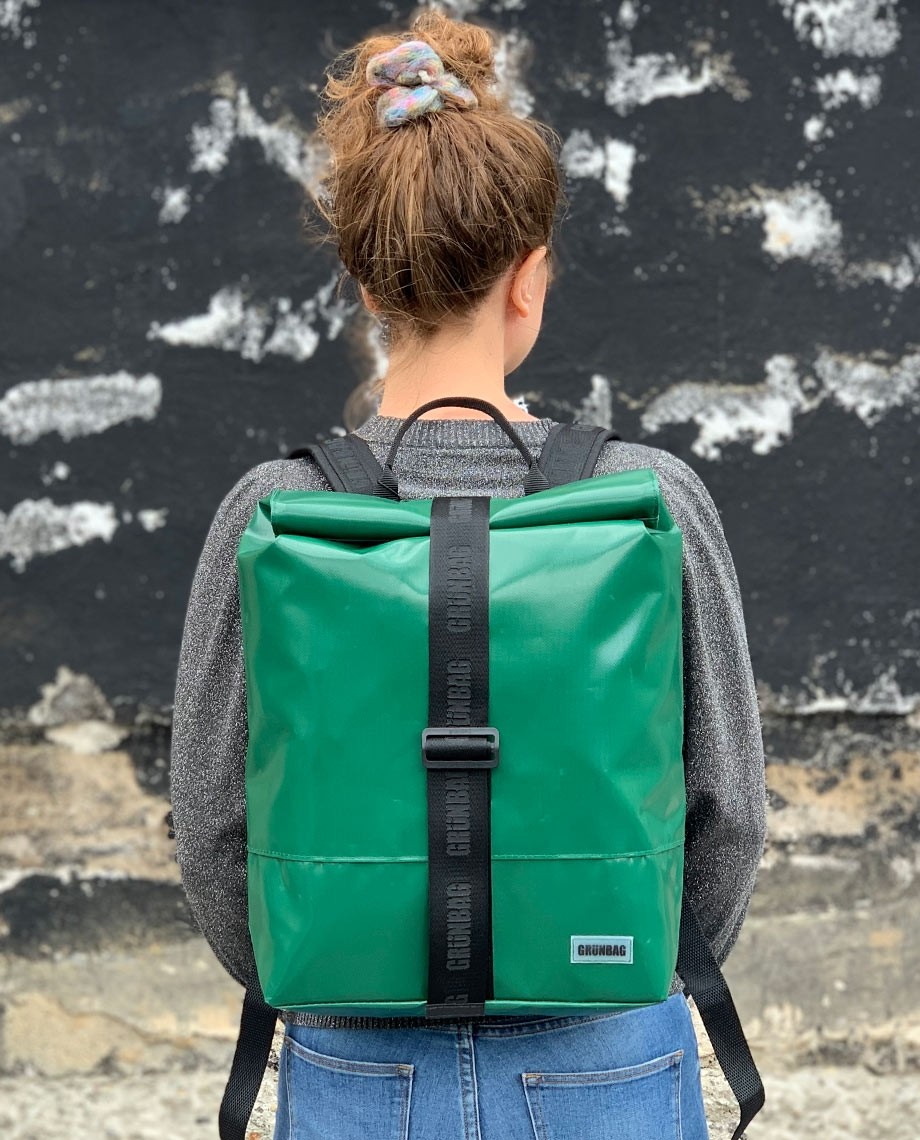 The company uses only recycled materials, and all of the bags are made in the USA. grunBAG is also a member of 1% For The Planet, which means that 1% of all sales are donated to environmental causes.
grunBAG is a great way to reduce your use of plastic shopping bags, and it's also a great way to help the environment. Sign up today and start using grunBAG!
Sustainable Backpacks from Rewilder
Meet Rewilder, a sustainable fashion brand that finds beauty in discarded industrial materials, upcycling them into classic products that highlight their strength and durability. The brand is women owned, and manufacture ethically in Los Angeles.
The mission was to design a product that was completely zero waste, giving the founders the challenge of not using ANY material that wasn't previously trashed. Adhering to this rule was a technical challenge that took three months to design and prototype.
Every bit is salvaged: body, lining, thread, cords, and all hardware elements! Rewilder flipped the design process, letting the materials dictate the design, rather than designing first and finding materials to fit.
Sustainable Backpacks from Purse for the People
Purse for the People lets you customize your own timeless accessories, while empowering indigenous artisan communities around the globe and transforming the fashion industry with ethical practices.
The brand believes in fashion centered around rare craftsmanship, and giving back to the people and the planet that creates it. In partnership with a global community of local artisans who care deeply about the earth and honor its ethically-grown resources and materials, Purse for the People craft uniquely personalized designs into a symbol of not only your style—but your values and hopes for the planet.
Sustainable Backpacks from NOVICA
Combining warm bronze with gleaming aluminum, Neide Ambrosio presents a delightful backpack-style purse. She crochets the chic, modern piece by hand. By recycling pop-tops, she affirms environmental responsibility.
NOVICA is an artisan marketplace that sells fair trade goods from around the world. NOVICA partners with National Geographic to help promote awareness of global cultures and traditions.
The platform offers a wide variety of products, including jewelry, home décor, and clothing. NOVICA provides an opportunity for customers to connect with artisans from different countries and learn about their culture and craft.
NOVICA also offers customers a way to support Fair Trade practices. NOVICA ensures that all of the products sold on the site are made with fair labor practices and that the artisans are paid a fair price for their work. By shopping at NOVICA, customers can help to make a difference in the lives of artisans around the world.
Sustainable Backpacks from Ecowings
The beautiful bags and accessories offered by Ecowings are made from upcycled tire tubes. Recovered from the waste stream of India, the inner truck tubes are given a useful second life.
Ecowings is on a noticeable mission to facilitate conscious shopping by making sustainability and fair production the new normal. This fully aligns with Fairbees' ambitions which is why we are honored to have Ecowings on our platform.
Causeartist
Causeartist is a multi media company spotlighting impact entrepreneurs, impact startups, and corporate social responsibility.