12 Comfortable Eco Friendly and Sustainable Bedding Products for Your Home
Avocado Green Mattress
Sustainable bedding is made of materials that can be reused or recycled. It is important to choose sustainable bedding because it helps to reduce the amount of waste in landfills.
There are many different types of sustainable bedding available, including organic cotton, bamboo, and wool.
Sustainable Bedding Materials
When choosing sustainable bedding, it is important to consider the environmental impact of the materials used.
Organic cotton is a good choice for sustainable bedding because it is grown without the use of pesticides or other chemicals.
Bamboo is another good choice for sustainable bedding because it is a fast-growing plant that does not require the use of chemical fertilizers.
There are many different companies that offer sustainable bedding.
Some of these companies use sustainable materials, such as organic cotton, bamboo, wool, and recycled / upcycled materials, such as plastics and paper.
Sustainable Bedding in Your Bedroom
Your bedroom. It's where you start and end your day. Everything about your bedroom helps set the tone of how you want to feel when you wake up, and when you go to bed.
You should be intentional about how you want your bedroom to look, feel, and smell.
But is your bedroom outfitted to match your conscious lifestyle?
Now that doesn't mean going out of your way to find unnecessary decor and essentials for your bedroom.
Aligning your bedroom's style with your values is about replacing unethical and sometimes harmful products with brands that believe in a triple bottom line—people, planet, profit.
When you spend a good 6- 8 hours in your bedroom sleeping, why not invest in making it your own little slice of heaven.
These sustainable bedding brands will help you find the right socially conscious and sustainable linens, sustainable mattresses, and more for creating the most ethical bedroom of your dreams.
Homebird – Soft & Cozy Sateen Reversible Duvet Set
Homebird is a high-quality home essentials brand that has a simple mission – to deliver premium bed and bath linens that look great, are responsibly produced and, fairly priced.
The entire product range is made from 100% GOTS-certified organic and Fairtrade-certified cotton, meaning they do not use any toxic chemicals in the manufacturing processes and the entire supply chain is held to the highest ethical standards.
Cozy Earth – Bamboo Mattress Pad
Cozy Earth delivers unparalleled sleep and leisure; creating the world's softest, highest quality bedding, loungewear, and home goods – providing temperature regulation and luxury through ethically sourced materials.
Made with 100% viscose from bamboo. Breathable and moisture-wicking fabric that feels degrees cooler than cotton – never worry about hot flashes again!
The enhanced weave prevents pilling and helps the products last longer.
Details
The cooling mattress pad is temperature regulating – so it always keeps you at the perfect temperature
Perfect for hot sleepers or humid climates 
Thinner profile – soft, cooling, light-weight, quiet protection
Premium 100% Viscose from Bamboo fabric
Filling never shifts
360-degree strong elastic for securing to your mattress
Deep-pocket -Oversized to fit every type of bed
White color
Includes 1 Bamboo Mattress Pad
Newly – Ziggurat Throw Blanket
Newly makes beautiful home goods from 100% recycled or repurposed materials. With this blanket's one-of-a-kind design – landing somewhere between a line-step and a chevron – Newly decided to give a titular nod to the eponymous icon of ancient Mesopotamia.
The color inverts on either side and stays cozy no matter what. Made from 51% recycled cotton, 12 water-bottles worth of plastic, and unbelievably soft.
Custom woven for NEWLY in the USA.
Delilah Home – 100% Organic Hemp Bed Sheet Collection
Delilah Home uses 100% organic cotton certified to the Global Organic Textile Standard (GOTS) and non-toxic hemp products.
It's why Delilah Home textiles do not contain allergenic, carcinogenic, or toxic chemicals commonly used in conventional cotton textile production.
As a result, their products are ideal for people with allergies, skin sensitivity, and respiratory problems.
Discover the extravagance of hemp: sophisticated, soft, breathable, and temperature controlling.
The 100% organic hemp bed sheets are 50% thicker than most sheets yet keep you cool in the summer and warm in the winter.
At Delilah Home, they combine luxury with responsibility. The gorgeous hemp bed sheets are sustainable, organic, and free of chemicals, so you can sleep well.
Choose one of the four beautiful, calming colors and get ready to experience 5-star resort-quality sleep. Sweet dreams!
Sheets & Giggles – Eucalyptus Comforter
If you're looking for a down-alternative, temperature-regulating, all-season, soft, smooth, and cozy eucalyptus comforter, then Sheets & Giggles has just the thing. (their comforter)
The outside is made from 100% eucalyptus lyocell for a smooth, cool-to-the-touch feel.
The inside is filled with 50/50 eucalyptus lyocell and polyester made from recycled plastic bottles. This unique combo makes our comforter cozy but breathable, and therefore perfect for all-season use.
Worried about the polyester shedding microplastics? Don't be. They put CiCLO in their recycled polyester fibers, an additive that enables them to biodegrade just like natural fibers.
Sol Organics – Percale Organic Duvet Cover Set
Sol Organics makes beautiful, simple, and minimalist bed linens from 100% organic cotton, staying true to its name. They are also big supporters of sustainable and ethical farming across the United States.
From duvets to sheets to towels, Sol Organics has all your bedroom needs, and supports local charitable initiatives with every purchase made.
Plush Beds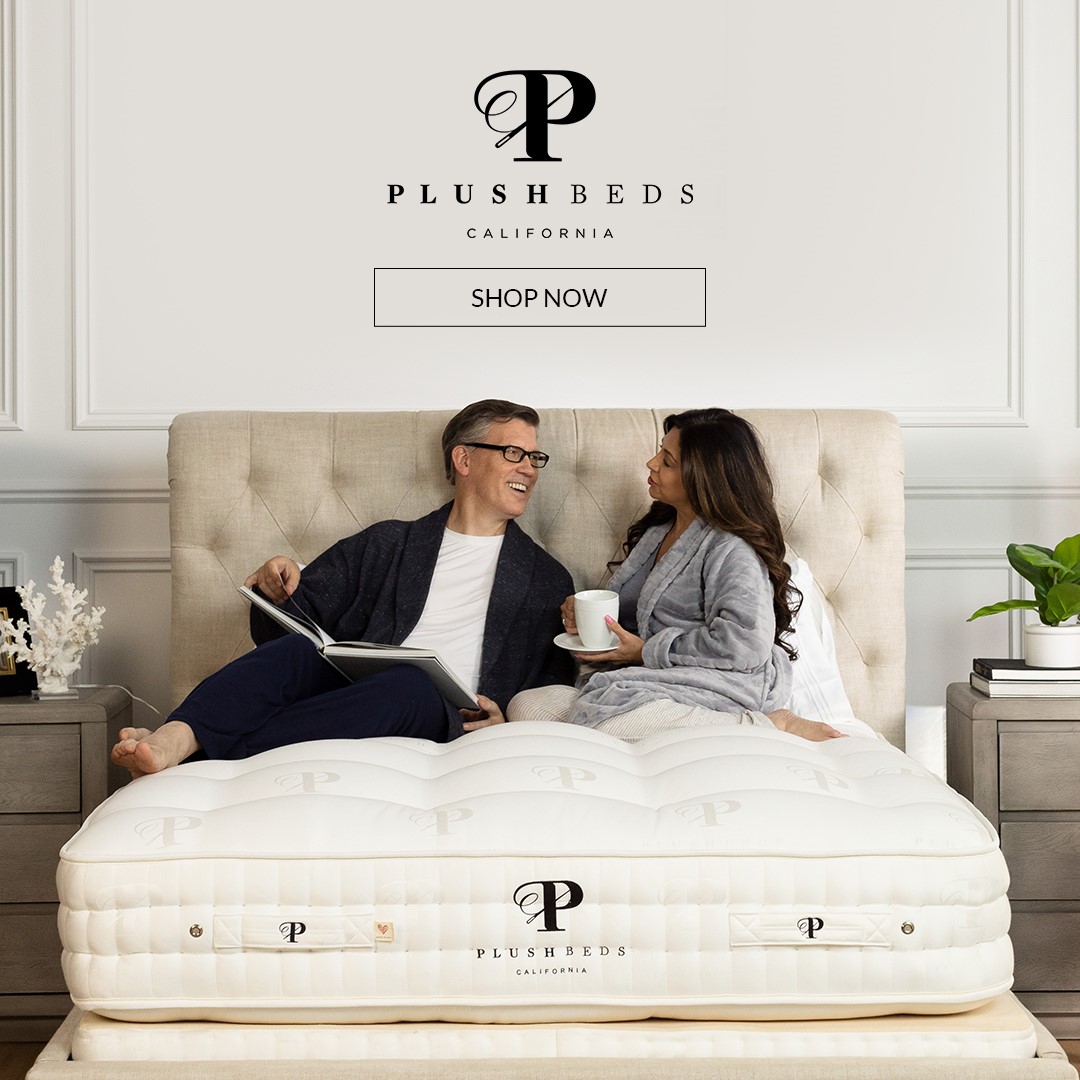 Since 2008, PlushBeds has been a pioneer in providing all-natural, sustainable sleep from their California factory direct to customer at an affordable price.
PlushBeds is committed to providing you with the purest and healthiest organic mattresses, bedding products on earth while maintaining environmentally conscious practices.
PlushBeds exceeds the most rigorous testing and certification standards in the mattress industry. They pride themselves on being one of only six manufacturers whose factory has both GOTS (Global Organic Textile Standard) and Global Organic Latex Standard (GOLS) certifications, and verified by Control Union®.
Symbology
Symbology is all about empowering women and making fair trade sexy with their clothing, wedding, and homeware collections.
Their selection of bed linens are all handblock printed by female craftspeople in India and made from 100% organic cotton.
Avocado Green Mattress
California-based Avocado Green Mattress is naturally non-toxic, and sources their 100% certified organic materials from their own farms. To top it off, they are also B Corp and Climate Neutral Certified®, and the 2020 Pinnacle Award Winner from 1% for the Planet®.
This superhero in sustainability offers a selections of mattresses that suit your lifestyle needs, even Vegan mattress without the use of wool, and a collection of beautiful, soft linens, and handmade furniture made from reclaimed wood.
Alterra Pure
You know how bedsheets at fancy hotels are always heavy but light and soft at the same time? That's what Alterra Pure has brought to the market, except with an environmentally-friendly twist.
Alterra Pure is all about transparency and bringing you high-quality organic and fair trade certified linens for your bedroom from their LEED certified factory.
Ettitude
Love the feel of bamboo?
Ettitude has been made famous with their "vegan" silk, bamboo bedsheets and sleepwear that are good for humans and the planet.
Their silky, hypoallergenic bamboo sheets help those struggling with frizzy bed head, keeping a consistent temperature during the night (thermo-regulating!), and want to give their skin extra care and love.
Spindle Mattress
Spindle Mattress likes to keep it simple — make quality organic latex mattresses with no hype, gimmicks or inflated promises. Mattresses made with organic wool, "100%" organic dunlop latex, and organic cotton.
Certified materials by Okeo-Tex, Global Organic Textile Standard (GOTS), and Global Organic Latex Standard (GOLS) Certified.
The mattresses include Free Shipping, 365 Day Money Back Guarantee, and a 10 Year Warranty.
Listen to more Causeartist podcasts here.
Latest Stories
Jazzmine Raine
Jazz is one of the leading pioneers of the zero waste travel movement in India and the Director of Content at Causeartist. She is the co-founder of Hara House, India's first zero waste guesthouse, and Director of Hara World, an experiential education and impact travel organization for diverse young changemakers. Jazz is deeply passionate about empowering young people to become confident and knowledgeable leaders for sustainable development, zero waste living, conscious fashion, and responsible travel. She is a co-founder of Sustainable Travel Network, and host of the Impact India podcast.. Connect with Jazz at jazzmine@causeartist.com