Sustainable fashion is becoming more and more popular as people become more conscious of the impact their clothing has on the environment. Sustainable clothing brands are those that consider the full life cycle of their garments, from the sourcing of materials to the disposal of the final product.
These brands often use sustainable materials like organic cotton or bamboo, and they employ eco-friendly manufacturing processes.
Sustainable clothing brands also typically have a commitment to social responsibility, ensuring that their workers are paid fairly and treated well. As more consumers seek out sustainable options, sustainable clothing brands are sure to continue to grow in popularity.
MADI Apparel
MADI Apparel is a leader in the sustainable clothing brands industry. They started off creating women's undergarments with the dedication to Make a Difference domestically and globally. MADI Apparel is founded upon the principles of American manufacturing, self-sustaining fabrics/packaging and socially conscious global impact through underwear donations.
MADI does an amazing job in all aspects of their eco-system. The most impressive part of this eco-system is taking the time to develop a domestic manufacturing relationship.
American made fashion has long been outsourced by major brands, who actually have the ability to set up domestic production, but choose not to do so due to profit margins and pressure from stock holders. It is so refreshing and exciting to see MADI's approach out the gate to take on domestic manufacturing and impact local lives within her own community.
The Good Tee
The Good Tee believe's in humanizing the apparel industry and celebrating the makers who make the clothing. The brand maintains fair and honest relationships with manufacturing partners and emphasize 100% transparency of a traceable supply chain.
Their Fair Trade certified t-shirts are designed and delivered to you with the environment and humans' lives in mind. The Good Tee is there right from the farm to creation and right through to delivery. You can shop with us knowing that they have developed products around the principles of the products' life cycle, relentless quality, honest value and a positive impact.
The brand is also advocates for the rights of farmers and all others involved in the making of products. The goal is to raise awareness and help others build sustainable clothing brands that supports farmers and celebrates makers in the fashion industry.
Outland Denim
Outland Denim was created to uplift people and planet. No smoke. No mirrors. No greenwashing. Only genuine impact woven directly into their denim.
Outland Denim has created an approach of zero exploitation, to help prevent young girls being drafted into sex trade, or as slave labor into the garment industry.
This approach is done through a program that Outland created called The Denim Project. This program offers young girls with an interest in sewing to earn fair wages, and to learn and master the crafts of sewing and fashion.
Known Supply
Known Supply is a clothing company that focuses on sustainably and ethically produced clothing. The company was founded by friends, who are passionate about making a difference in the fashion industry. Known Supply works with small family-run businesses in developing countries to produce their clothing.
This business model allows them to provide sustainable jobs and have a positive impact on the local economy. In addition, Known Supply is committed to using eco-friendly materials and production methods.
Their goal is to create high-quality, stylish clothing that has a minimal environmental impact. Known Supply is proof that it is possible to run a successful business while also making a positive difference in the world.
Tentree
Tentree is an eco-friendly clothing company that was founded with the goal of reducing the fashion industry's impact on the environment. Tentree plants trees for every item of clothing sold, with the goal of offsetting the carbon footprint of their products.
They use sustainable materials like organic cotton and recycled polyester in their garments, and they partner with Fair Trade certified factories to ensure that their workers are paid fair wages and have safe working conditions.
In addition to their commitment to environmental sustainability, Tentree also gives back to communities in need through their TreeEmpowerment program.
This program provides employment opportunities and training to women in developing countries, helping them to build a better future for themselves and their families.
Tentree is a truly innovative company, and their sustainable business model is something that other sustainable clothing brands should be inspired by.
Encircled
Encircled is a sustainable clothing brand built on the concept of no compromises, and sustainability in their DNA. 
They're passionate about creating beautiful, trendless, comfortable designs and equally as passionate about producing locally, working with sustainable and biodegradable fabrics and having the smallest carbon footprint possible.
Encircled is a certified B Corporation, which means they're legally required to consider the impact of the business decisions on workers, suppliers, community, the environment, and you, the customer.
The Encircled business model is built on slow fashion, trendless designs and premium, long-lasting quality. Their sewing studios save all scrap fabric and upcycle it into accessories.
The brand also holds quarterly sample sales to find homes for perfectly imperfect garments. They host the Encircled community on Facebook where you can buy, sell or trade your Encircled clothes.
Recover
Meet the American manufacturing company Recover Brands. Recover strives to create the best, most environmentally friendly and socially responsible products possible.
Founded by Bill Johnston and John Riddle, Recover produces sustainable apparel, and also developed a 360° process — from design to manufacturing to fulfillment — as environmentally conscious as the products they sell.
Recover minimizes dyes, significantly reduces the use of chemicals, water and energy; and completely eliminates plastic packaging.
Fair Anita
Fair Anita is a social enterprise that creates Fair Trade opportunities for women around the world. Fair Anita works with artisan cooperatives in over ten countries, providing training and support so women can earn a livable wage and improve their standard of living.
Fair Anita's products are all handmade, ensuring that each piece is unique. The company offers a wide variety of jewelry, including necklaces, earrings, bracelets, and rings. Fair Anita also provides opportunities for women to start their own businesses through its micro-loan program.
As a result, Fair Anita is not only empowering women financially, but also helping them to become leaders in their communities.
Triarchy
Since its inception, Triarchy has become known for its sustainable and ethical practices, as well as its trend-setting design.
The brand also uses eco-friendly processes to manufacture its jeans, such as using ozone technology to minimize water waste. In addition to its environmental credentials, Triarchy is also committed to social responsibility.
To Triarchy, sustainability means building a business that can operate sustainably as well as create sustainable products. "If we aren't paying a living wage and supporting human and animal rights then we aren't sustainable."
All of the brands jeans and denim jackets are produced with responsibly made fabrics and washed with the most advanced sustainable laundry technology available.
The brands Code of Conduct illustrates all of the morals and values in practical and executable points that they share with everyone they are about to work with to have them sign off on it before engagement.
The beauty of this level of transparency is that it secures the needs as a sustainable brand and also shines a light into areas where improvement can be made, allowing the brand to be aware of these areas.
No Nasties
For over a decade, No Nasties has made 100% organic cotton classics for you. The classic tee, the classic tank, the classic tunic…but better. And now, they are doing even more. Planet Positive Clothing. Better for you AND better for the planet.
Every product you buy from No Nasties will now remove more CO2 from the air than it creates to make it, ship it, and even wash & wear it.
How?
First, they minimize impact on the planet by using 100% organic cotton and a 100% local supply chain. Saves water, uses less energy and reduces CO2 emissions.
They measure the remaining carbon footprint of every product they make. Then, they compensate for this by investing in carbon offset projects for solar power, wind energy, and reforestation.
Finally, to make a positive impact on the planet, they offset not just 100% of the footprint, but 300%. Yup, 300%. And, they also plant 3 trees for every product you buy. 300% Offset + 3X Trees = Planet Positive.
Groceries Apparel
The companies Upcycled Food-waste Collection gathers discarded food scraps including carrot tops, pomegranate peels, used coffee grounds, avocado pits, onions skins, roots, leaves and flowers to make a collection of 100% non-toxic wardrobe essentials.
Groceries Apparel is are driven to scale our ingredients technology to bring non-toxic clothing to the mainstream.
The brand couldn't find a dye house that shared their ethics and standards, so they started their own! Groceries Vege Dye Studio uses only non-toxic dyes including dyes made from pomegranate, carrot tops, onion skins, roots, bark, flowers and real indigo.
People are at the center of what drives the brand forward everyday. Groceries Apparel support local USA jobs, fair wages, fair conditions and fair treatment in their own factory and across the entire supply chain.
The quality of products are directly attributed to the talented cutting and sewing artists and the ability to oversee the own products being made, right in Los Angeles.
Taylor Stitch
Taylor Stitch is a sustainable clothing brand that produces high-quality, stylish clothing for men and women. Taylor Stitch is committed to sustainable manufacturing practices and ethical sourcing.
Constructed to perfection and responsibly built for the long haul. They've taken 10 years of feedback and are doubling down on their commitment to building the best possible clothing while pledging to limit environmental impact.
From fiber to fabric to factory to end functionality, Taylor Stitch has grown from a need for products without limitations that could handle chopping wood, surf sessions, snagging trout, or simply heading to the office.
The brand is committed to using recycled and regenerative fibers wherever possible. This will help lower water usage, get rid of chemicals and pesticides which harm workers and leach into the rivers and help close the loop to create a cradle to cradle supply chain.
Allbirds
Allbirds is on a mission to prove that comfort, good design and sustainability don't have to be mutually exclusive. The company is dedicated to making the most sustainable footwear possible using premium natural materials, designed for the to and from of everyday life.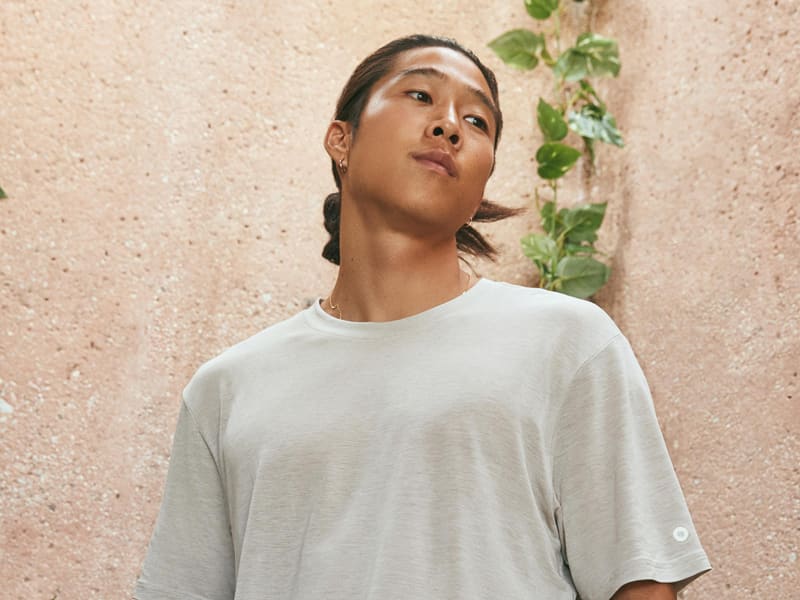 With the Allbirds Flight Plan, the brand has a bold list of sustainability commitments, they plan to cut their footprint in half by 2025. Then reduce it to near zero by 2030. In the meantime, they'll continue to be 100% carbon neutral and invite businesses everywhere to follow the Allbirds lead.
We work with leading organizations like ZQ Merino to ensure our wool is held to high standards of farming, land management and animal welfare.
Doodlage
Doodlage is a sustainable clothing brand based in New Delhi working with post-production and post-consumer textile waste to curate women's, men's, and accessory collections.
Doodlage creates pieces from scrap textiles and materials found, therefore hunting for material first, and entering the design process second. This is how Doodlage pieces come to life.
The team inspires everyone to get creative too, including their tailors and labour workers to instill a love and responsibility for ethical design and production.
Now in over 40 stores across India, it's super exciting to see such an innovative brand spreading so quickly in a country where global production is priority, and western culture and influence has taken over.
ÉTICA
ÉTICA is a sustainable clothing company that specializes in ethical fashion. ÉTICA's mission is to create beautiful, sustainable, and ethical fashion. ÉTICA designs and produces its own line of clothing, as well as working with other brands to help them create more sustainable and ethical collections.
Through industry-leading equipment and advancements in wash technique, they dramatically reduce water usage by 90%, energy consumption by 63% and chemical usage by 70% compared to industry standards.
ÉTICA has been recognized by the United Nations, Fashion Revolution, and Vogue Brazil, among others, for its commitment to ethics and sustainability. ÉTICA is proof that fashion can be beautiful, sustainable, and ethical.
FURB Upcycled
By upcycling products, FURB Upcycled lets its customers make a choice that respects both their values and the environment. Faced with rampant overconsumption, being responsible has now become a necessity.
Acquiring an upcycled garment, accessory, or object made from recycled materials is a bold and modern decision. It is this train of thought that underlies the pieces FURB offers. Sophisticated, socially rewarding and carefully thought out to go beyond trends, a FURB Upcycled piece is made to be cherished for a lifetime.
Through FURB's upcycling program, one may now secure a future to a piece of sentimental value by re-purposing it to a modern, functional and considered design item.
unspun
unspun is taking a different approach than other sustainable clothing brands by using robotics and technology to create custom jeans for each consumer, on demand. The mission is to reduce global carbon emissions by 1% through automated, localized, and intentional manufacturing.
Their technology uses algorithms to digitally design and perfectly fit jeans automatically around your 3D avatar. unspun developed design technology that translates a 30-second body scan into digital jeans.
This completely eliminates the need for inventory and dramatically reduces the waste created by current production methods while creating a customer experience that prioritizes emotional experience over consumption.
When you shop, you choose your jean style, fabric, thread color, rise height, and hem length. Next, you take a quick body scan to get an accurate Sims-like character of you that we can design around.
The software creates a pattern, which is used to make your size-free jeans. When you purchase with unspun, you are also supporting our on-going development that pushes us toward our mission to reduce global human carbon emissions by 1%.
To get there, they have developed tech that is beginning to enable a zero waste and circular fashion industry where nothing becomes trash.
No joke! They are developing on-demand additive manufacturing that automatically builds your perfect jeans from your avatar. The future of sustainable clothing brands is here.
Toad & Co
Toad & Co is a company that makes sustainable clothing for people who love the outdoors. The company was started by a group of friends who shared a passion for adventure and a desire to protect the environment. Toad & Co's mission is to create clothing that is both stylish and sustainable.
The company uses eco-friendly materials and production methods, and all of its products are made in the USA, which makes it very unique in in the sustainable clothing brands sector. Toad & Co's clothing is designed to be comfortable and functional, whether you're hiking in the mountains or enjoying a casual day at the beach. So if you're looking for clothing that will help you enjoy the outdoors without harming the environment, Toad & Co is the perfect choice.
Mud Jeans
MUD Jeans is the world's first circular denim brand. The brand uses your worn out jeans to create new ones. Every pair of MUD Jeans is recycled into a new MUD Jeans, leaving no waste and using 92% less water than an average jeans.
A pair of jeans made by happy people – 100% possible. MUD only works with selected manufacturers that ensure the wellbeing of everybody involved.
MUD jeans are made from natural materials; organic and recycled cotton. No pesticides are being used, better for your skin.
ECOALF
ECOALF is a Spanish clothing company that was founded with the goal of producing fashion items using only sustainable materials. ECOALF sources its materials from recycled plastic bottles, used fishing nets, and other post-consumer waste.
The company has also partnered with factories that employ fair trade practices. ECOALF's garments are designed to be both stylish and environmentally friendly, and the company has been praised for its innovative approach to sustainable fashion.
In addition to its clothing line, ECOALF also sells a range of sustainable accessories, including bags, wallets, and belts. With its commitment to sustainability, ECOALF is helping to lead the way in the fashion industry's transition to a more sustainable future.
Sustainable clothing brands are becoming more and more popular, as people become more conscientious of the impact their buying habits have on both the environment and the workers who produce their clothes.
If you're looking for a new wardrobe that won't damage the planet, check out some of these amazing sustainable clothing brands. They offer stylish and fashionable clothes made from sustainable materials using ethical production methods, so you can feel good about your purchase from start to finish.
Have you tried any sustainable clothing brands? What was your experience like? Let us know on Twitter and IG.
Causeartist
Causeartist is a multi media company spotlighting impact entrepreneurs, impact startups, and corporate social responsibility.