Looking for a new pair of jeans but don't want to support the fast fashion industry? Check out our list of brands creating sustainable jeans that conscious consumers can choose from.
These brands create high-quality denim products while being environmentally and socially responsible. They use sustainable materials and practices, so you can feel good about buying from them.
Doing your research before you shop is the best way to make sure you're supporting sustainable and ethical brands. With so many brands creating sustainable jeans these days, it's much easier for consumers to make more ethical denim purchases.
What are Sustainable Jeans?
From using sustainable materials to employing fair working conditions, these brands are making a difference in the fashion industry. So next time you're in need of a new pair of jeans take a few minutes to know who and where you are purchasing from.
Sustainable jeans are becoming more and more popular as people become more environmentally conscious. Sustainable jeans are made from sustainable materials, such as organic cotton, hemp, or recycled denim.
These jeans are also usually produced in a way that is more environmentally friendly, such as using less water and energy during production.
Sustainable jeans often cost slightly more than regular jeans, but the extra cost is worth it for the peace of mind that comes with knowing you're doing your part to help the environment.
Plus, sustainable jeans can be just as stylish and comfortable as any other pair of jeans!
Check out these brands creating sustainable jeans:
Outland Denim
Outland Denim was created to uplift people and planet. No smoke. No mirrors. No greenwashing. Only genuine impact woven directly into their denim.
Outland Denim has created an approach of zero exploitation, to help prevent young girls being drafted into sex trade, or as slave labor into the garment industry.
This approach is done through a program that Outland created called The Denim Project. This program offers young girls with an interest in sewing to earn fair wages, and to learn and master the crafts of sewing and fashion.
In addition to this great program, Outland Denim carefully sources all their raw materials and creates fashion only through responsible and sustainable methods.
They have created a transparent supply chain page on their website where you can find out where each part of the jean has come from. Outland Denim is committed to following each raw material back to the original source to make sure the people and planet have been respected the way they should be.
The brand uses organic fibers, vegetable dyes, and other sustainable products to craft our jeans and as a result of it's noticeable from the very first time you try them on.
Check out our interview with the founder of Outland Denim.
MUD Jeans
MUD Jeans is the world's first circular denim brand. The brand uses your worn out jeans to create new ones. Every pair of MUD Jeans is recycled into a new MUD Jeans, leaving no waste and using 92% less water than an average jeans.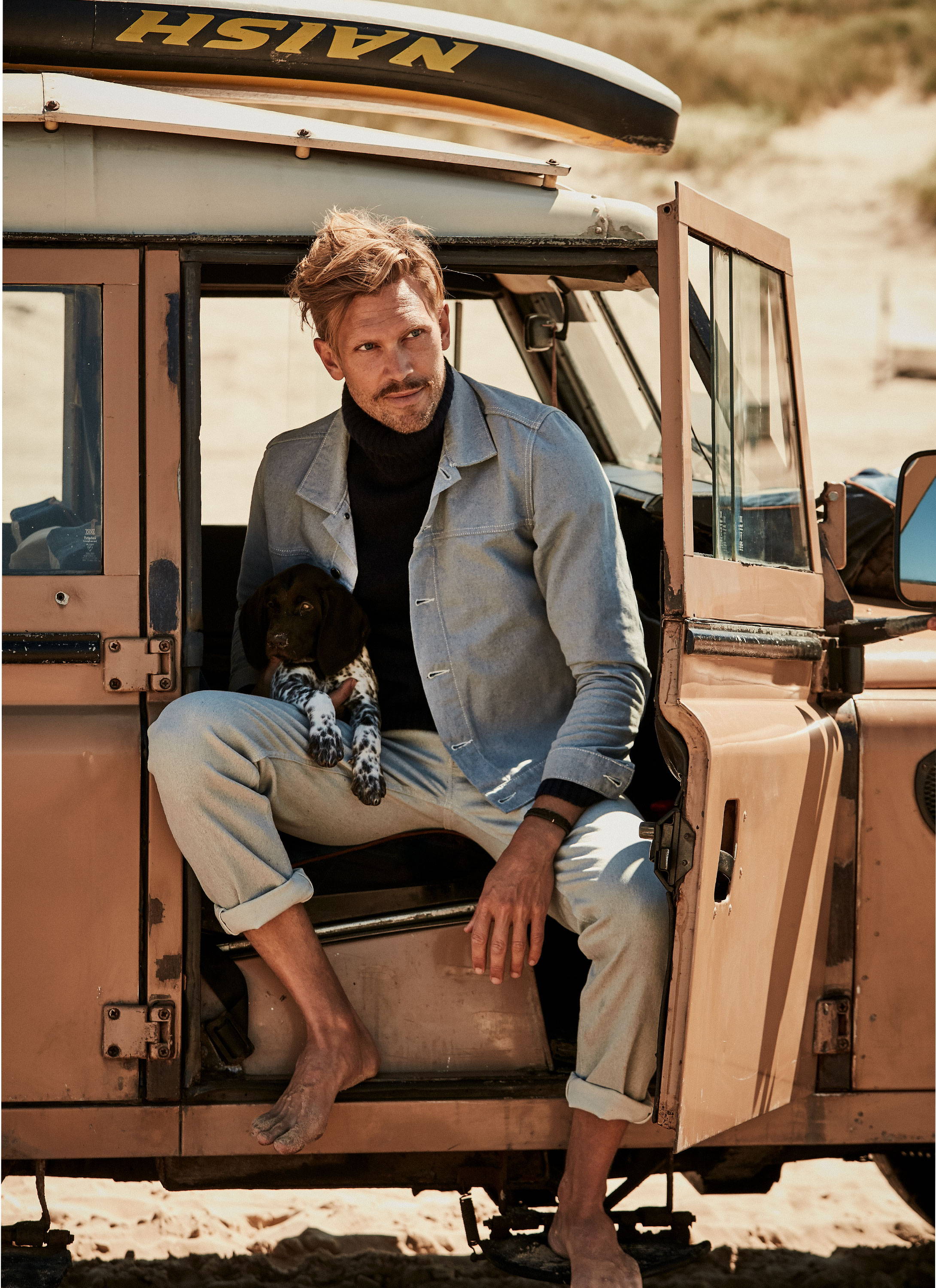 A pair of jeans made by happy people – 100% possible. MUD only works with selected manufacturers that ensure the wellbeing of everybody involved.
MUD jeans are made from natural materials; organic and recycled cotton. No pesticides are being used, better for your skin.
Neems Jeans
Neems Jeans offers an innovative, ethical purchasing experience for consumers looking for timeless styles. Neems is making a conscious effort to clean up the denim industry's bad rep, one pair at a time.
How are they doing this?
Zero Inventory: Because each pair of Neems jeans is made-to-order, the brand completely eliminated the risk of overproduction, one of the biggest issues plaguing the fashion industry.
Deadstock fabrics: Neems exclusively uses deadstock denim (i.e. denim that was left over from previous runs) to continue fighting the battle against waste. Making clothes from deadstock fabric saves about 10,000 pounds of CO2 emissions each year.

OEKO-TEX 100 Approved: They source denim from the highest rated mills in the world, including Canadian & Global Denim, that are equally committed to environmental stewardship. Each mill has different certifications ranging from OEKO-TEX 100 to Cotton LEADS to GOTS and GRS.
People, Not Workers: Each pair of Neems jeans is handcrafted by amazing team members out of the Los Angeles facility, where they ensure that they have the best working conditions and are paid fair wages.
ÉTICA
ÉTICA is Spanish for "ethical," and this ethical, family-owned brand is committed to making the most durable, high-quality denim that you'll love for years to come.
Compared to traditional brands, ÉTICA designs reduce water usage by 90%, energy consumption by 63%, and chemical usage by 70%.
And on the people side of things, they exceed fair trade standards, providing workers with living wages, health benefits, on-staff doctors, and free meals.
Plus, they give back to help with water cleanup, tree planting, and lots of other environmental causes! Oh, and did we mention they also make great jeans?
AG Jeans
AG Jeans is a premium denim and knitwear house leading the sustainable manufacturing movement with innovative technology and eco-minded processes.
In 2000, two powerhouses of the denim industry brought their visions together and founded AG Jeans in Los Angeles, California. Nicknamed the "Godfather of denim," Adriano Goldschmied established a legacy that was instantly recognized for its ingenious washes and designs, laying the groundwork for AG's rise in popularity as the leader of premium denim.
Concurrently, the manufacturing phenom, Yul Ku, was pushing for drastic innovations in sustainable production while establishing AG as the first vertically operated denim manufacturer on the West Coast.
AG's decades of progressive experience have led to industry-wide adoption of environmentally conscious design and construction including Ozone technology, laser finishing, solar energy, and water recycling.
Today, AG Jeans continues on its mission to design product that is authentically rooted in denim, craftsmanship, fit, and fabric innovation. AG Jeans is proud to lead the sustainable denim movement with its AGOODKARMA initiative, a program committed to advancing AG's technology, techniques, and practices in both design and manufacturing.
Complemented by integral partnerships focused on social, environmental, and economic objectives, AG pursues its responsibility to institute positive change in our community through a multi-faceted lens.
Kings Of Indigo
When Tony Tonnaer founded Kings Of Indigo in 2011, his objective was clear; to produce clothing in a sustainable way both socially and environmentally, without compromising on quality.
He believed that neither sustainability nor quality had to be sacrificed in order to make beautiful garments. Since then, what it means to be 'sustainable' has evolved and become more intricate, and the future promises further changes.
The brand works with a clear objective; to lead the industry to clean up and change. This forward thinking has helped shape and change the path of fashion, Kings Of Indigo always being two steps ahead of the rest.
Kings Of Indigo positions itself as a pioneer in this ever-changing sustainable fashion world, innovating with materials and sustainable production methods, constantly exploring how to reduce the impact on the planet and people; using its Five Pillars of Sustainability as cornerstones.
Nudie Jeans Co.
Nudie Jeans is striving to be a leader within the textile industry by systematically working in areas that have the highest environmental impact and focus sustainability efforts where they are most needed.
Once a year, the most significant environmental aspects are analyzed, evaluated, and ranked in the brands environmental management system processes. They then set goals and action plans to execute the development.
Nudie Jeans maps it's emissions according to the Greenhouse Gas Protocol methodology and set science-informed targets that are in line with the 1,5-degree pathway of the Paris Agreement – taking climate action and leading by example.
As a member of the Fair Wear Foundation, Nudie Jeans use's their methodology to get the support required to build a structure for managing social aspects of their sustainability work.
Able
Women comprise more than 90% of the staff at ABLE, but globally they often hold the lowest-paid, least-secure jobs. They have seen firsthand how providing women with safe and dignified jobs has the power to change not only their families but entire communities.
The more we as consumers can support women with jobs, especially women who have overcome extraordinary circumstances and often lack opportunity, the greater impact we will have.
Able sources denim from partners in the western hemisphere to reduce carbon footprint. In the design process, they select fabrics from mills that are developing different sustainable denims.
Their non-stretch denim uses a liquid indigo that requires less water when being washed. Ozone is used in the production process to reduce water usage, making denim finishing more eco-friendly.
Harsh chemicals, like Potassium Permanganate, are avoided when possible. Instead, more environmentally-friendly alternatives, like enzymes that act as biocatalysts, are used. In addition, 100% of the water is recycled.
All denim scraps are given to the government to use for housing insulation.
RE/DONE
More than a denim company, RE/DONE is a brand with a mission – a mission to restore individuality to the luxury fashion space, to keep heritage brands relevant, and create sustainable, mindful fashion.
RE/DONE began with the original concept of upcycling vintage Levi's into modern fits, employing preloved raw goods to create brand new styles while extending the life of stagnant stock.
Since launch, they've diverted over 145,000 garments from landfills and reconstructed them into coveted luxury collectables. As one of the largest fashion players distributing upcycled products, they have pushed the industry as a whole toward a more sustainable future.
Since inception, RE/DONE creates one-of-a-kind, limited-edition luxury designs with a commitment to mindful production, sustainability, and circular fashion.
Triarchy
To Triarchy, sustainability means building a business that can operate sustainably as well as create sustainable products.
All of the jeans and denim jackets are produced with responsibly made fabrics and washed with the most advanced sustainable laundry technology available. The brand only works with people who share the same vision and understanding of sustainability.
Triarchy believes that sustainable brands have to be vetted by 3rd party resources in order to be able to claim sustainability at their core, and this is why they disclose all sustainability data via 3rd party auditor GreenStory as well as exposing our supply chain via Retraced.
The beauty of this level of transparency is that it secures the needs as a sustainable brand and also shines a light into areas where improvement can be made, allowing the brand to be aware of these areas.
Sustainability and transparency are of utmost important to the brand, it is what Triarchy is built on.
Boyish
Designed in Los Angeles, Boyish uses ethical and sustainable practices when developing and manufacturing its product. The jeans are produced with sustainable fabrics through an environmentally-friendly and cruelty-free process.
Boyish Jeans' efforts in sustainable fashion include working with ethical factories, using less harmful chemicals during the dyeing process, utilizing one-third of the amount of water typically needed to produce a pair of jeans, and working exclusively with recycled fabrics and materials for everything put out by the brand.
From hangtags and hardware to the polybags they are shipped in, everything put forth by Boyish Jeans is thought through to ensure there is minimal impact on our environment.
Doing its part to reduce waste in one of the most polluting industries in the world – fashion, Boyish Jeans aims to set the standard for production practices and encourage others to join in the movement. A brand that feels good to buy and even better to wear, the only impact Boyish leaves on the planet is good jeans.
Sustainable jeans are a great way to shop more consciously when buying denim. Not only do sustainable jean brands use less water and produce fewer harmful emissions, but they also prioritize social responsibility.
By shopping for environmentally friendly jeans, we can all work together to create a more sustainable future.
Causeartist
Causeartist is a multi media company spotlighting impact entrepreneurs, impact startups, and corporate social responsibility.