In episode 23 of the Investing in Impact podcast, we speak with Graham Singh, CEO of Trinity Centres Foundation, on an innovative approach that transforms church properties into modern and inclusive community hubs to create local impact.
For nearly 15 years, Graham been involved in finding new vocations for church properties. He provided leadership for 4 projects in the UK and Canada, including at the Trinity Centres Foundation's pilot site, St Jax Montreal. Graham's doctoral research and practical work in this subject inform much of the Foundation's approach.
Prior to his work with church properties as a minister in the Anglican church, Graham worked within the global advertising sector in London, England. He is a graduate of the University of Western Ontario, St Mellitus College (via Cambridge University / Ridley Hall) and the London School of Economics. He is fluent in French and English.
The Trinity Centres Foundation Story
The Trinity Centres Foundation connected with experts from the social innovation, urban planning, property, finance, management, accounting, legal, government and faith sectors
What they heard was the need for a more radical option.
What they heard is that 10,000 of canada's 28,000 church properties will close within the next 10 years.
What they heard was a call for a secular solution to what began as a faith problem.
What they heard was a frustration at too many band-aid solutions and the need for a totally new strategy for the building of social infrastructure.
What the organization decided to build was a model that could connect, advise, invest and run the solution: joining with all levels of canadian government, investment funds and social innovators to create a new community hub model for our most strategic buildings.
The Trinity Centres Foundation was established in 2018 as a pan-Canadian charitable organization with the goal of lovingly preserving, restoring and repurposing underutilized churches into dynamic spaces for dialogue and interaction accessible for multiple uses to a multiplicity of different individuals and groups.
Applying a new social business model that generates both societal and economic value, the Foundation is committed to enabling churches to continue to bring about positive change, while maintaining a secure financial future. In the process, innovative new ways will be found to deliver services, while advancing social inclusion and revitalizing communities and local neighbourhoods.
From Church Properties on the Brink to Hubs of Vibrant Communities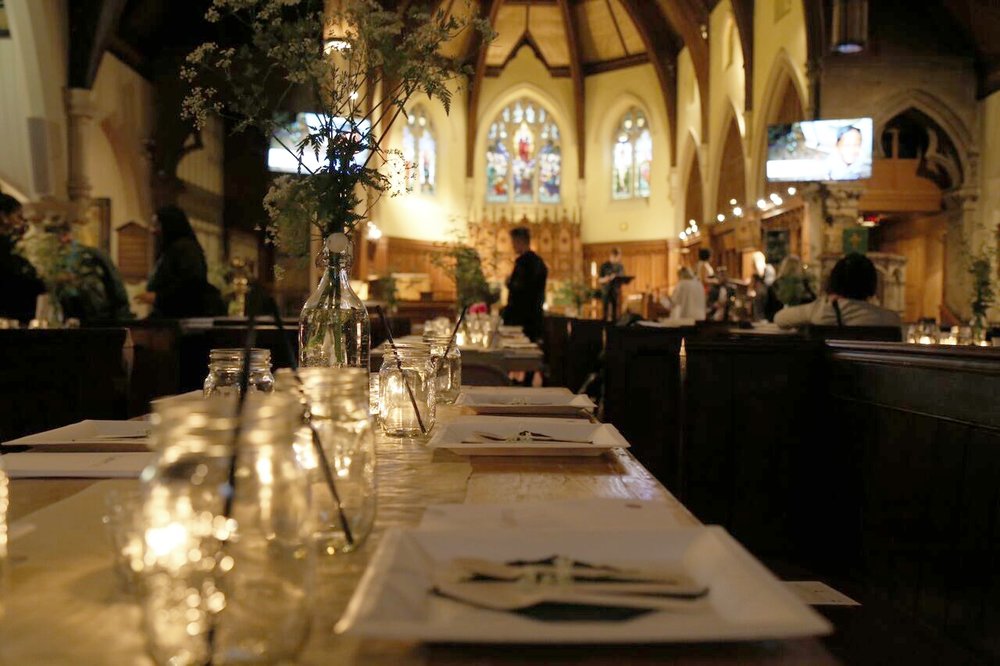 How does it work?
Assemble
The Anglican Diocese of Montreal, Church of England Diocese of London (UK), Action Refugee Montreal, Cirque Le Monastere and face 50 other non-profits and charities have come together to form this pilot project, activating one of Montreal's most iconic 30,000 sq ft heritage church buildings + 10,000 sq feet of green space.
Fund
$2 million in donation & grants + $1.2 million in financing from the Diocese of Montreal (4% / 10 year bond / Annual payments starting after year 4) Other grants and revenue have been received from the Government of Quebec and City of Montreal. ($20 million property valuation)
Operate
TCF's Central Services team has helped establish a seperate 'Centre St Jax' operating unit, under the church's main charity. This project is based on $600k annual site revenue. More than $3 million in heritage renovations have been completed.
---
Church properties are among Canada's most underused assets — all the more so in recent years — and yet, these sites should never be sitting empty and idle. In addition to serving as places of worship, they should be active and enriching gathering places for members of their respective communities day and night and day in and day out.
Commonly referred to as community hubs, TCF's transformed church properties constitute a new form of infrastructure that advances and builds on core values like friendship and belonging. Serving to both reflect and strengthen communities, these hubs are welcoming, inclusive and inspiring places where people can go to socialize, pursue common interests, gain new knowledge and find support when needed.
The transformation into hubs constitutes a way for local churches to offset shrinking congregations, reinvent themselves, and to remain afloat and relevant. Whether located in high-density urban neighbourhoods or more remote rural settings, each hub is as unique as the community it serves and is defined by local needs, services and resources.
Listen to more Causeartist podcasts here.
Latest Stories
Grant Trahant
Grant is the founder of Causeartist, one of the most influential impact business platforms in the world. Since 2013, Causeartist has been read in over 150 countries. Grant has personally interviewed 700+ impact entrepreneurs from around the world, highlighting innovations in ethical fashion, climate change, ethical technology, impact investing, and sustainable travel.