Free business tools are everywhere these days. From social media tools, to email tools, to writing tools, to analytics tools it can be a real headache to test all of these and see which ones work the best.
Lucky for you we try a lot of them! At Causeartist we use tons of free business tools, some are free and some are paid. For this post we will only mention the ones that are free to use. They do have paid versions of these four business tools, but if you are just starting out the free version will suit you just fine.
---
Sumo is an absolute tremendous suite of tools to use to grow your email list and website traffic. There free version is very solid. You can create as many email captures as you want. You can know also create automated messages straight to individuals who sign up to your email list. Sumo also has great free business tools to amplify your website traffic. There share features allows you to easily implement sharing of your blog posts or products with very little effort. Every post on Causeartist has share icons at the bottom of our posts. That is Sumo working its magic. Image sharer is an excellent feature as well it allows users to rollover an image and social icons appear, to make it easy to share your brand products. I wont get into all that Sumo has to offer, because it has tons to offer.
---
Canva is an absolute must have free business tool. Again there is a paid version for $12.95 a month, but the free version will be just fine for most social impact startups and social entrepreneurs. If you want to make custom social media posts, invitations, infograph, or banners, Canva makes it so easy to do so. The platform comes with tons of free features and templates. The most relevant feature is the that dimensions for all graphics are already pre-loaded, so you can make the perfect size Instagram or Facebook post. If you need to make a presentation, no worries, they have free templates and correct dimensions for that as well. At Causeartist, we use Canva for most of our Instagram and other social media posts, as well as website banners and tons of other business materials and presentations.
---
I am sure many of you have heard or perhaps even use Mailchimp. It is still worth mentioning, because it's one of the most powerful and ease of use email marketing platforms on the market. Its free for up to 2,000 email subscribers, so for most social impact startups and social entrepreneurs it will be free for at least a little bit. Mailchimp makes it extremely easy to send emails to your fans or customers anytime you please. At Causeartist, we use Mailchimp to send out all of our email correspondence. We do use the paid version, but if you are just starting out the free version will be just fine to learn the platform and grow your email list.
---
Think if Office 365 had a hipster baby with Google Apps. Zoho has powerful free business tools for any size business and most of its features are free. We use Zoho for our email and chat communications. Office 365 and Google Apps, both charge for business email accounts, but Zoho allows you up to 25 free business emails, so with companies under 25 employees you can use most of Zoho's features for free. They also have a Slack alternative called Cliq, which is a chat app, much like Slack. Zoho also offers a Google Drive alternative, as well as a Google Doc alternative. Zoho also has invoicing capabilities and full CRM capabilities.
---
If you have a gmail account you can access some powerful free business tools for your website to see how visitors find your website on a daily basis and monthly basis. We use Google Analytics to track simple metrics and see how and where people from around the world are engaging with the website. You can see the top posts on your site and which ones drive the most traffic by day, week, and year. You can also see how long visitors stay on your website and how they got to your website.
---
Lumen5 is a video creation platform designed for brands and businesses to produce engaging video content for social posts, stories, and ads. Their goal is to enable anyone without training or experience to easily create amazing videos in minutes. The company created cutting edge technology that enables marketing teams to focus on the story and narrative while relying on Lumen to do the heavy lifting.
---
Loom is a new kind of work communication tool, already helping millions of people get their message across through instantly shareable videos. Our users work at companies like HubSpot, Square, Uber, GrubHub and LinkedIn. Our mission is to empower everyone at work to communicate more effectively and get ahead, wherever they are.
---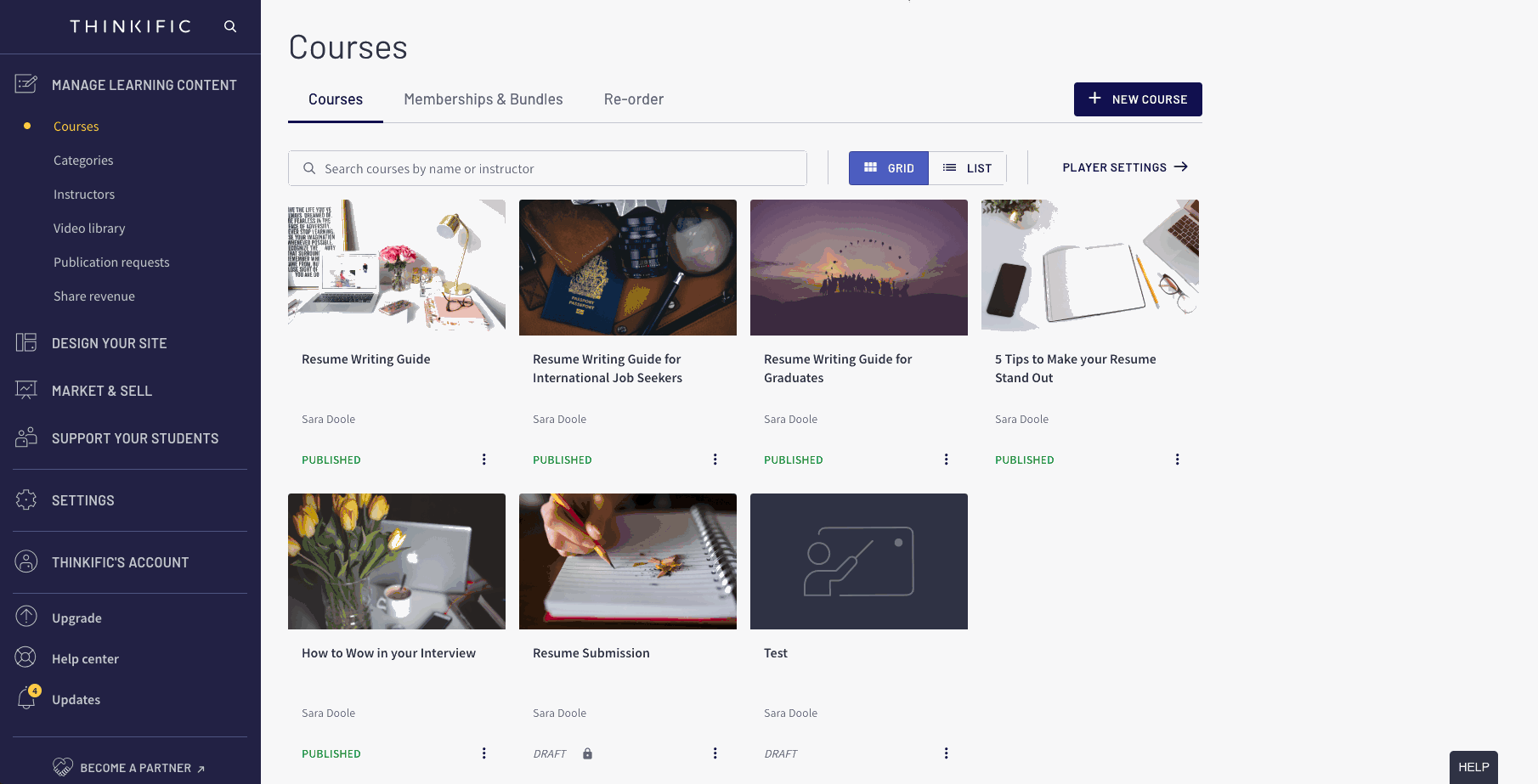 Thinkific is a software platform that enables entrepreneurs to create, market, sell, and deliver their own online courses. Our mission is no less than to revolutionize the way people learn and earn online by giving them the tools they need to turn their expertise into a sustainable business that impacts both them and their audience.
Latest Post
Grant Trahant
Grant is the founder of Causeartist, one of the most influential impact business platforms in the world. Since 2013, Causeartist has been read in over 150 countries. Grant has personally interviewed 700+ impact entrepreneurs from around the world, highlighting innovations in ethical fashion, climate change, ethical technology, impact investing, and sustainable travel.