You might not think that sustainable cause tshirts are all that important, but they actually play a big role in protecting the environment. Traditional cause tshirts are made from cotton, which is a very water intensive crop.
Cotton farming uses huge amounts of pesticides and water, and it also takes a lot of energy to grow and process the cotton. Sustainable cause tshirts are made from sustainable materials like bamboo or organic cotton.
These materials use much less water and energy to produce, and they don't require the use of harmful chemicals. sustainable cause tshirts also last longer than traditional tshirts, so you'll save money in the long run.
And of course, sustainable cause tshirts are better for the environment. So next time you're shopping for a new shirt, consider choosing a sustainable option. It's better for the planet and your wallet.
The next time a friend or family members birthday comes up think about getting them a sustainable cause tshirt and share stories of social impact with them. Below are some sustainable cause tshirts support amazing missions.
Check out these Sustainable cause tshirts below.
Tentree – Retro Juniper Classic T-Shirt
Tentree is a lifestyle apparel company based out of Vancouver, that plants ten trees for every item purchased. By combining social and environmental consciousness with lifestyle apparel, tentree allows consumers to have a direct impact on the environment and communities worldwide.
The goal at the company is to become the most environmentally progressive brand on the planet by reducing the negative impact of the apparel industry and use it as a vehicle for change.
Every tentree item is made using a blend of sustainable fabrics. Check out a few examples of some of the environmentally progressive fabrics tentree is using in their products.
The company also works to promote fair labour practices and safe working conditions throughout their supply chain.
The company only works with socially and environmentally responsible factories that are WRAP approved, agree to yearly unannounced audits, and abide by the brands code of ethics.
Taylor Stitch – The Cotton Hemp Tee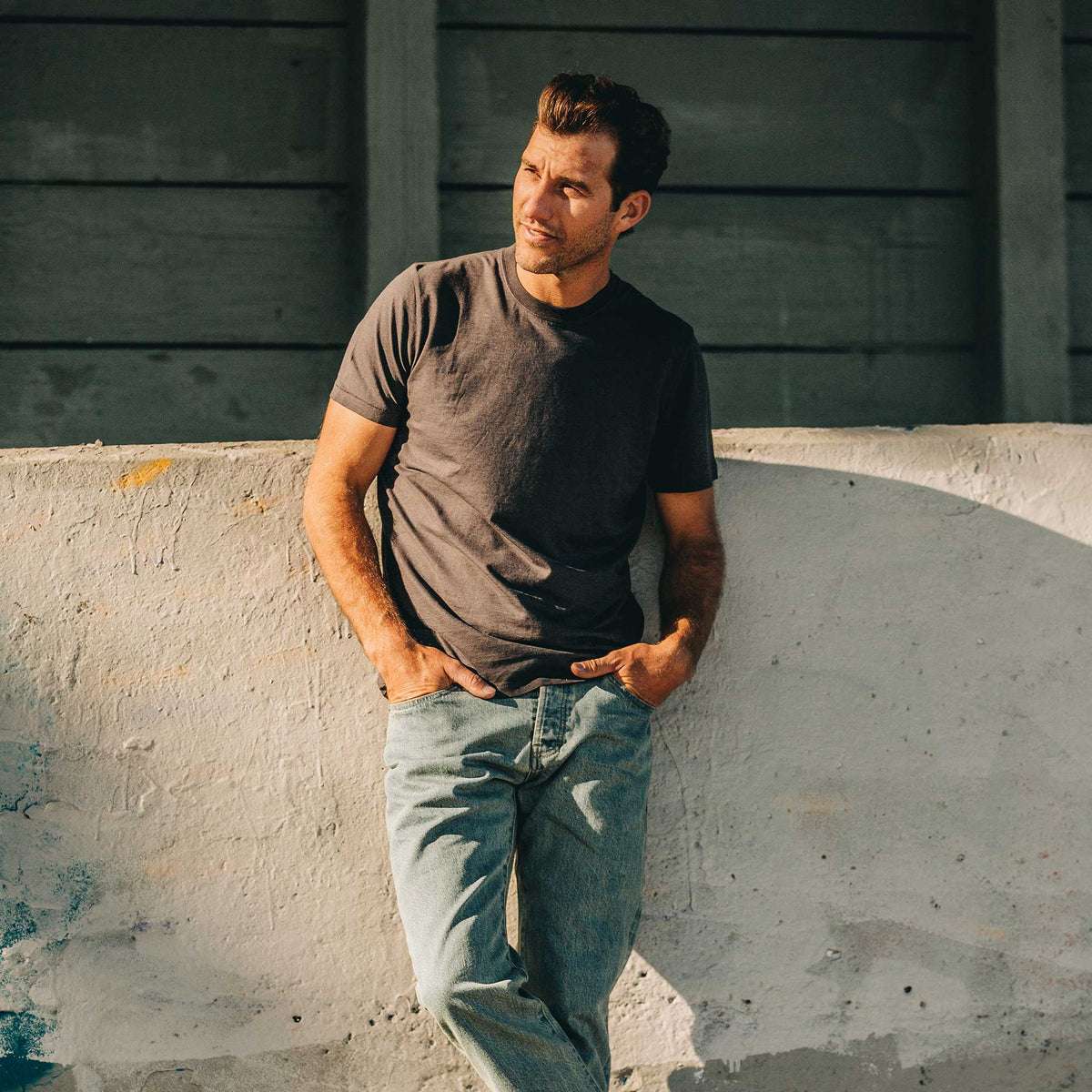 Taylor Stitch is a sustainable clothing brand that produces high-quality, stylish clothing for men and women. Taylor Stitch is committed to sustainable manufacturing practices and ethical sourcing.
Constructed to perfection and responsibly built for the long haul. They've taken 10 years of feedback and are doubling down on their commitment to building the best possible clothing while pledging to limit environmental impact.
Keep Nature Wild – OUTside Together Unisex Tee
Keep Nature Wild products are crazy cozy, super soft, and exceptionally comfy. They design outdoor apparel and accessories to bring a smile to your face, to brighten your day, to enable your next adventure, to spark connection, to build community, and to make our planet a better place.
The products are designed in Arizona and made for the wild. But there's an extra, earth-friendly impact behind the apparel and accessories. For every apparel product sold we pick up one pound of trash.
How do we do this?
Keep Nature Wild hosts nationwide community cleanups. The dedicated Wild Keeper Ambassadors spend time every month tidying up their communities. And when you make a purchase from the brand, they include a biodegradable trash bag so you can get outside and pick up trash around your neighborhood.
Ecoalf – PLANET B Shirt
ECOALF is born to prove that a truly sustainable fashion brand is possible without sacrificing aesthetics. Where others see trash, they see potential luxury goods. Thanks to the most advanced technologies in recycling, they transform wasted materials like fishing nets, plastic bottles, tires and even coffee leftovers into high quality fabrics and then into designer clothes.
The Good Tee – The Responsible Ringer Tee
As shoppers, we rarely consider the implications our purchases have on the communities who actually make the clothes we wear. As a result, companies are incentivized to drive prices and quality lower.
However, there are ways to produce market products ethically and sustainably, and that's where The Good Tee comes in. The Good Tee was created to make it easier for you to purchase guilt-free, responsibly made fashion basics.
They believe in humanizing the apparel industry and celebrating the makers who make their clothing. They maintain fair and honest relationships with manufacturing partners and emphasize 100% transparency of a traceable supply chain.
Their Fair Trade certified t-shirts are designed and delivered to you with the environment and humans' lives in mind. The Good Tee is there right from the farm to creation and right through to delivery.
You can shop with us knowing that we have developed products around the principles of the products' life cycle, relentless quality, honest value and a positive impact.
Outland Denim – Johnny Heritage Tee
For the jeans and tee dad, we love Outland Denim. Outland Denim offers an ethical wardrobe staple with jeans made by women rescued from human trafficking and exploitation in Cambodia.
They are also experimenting with various sustainable textiles, like making pocket linings from recycled packaging and organic cotton. Get dad the perfect everyday denims with a variety of styles and fades to choose from.
Allbirds – Men's Sea Tee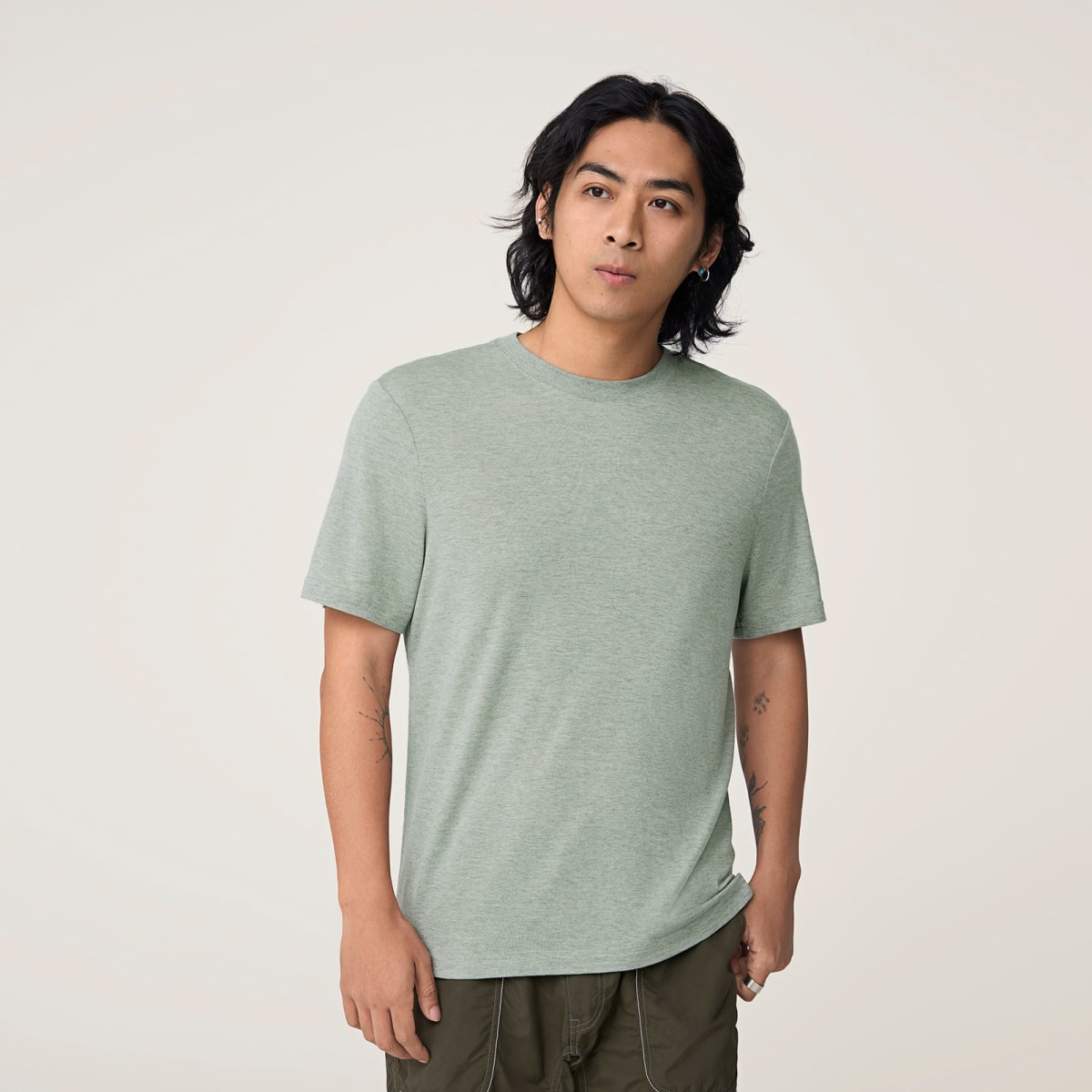 Allbirds has been gaining in popularity over the past few years, and for good reason. Allbirds shoes are not only environmentally friendly, but they are also incredibly comfortable.
Wool is a natural material that is moisture-wicking and breathable, so your feet will stay dry and comfortable all day long. The eucalyptus fiber used in Allbirds shoes is also environmentally friendly and provides a soft, comfortable fit.
But, did you know they also make sustainable clothes?
The Allbirds Sea Tee is carbon neutral thanks to a combination of sustainable practices, like using natural materials and carbon credits. But before they balance the emissions, its footprint starts at 7.0 kg CO2e. Think of this measurement like a nutrition label for your closet.
Vivid Roots – Foothills Shirts
Made from 100% organic ring-spun cotton, this unisex t-shirt is a total must-have. It's high-quality, super comfy, and best of all—eco-friendly.
All purchases will provide clean water for life to people in need.
Vivid Roots is a social enterprise that gives clean water to those in need with every purchase. They teamed up with Rotary International to fund their first water project in Chiquimula, Guatemala.
They are now continuing the partnership with multiple Rotary clubs & the non-profit Water For The Americas to implement sustainable clean water systems in developing countries.
The team consists of four friends, all in their early 20s, from Boise, ID who decided to start a brand that embodied their fun and energetic passion for impacting the world in a fun way.
Ungalli – Sustainable Tshirt Dress
Made from 100% recycled cotton, this dress is made with NO NEW MATERIALS and is fully biodegradable.
Recycled cotton prevents additional textile waste and requires far fewer resources than conventional cotton.
The t-shirt dress has a soft + lived in feel complete with a classic crew neckline, a front chest pocket, and a relaxed fit throughout.
Ungalli Clothing Co. is a Canadian clothing brand based out of Thunder Bay, Ontario designed and produced of 100% sustainable materials. At Ungalli they are fiercely determined to change the way people think about their clothing.
They want people to realize the negative impact the clothing industry has on the planet, and are dedicated to finding people who believe its time for change. The mission is to encourage and empower you to make better clothing choices that can collectively lead to large-scale change.
Cotopaxi – Do Good Tee
Cotopaxi sells amazing outdoor gear and give back to humanity. They want to disrupt the outdoor industry and inspire companies to do more for the world. Because they sell directly to you online, they offer higher-quality products without the retail markup.
Each piece of Cotopaxi gear is tied to a humanitarian cause in one of the poorest regions of the world. We tell you where your money goes in a tangible way. For example, buy a Cusco pack and help educate a child in Peru for one week at Qosko Maqi.
When you buy a Cotopaxi +India water bottle, you give clean water to a person in India for six months through our partner, charity: water.
Known Supply -Unisex T-Shirt
KNOWN SUPPLY's model is based on radical transparency, something that's often sorely missing in the apparel industry. When you purchase an item from KNOWN SUPPLY, you'll have the opportunity to "meet" the makers; each product contains the signature of the maker who crafted it, and KNOWN's online search function gives you the opportunity to learn more about each maker.
The company works with underserved populations to provide meaningful work and to show the powerful impact clothing purchases can have if made thoughtfully.
Mi Terro – Logo Tee
Mi Terro is a biotechnology company that reengineers leftover milk into sustainable fibers that can replace plastic in the fashion, medical and packaging industries.
Mi Terro rescues excess milk from its dairy farm partners, skims it to remove fats before dewatering it to turn the liquid into powdered milk. It is then dissolved once again and purified to remove the bacteria, or the so-called 'bad' casein, from expired or spoiled milk. Casein makes up 80% of milk protein.
Once the 'bad' casein is removed, the remainder protein is spun through a spinneret to solidify it into fiber. The fibers are then stretched and spun into yarn for clothes manufacturing, but, according to Luo, can be also used in bed linen, food packaging, face masks, or toilet paper.
The first version of the milk-to-clothing process took about two months to complete, with one glass of milk making up five T-shirts. The company is currently developing the second version of its milk waste fiber, which they claim requires 60% less water than organic cotton, and is 100% biodegradable.
Repurposing milk waste into clothes is not Mi Terro's first foray into sustainable fashion – the team has previously designed a travel bag made from ocean plastic and cork.
Causeartist
Causeartist is a multi media company spotlighting impact entrepreneurs, impact startups, and corporate social responsibility.